'Lundy Three Hundy' plans to use route police said accused took on night of killings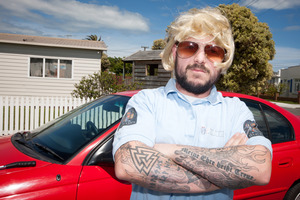 A bad-taste car rally that follows the route police alleged Mark Lundy took on the night his wife and daughter were killed, and re-enacts events described at his first trial, is proposed for next month.
Palmerston North's mayor has condemned the stunt and says: "Anyone participating in this event is not welcome in my community."
Drivers in the "Lundy Three Hundy" will chase one another 300km from Palmerston North to Petone and back. The rally will start outside the former Lundy family home in Karamea Cres where Christine and Amber Lundy were bludgeoned to death with a tomahawk in August 2000.
Lundy was convicted of the murders in 2001. But after spending 12 years in jail, his convictions were quashed by the Privy Council in London this month and he is now on bail pending a new trial.
Race organiser Nic Miller says the Cannonball Run-type rally, which promises "hookers, hatchets and hilarity," will "pay homage" to the route police claimed Lundy took on the fatal night.
Seven teams have signed up for the November 30 event.
Mayor Jono Naylor said the rally was distasteful and showed a complete lack of sensitivity towards the victims' family and friends.
It's not the first time that a race has been proposed along the route. Victoria University's Salient magazine proposed a similar event four years ago but met with an enormous public backlash and it never went ahead. The "Lundy 500" was to mark the eighth anniversary of the slayings and intended as a protest against the justice system.
At the time members of the victims' family and Palmerston North leaders described the idea as abhorrent and offensive.
Miller, an admitted anti-Semite who wears Nazi tattoos on his forearms, says he's aware the event may upset a lot of people but he's prepared for the flak.
He said the competitors would be required to complete set tasks.
They included visiting places and buying products associated with the killings and asking for a prostitute.
Miller, of Wanganui, said he was a "fairly awful person" but the event was tongue in cheek. Each team would have a designated driver, drinker, streaker, hatchet man and camera operator.
Lundy's lawyer Malcolm Birdling said in order to ensure a fair trial neither his lawyers, family or supporters would be making any comment.