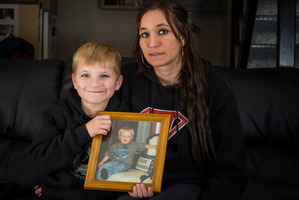 A motoring commentator has echoed calls for all cars to be fitted with reversing cameras and parking sensors, a move not supported by the AA.
Dog and Lemon guide editor Clive Matthew-Wilson said the safest way to prevent driveway runovers was to fit a reversing camera, which shows the driver what's behind the vehicle.
"Reversing cameras are now dirt cheap, yet they're not fitted on many new vehicles, which is simply shameful.''
The comments came in response to a study reported in the Herald on Sunday which showed children were invisible when behind many popular cars.
In some cases a child would need to be more than three car lengths away to be visible to the driver.
The State Insurance study found new cars had higher boot lids, smaller rear windows and larger pillars, which were designed to protect those in the car but reduced rear visibility.
Mr Matthew-Wilson said reversing cameras shouldn't be seen as extras for expensive models, but vital safety features required on all new cars.
Interest-free loans could be made available for low-income families to retrofit reversing cameras and parking sensors, he said.
He said reversing cameras and parking sensors work best when used together, as shown by his own experience in a supermarket carpark.
"I was reversing out of a parking bay at a supermarket. Like all good drivers I checked my three rear mirrors. Just as I began to reverse, a sudden beep warned me that a small child was running straight past the rear of my car,'' he said.
"If I had not had a reversing camera and parking sensors fitted, I could easily have reversed straight over this child.''
AA principal advisor Mark Stockdale said reversing cameras were a good tool, but were not a silver bullet for driveway runovers, and couldn't replace a driver's responsibility to check the way was clear.
He said the AA didn't support making the cameras mandatory, as they were not a key safety feature for all drivers.
"What we advocate for motorists is if they do a lot of reversing, they have a long driveway or if they work in an area where there are always children present, those people might want to consider buying a car that has reversing cameras or consider retrofitting reversing cameras,'' he said.
"Many motorists do reverse safely or aren't in high risk situations when they are reversing and they shouldn't have to wear that cost.''
Mr Stockdale said other safety features would provide a greater benefit if made mandatory, such as electronic stability control (ESC), which significantly reduces the risk of crashes involving a single car running off the road.
ESC can only be fitted to new cars and the cost, in the "hundreds of dollars'', was relatively insignificant.
New Zealand has high rates of children being struck by vehicles on driveways, with five children killed each year on average, and a child injured every two weeks.
A report by Consumer in 2011 found camera reversing systems cost between $180 and $700.
See the visibility ratings for your car here
• Small cars • SUVs • Small - medium cars
• People movers • Medium cars • Commercial vehicles
• Large cars • Luxury cars • Sports cars
- APNZ