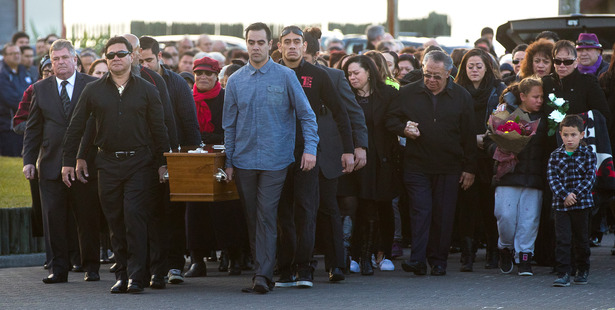 Hundreds of people converged on Te Arawa's paramount marae to farewell a woman who lived and died trying to make Rotorua a better place.
Maureen Te Rangi Rere I Waho Waaka, nee Kingi, died at home yesterday morning. She was 70.
Mrs Waaka suffered a mild stroke two weeks ago while in Auckland on business.
However, on Tuesday last week she suffered a second major stroke before being bought home to Rotorua on Thursday.
Born in Ohinemutu, Mrs Waaka was of Te Arawa/Ngati Whakaue and Tuwharetoa/Ngati Turumakina descent.
Her husband, John, said the family was still in shock at her sudden passing.
"It would have been different if she had been sick, but she wasn't. It's hard to believe," he said.
Tributes have been flowing for Mrs Waaka as news of her death travelled quickly around the country.
Rotorua Mayor Kevin Winters said it was a sad day for Rotorua.
"We have lost a much respected colleague and loved friend, while our community has lost a true champion and an outstanding role model.
"Maureen will be remembered by many for her tireless work on behalf of her community and especially for those less fortunate than herself.
"Behind Maureen's softly spoken voice, ready smile and gracious demeanour was a steely determination to help make life better for other people," he said.
Former Rotorua mayor Grahame Hall said she was passionate about her work.
"She was always prepared to listen to a good argument and make up her mind, she didn't come with preconceived ideas.
"Not only did she work very hard for her people, she worked hard for all of Rotorua," he said.
Te Arawa Standing Committee member and childhood friend Rene Mitchell said Mrs Waaka's passing would leave a big hole, especially for Te Arawa women.
"We grew up together when she lived in Kingi St and I lived around the corner.
"She was a great politician and really supported me, she was always there. She thrived on it and loved to be a part of everything.
"She was a great ambassador for Rotorua and New Zealand," Mrs Mitchell said.
Tributes also came in from the country's Maori politicians, including Labour's Shane Jones and the Maori Party's Pita Sharples and Te Ururoa Flavell.
"Maureen was greatly admired and highly regarded not only in her role as a district councillor, but for her commitment to her iwi and the selfless way in which she worked towards bettering the lives of others," Mr Jones said.
Mrs Waaka is survived by husband John and five children - Te Kohika, Te O Kahurangi, Hinemateoro, Puarangi and Rangimawhiti - 14 grandchildren and four great grandchildren.
Her tangi will be at Te Papaiouru Marae at Ohinemutu from 11am on Thursday.
For more articles from this region, go to Rotorua Daily Post