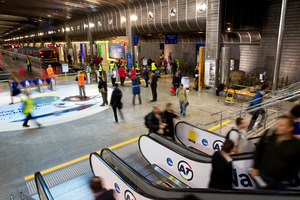 Auckland Transport has been accused of targeting students with public transport fare rises that will also affect thousands of Hop and multi-trip ticket buyers.
Auckland Transport - which waited until late yesterday to announce changes approved by its board two months ago - will lift cash fares for tertiary students by between 7c and 40c a trip on June 3.
Adults who use Hop cards on trains or 10-trip tickets on buses also face fare rises of 2c to 22c a ride.
Ten-trip tickets on inner harbour ferry trips such as from Devonport, Bayswater and Birkenhead to the city will also rise by up to $2, but water transport will become considerably cheaper for Hop card users.
A single trip fare for a Hop card user from Devonport to the city will fall from $5.40c to $4.10c compared with an unchanged cash price of $6, but ten-trip tickets will rise to $41.
That is to align Hop cards with multi-trip tickets, which Auckland Transport ultimately wants to scrap in favour of seamless travel across ferries, trains and buses.
Public transport operations manager Mark Lambert said close to 50,000 public transport users could be affected. The changes were required before Hop cards were rolled out to the city's buses between June 23 and November, he said.
Auckland Council transport chairman Mike Lee asked why fares could not be aligned downward, particularly on trains.
"It seems the most loyal passengers are being targeted - students and those taking multiple trips."
Auckland had the highest public transport fares of any Australasian city and students were "a key part of our market", he said.
Mr Lambert said an increase in the student discount from 20 per cent to 40 per cent in 2008 proved highly effective in lifting demand and getting cars off the road, but there was a limit to ratepayer subsidies.
Auckland University Students' Association president Daniel Haines said the fare rises appeared aimed at those who could least afford to pre-load Hop cards for multiple trips.
He said transport was the second highest cost facing students, after accommodation, and the increases would hit those who faced long trips from suburbs offering lower rents.

• For detailed information about fare changes, visit maxx.co.nz.