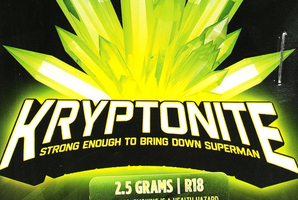 Thousands of dollars of synthetic cannabis was stolen in an aggravated robbery of a North Dunedin dairy last week, prompting concerns over potential health risks to users, police say.
Two offenders, including one armed with a knife, robbed the Willowbank Dairy on George St just after 1am on Friday.
The pair made off with cash and 150-200 packets of synthetic cannabis products with a value of more than $5000, Detective Sergeant Rob Hanna said.
The offenders took at least nine different brands of synthetic cannabis including Kryptonite, Syco, Anarchy, Insane and Shotgun.
Police were concerned about such a large amount of synthetic cannabis in the community and also fear there is potential for misuse and harm for those not aware of the health risks of using synthetic cannabis.
"There has been plenty of recent media coverage of the health risks of consuming this product and we are concerned that there could be such a large amount potentially readily available in the community."
He urged any friends and family members to contact police if they knew of anyone who may have come into possession of synthetic cannabis either cheaply or for free.
"We want to get this off the street ... the amount of it is a real concern," Det Sgt Hanna said.
Police confirmed they had CCTV footage of the aggravated robbery, and were not ruling out one of the offenders may be a female.
The pair were both described as being 167-173cm tall, of medium to solid build, and were both believed to be Caucasian.
They were last seen leaving on foot in a northerly direction, he said.
Anyone who knew the identity of the offenders or who was in the vicinity of the Willowbank Dairy at the time of the incident was asked to contact Dunedin police on 471 4800, or provide information anonymously on the Crimestoppers line on 0800 555111.