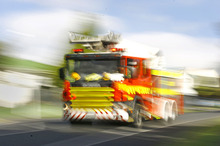 Strong winds have forced firefighters to retreat from a blaze in a forestry block near Carterton.
Firefighters responded to the Kaipatangata Forestry Block about 2.30pm this afternoon, Carterton fire chief Wayne Robinson said.
High winds and the dry conditions are thought to have re-ignited a burn-off site and made firefighting conditions dangerous.
Crews were pulled out of the site by 5pm.