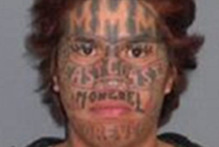 A violent gang member who escaped from a courthouse cell just after being sentenced to prison last week remains on the run.
Mana Tangitutu, 27, had just been sentenced to four months in prison for assaulting violence against a woman when he slipped out of a holding cell at Whakatane courthouse on Wednesday.
Police said they had executed a number of search warrants in Kawerau and Opotiki in their hunt for the Mongrel Mob member.
Police in other districts were making similar enquiries.
"Mana Tangitutu has a very distinctive appearance. It is our belief that someone must be assisting him and I need to make it very clear that we will look to prosecute anyone who is found to be helping him to evade capture," Detective Senior Sergeant Greg Standen said.
Tangitutu is described as Maori, about 1.8 metres tall. He has a distinctive full facial tattoo with the word 'Mongrel' above his upper lip and 'MMM' on his forehead, which stands for Mighty Mongrel Mob.
He has links to Gisborne, Whakatane, Tauranga and Auckland's North Shore. Police have said he is known to carry weapons and should not be approached.
Police will investigate his escape and review court escort processes.
- APNZ