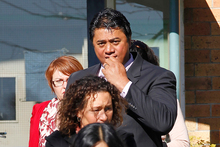 League legend Tawera Nikau says being convicted of assault was a small price to pay for protecting his grandchildren.
"Listen, I can cop that," he said. "But I can't cop me not doing anything ..."
Nikau, 45, has appealed after being sentenced at Hamilton District Court for assaulting his estranged daughter, Heaven-Leigh.
He said he had feared for the safety of his grandchildren aged 6 and 4.
Both children had been in the long-term care of grandparents and extended family until Heaven-Leigh picked them up the week before the incident and refused to hand them back.
Speaking ahead of last week's court case, Nikau said he couldn't stand the thought that his grandchildren could be put at risk.
He felt his grandchildren could become "another statistic like we have every week in this country".
Nikau said the authorities were "ambulances at the end of the cliff".
"That's why I wanted to be responsible and that's why I want to challenge this."
Nikau called on parents to act if they had any concerns over the safety of their children.
"Do something about it or your grandchildren and moko will be statistics."
Speaking about the lead-up to the February 24 assault, Nikau said he had been trying to stage a "whanau intervention".
Nikau and his wife Hayley had helped care for the children after he believed Heaven-Leigh, who has suffered from mental health issues, had struggled to cope.
The family had suffered from the suicide of Nikau's wife, Letitia, in 2001.
The week before the assault, Heaven-Leigh had turned up at the home of a relative in Huntly where the children were staying. She had taken the kids and refused to hand them back.
Nikau said: "I rang the police and said, 'Listen, my daughter has taken the kids, and she hasn't had the children for the last two and a half years because (I believe) she can't look after them.
"I mean, she didn't have custody, she just took them."
But as Heaven-Leigh was still their legal guardian, the police did not intervene.
Nikau found out Heaven-Leigh was staying with the children in what he believed to be a gang-affiliated house. When he showed up there he was told he was trespassing.
Reaching desperation point, he paid for the children's father, Seth, to return from Melbourne to get the children back.
On the morning of February 24 there was an ugly confrontation in Huntly when Nikau and Seth confronted Heaven-Leigh.
"Seth grabbed the kids, had a big fight, a huge screaming match right in the middle of the town. The kids were screaming and yelling. We threw the kids in the car and she drove off. We got the kids back."
Later that afternoon Nikau went to pick up his own son from playgroup when he again saw Heaven-Leigh.
He says she tried to open the door to his car. "I fended her off and I jumped back into my truck and left - and this is called assault.
"That's what I am charged with - it's bullshit.
"It was nothing. Look, I would be the first to put my hand up if I'd given her a hiding or a beating.
"All I did was fend her off, push her away."
The two grandkids have subsequently moved to Melbourne to live with Seth and his family.
Heaven-Leigh was not impressed by her father's decision to appeal.
"I just feel like he's still not taking responsibility.
"I mean, if he is appealing the sentence and conviction it's like saying he hasn't done anything wrong."
carolyne.meng-yee@hos.co.nz
By Carolyne Meng-Yee

Email

Carolyne