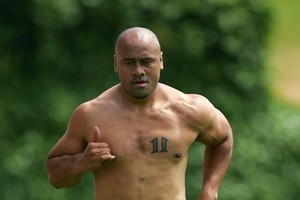 The website of a company owned by Jonah Lomu's ex-wife and named after the rugby superstar has been taken down following a series of social networking swipes by Lomu's current wife.
And Jonah himself has become involved in the dispute. The 36-year-old former All Black, recently discharged from hospital after a kidney failure scare, has distanced himself from Lomu Inc, of which Fiona Lomu is sole director and shareholder.
Lomu's third wife and manager Nadene Lomu posted tweets last month declaring her husband had "no association" with the company before taking online shots at Fiona Lomu over her continued use of the famous surname.
Jonah Lomu married Nadene this year, more than two years after his split with Fiona after nearly five years of marriage.
This week, Lomu posted a tweet, distancing himself from a testimonial that appeared on the Lomu Inc site. He reportedly said he had asked Fiona to remove the testimonial "but still waiting".
But by yesterday, the website and the testimonial had been taken down from the internet - as had Jonah Lomu's tweet.
The Lomu Inc testimonial said: "Fiona took over the management of my business at the end of 2003. She gave structure, direction & purpose to the business through a 5 year plan and implemented strategy around my brand that protected and enhanced its value globally.
"She developed numerous business opportunities offshore & increased profitability year on year. She is a well respected business woman & was the key to my ongoing success during my illness, transplant & post rugby playing years."
Companies Office records show Lomu Inc was incorporated a year after Lomu married Fiona, with Lomu listed as being a consenting shareholder at the time.
The business is described as providing "business consulting management & marketing services to elite businesses and individuals in both New Zealand and offshore".
Fiona Leigh Lomu is now listed as sole director and shareholder.
In July, Nadene Lomu tweeted she had decided to keep her maiden name. "No point being Nadene Lomu when Jonah's previous wife still uses his name."
She changed her mind and last month wrote: "so I'm wondering which surname to use ... my previously married name, maiden name or my husband's surname and join those that won't let go."
Nadene has since taken his name, while Fiona's surname on online professional directory LinkedIn has been changed back to Taylor.