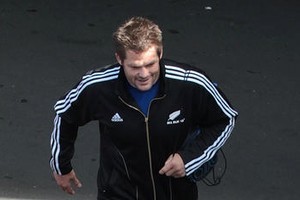 All Black mania lifted a notch as final preparations began yesterday for the biggest game in New Zealand rugby history - the 2011 Rugby World Cup final.
After their 20-6 semifinal win over the Wallabies, the All Blacks spent much of Monday recuperating with friends and family.
But yesterday, preparations for Sunday's final against France began in earnest.
Players were back training and coaches and senior All Blacks held whiteboard sessions to plot Les Bleus' downfall.
Security barriers and guards were used outside the team's central Auckland hotel to keep eager fans at bay as the team boarded their bus to leave for an afternoon training session.
Earlier, more than 70 journalists crammed into a conference room at the team's Heritage Hotel in downtown Auckland for the most well attended press conference of the tournament.
Three tiers of television cameras were fixed on assistant coach Wayne Smith and players Andrew Hore, Conrad Smith, Richard Kahui, Aaron Cruden and Andy Ellis.
Rising star Cruden looked particularly taken aback by the attention. But once the press conference started, the All Blacks were relaxed and frequently laughed and cracked jokes at each other's expense.
Still, there was a serious undertone as the group batted away repeated questions about complacency by pointing to the obvious - New Zealand's painful history of shock World Cup losses to the French.
"They've got a history of having made it difficult for us in RWCs ... a history of turning results on their head," Wayne Smith said.
Said Conrad Smith: "They can really hurt you when they have the ball. So you have plenty to think about which is good during the week."
The All Blacks finished yesterday with an hour-long light training run indoors at West Auckland's Waitakere Trusts Stadium, delighting local children as they filed into the stadium.