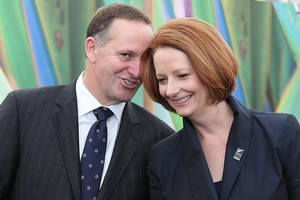 Australian Prime Minister Julia Gillard has texted John Key to confirm she will be eating a New Zealand apple as the loser of a Rugby World Cup bet between the two.
The two leaders had bet on the outcome of the All Blacks v Wallabies semifinal match, with the loser being required to eat an apple from the winner's country while speaking about its virtues.
Mr Key told reporters today that Ms Gillard had texted him shortly after the final whistle last night to say she would be honouring the bet as soon as possible.
"We've had a tray of them sent to the high commission in Canberra, just so that there's an apple available for her,'' Mr Key said.
Last Monday, Mr Key hosted his weekly press conference in front of an Australian flag as the loser of another bet with Ms Gillard over the outcome of the NRL grand final between the Warriors and the Manly Sea Eagles.
Mr Key said he was not sure when Ms Gillard would fulfil her end of the deal for the RWC bet but he hoped it would be at a press conference.
- APNZ