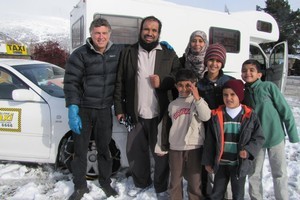 Wild weather continued to bash much of the country last night, as those in Auckland braced themselves for a king-hit thunderstorm.
High winds, heavy rain and snowfall came down hard on many parts of the North and South Islands.
There were severe thunderstorm warnings in Canterbury high country, Buller, Kapiti-Horowhenua, Manawatu, Nelson, Taranaki, Wanganui and Wellington.
Heavy rain and snowfall also affected areas including Fiordland and South Westland. A Saudi Arabian family knew they were a long way from Riyadh when they spent Sunday night trapped in their campervan on the snow-bound Crown Range pass.
They were not freed until about 1pm yesterday.
The Alsuhaibani family set out in their rented campervan from Wanaka to Queenstown about 7.30pm on Sunday.
They became stuck about 2km from the 1067m road summit, in a place without mobile phone coverage, and a large snow drift formed around the large camper overnight.
Dr Ali Omar Alsuhaibani hitched to Queenstown for chains about 8.30am, leaving his cold and concerned wife, Aisha, five children and a family friend in the camper. He caught a taxi back.
MetService yesterday said the bad weather was the result of two unexpected fronts sweeping across the North Island.
Several weather alerts and severe warnings were issued in a number of areas including Auckland, where heavy rain lashed the city as people headed home from work.
Winds of up to 120 km/h and hail of 10-25mm in diameter were forecast.
Weatherwatch head analyst Philip Duncan described the weather as volatile and was encouraging people to stay indoors.
Mr Duncan, who had been making updates on the Weatherwatch Facebook page, said there was a report of a funnel cloud over the Manukau Heads at one point.
Shortly before 8pm Metservice said it would lift the severe weather warning in Auckland as the worst had passed.
Forecaster Oliver Druce said: "It's going to come and go. The heavy stuff is going to stay tonight but tomorrow morning will not be as bad."
Mr Druce said the bad weather was expected to continue up until at least Saturday, with showers and heavy rain expected in Auckland today and throughout the rest of the week.