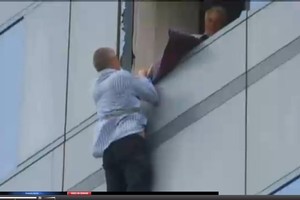 Search and rescue teams will focus on the Forsyth Barr building today after completing their work at the Canterbury TV building, where more than 100 people are believed to have died in the February 22 earthquake.
Yesterday, police released 15 more names of victims, taking the total number of people named to 41.
The toll from the 6.3-magnitude quake is 166, but police fear the final figure may top 200.
Urban Search and Rescue (Usar) spokesman Paul Baxter said a search dog had indicated there were victims beneath the rubble at the Forsyth Barr building but had since been back and found no trace.
Superintendent Sam Hoyle said it could take months before all victims recovered are identified.
"No one is more aware than the DVI [Disaster Victim Identification] team that many families are waiting for their loved ones to be returned to them, especially those who are our guests from overseas.
"We know the wait is difficult, but we absolutely must get this right."
He said the "severe nature of the injuries" meant some families might never recover the bodies of loved ones.
Despite the rain and aftershocks overnight, Christchurch City Council went ahead with plans to lift the cordon in parts of the central city.
City officials estimate one-sixth of Christchurch's 390,000 population - some 65,000 people - have fled, terrified by aftershocks or because their workplace has been damaged or destroyed.
However, for those remaining there are signs of trying to return to normal.
Mayor Bob Parker said 95 per cent of the city had power, and 81 per cent had water. And 31 schools will hold classes today. A further 55 schools have been cleared as structurally sound.