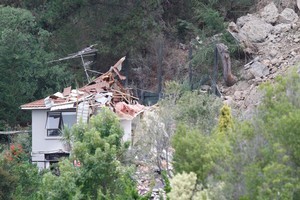 Christchurch's devastating earthquake has highlighted the benefits of micro-chipping your pets, says SPCA Canterbury centre manager Geoff Sutton.
Terrified pets have headed for the hills in the wake of Tuesday's devastating earthquake, and Sutton said micro-chipping would have helped reunite them with their families.
Permanent identification must be a critical part of future planning, he said today.
"If more of these animals were micro-chipped we would have them back where they belong much, much quicker. Otherwise there will always be some pretty distressed people who perhaps never find their pets again," he said.
"This is a message for the future. It's the only way of being certain of locating owners and reuniting pets with their owners.
"The ones that give us the most pleasure and allow us to return them very rapidly are the ones who are micro-chipped and are able to be located on a database."
Sutton estimated 40-50 pets were being held by animal control and 50-60 were in the care of the Canterbury SPCA following the quake.
Eight additional SPCA field staff will arrive in Christchurch tomorrow and will be deployed Monday morning to sweep quake-affected areas in search of abandoned pets.
The SPCA's main focus was on advising owners on how to register their lost pets, while he role of relocating pets was being given to the community.
"The big thing at the moment is that wherever possible as part of the national Civil Defence plan owners in the first instance should endeavour to be responsible for their own animals," he said.
"We are certainly here to help them at the end of the line with that. We're here to take over for them but we're not the first port of call."
If pets were having difficulty coping with aftershocks, owners should be careful to reassure them without overreacting.
Two websites have been set up for lost pets: www.petsonthenet.co.nz and www.animalregister.co.nz. Pet-owners can also call 0800 LOSTPET.
- NZPA