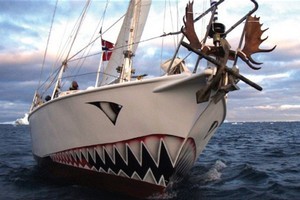 Searchers this morning began a fifth day of searching treacherous Southern Ocean waters looking for signs of missing Norwegian yacht Berserk.
The yacht and its three-person crew have not been seen since its emergency beacon sent out a signal on Tuesday afternoon from the Ross Sea, about 33km north of Scott Base in Antarctica.
The Berserk's skipper, who was on the ice with another crew member as part of a South Pole expedition, confirmed yesterday that a life raft found in the Southern Ocean about 9am yesterday belonged to the Berserk.
It was missing its first aid kit and a survival knife and had a torn canopy but searchers said there was no sign it had ever been occupied. Evidence suggested it had floated free of the vessel and not been released manually, the New Zealand Rescue Co-ordination Centre (NZRCC) said.
Debris from the liferaft has been found up to 36km from where the raft itself was spotted.
The Sea Shepherd Conservation ship Steve Irwin today began searching the area surrounding Franklin Island at the head of McMurdo Sound.
The NZRCC said water temperature in the area was near-freezing and survival times were put at minutes.
The missing men include two Norwegians and a Briton. The two crew members on shore, both Norwegian, are still at least a day or two from McMurdo Base.
- NZPA