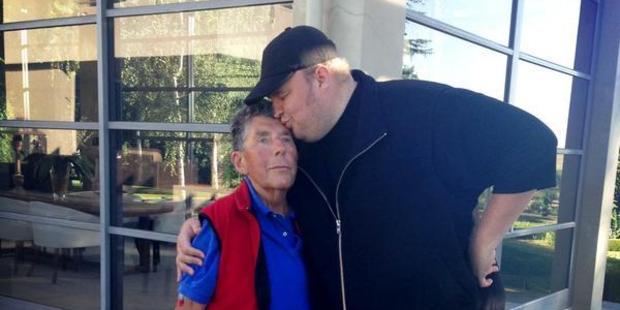 Stories making headlines across New Zealand at noon include Kim Dotcoms' visit to Hawke's Bay, a roaming sea lion and a 7 year old landing a really big fish.
When you see Kim Dotcom drop in on an ailing Paul Holmes, you might feel that you are part of a bizarre and elaborate reality-TV series. Well, according to the Internaut, we must be.
Gem the sea lion is roaming Dunedin's Chisholm Park Golf Course and nearby coastal areas, apparently in search of her pup.
Despite being just 23kg, 7-year-old Hunter Scott apparently managed to reel in a 133kg giant marlin.
Northland orca expert Ingrid Visser is continuing her court battle to free a young orca from captivity.
A Rotorua mother is concerned about the impact of a "scary new trend" to name and shame teenagers on Facebook.
An out-of-town police officer was forced to hold her elderly parents' fox terrier above her head in Flaxmere Park as two large dogs tried to attack it.
Bay of Plenty police are using Tasers to break up domestic disputes.
Jessie James Lange, of Masterton, shot another man in the forehead with a soft air pistol.
Engineers hope pouring a lime slurry into Wanganui's wastewater treatment ponds will stifle the stench plaguing the city.
The Janet Frame house is beginning to show its age.
Westland has rocketed to the top of the list of lucky lotto destinations

Top trending topics on Twitter in NZ at Noon were: #5SOSLaunchTheBump, #YoureMoreAttractiveIf, #RoyalRumble, #2YearsUnbroken, #Pinot2013, Auckland, #SAGAwards, #Laneway, #wwe and #BELIEVEacoustic

Other stories making headlines this morning:
Fire ban may take steam out of Art Deco events
Electrical failure closes hot pools
Police probe fisherman's death
Kids cling to hull as boatie disappears
Wairarapa heatwave brings growing fire risk
Custom-made bikes put brake on thieves
Public help police track down driver
Calling all wharf flying birds
- nzherald.co.nz