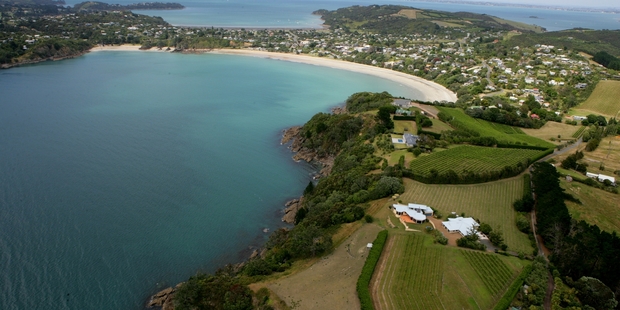 Origin of name: "One" means sands or earth so most likely it means "long sandy beach".
Population: Waiheke itself has 7500 people, rising to 50,000 in the high season, and Oneroa an estimated 3000 to 4000 year-round.
Where is it: On Waiheke Island, in the Hauraki Gulf, 18km from Auckland.
Fancy this: Waiheke is New Zealand's most densely populated island with 83.58 people a square kilometre, and is the third most heavily populated after the North and South Islands.
Really: Apparently seahorses live under Matiatitia wharf - seahorses are cool and not just because the man seahorse incubates the babies.
Most famous locals: John Hawkesby calls the island home, as do a couple of members of Team NZ, Brad Butterworth has a bach there, ditto Peter Leitch, the Mad Butcher.
Famous visitors: Bill Gates and Neil Young have made appearances, although not together. Celebrities love Waiheke.
Best website: oneroa.com is pretty good. For a broader view of the whole island go to waiheke.aucklandnz.com or waihekelocal.co.nz.
Biggest employer: Hospitality, from vineyards to restaurants, bars to accommodations, real estate agents, activity providers, it's all about serving the tourists.
Source of pride: The community, everyone helps each other and, if something goes wrong, the community rallies.
Local fiestas: Sculpture on the Gulf, Waiheke Trail Blazer Marathon, Wharf2wharf from Orapiu to Matiatia, Waiheke Walking Festival, the Garden Safari. There are also book, jazz, wine and food fests - there is so much going on, and these are just a fraction.
Best reason to stop: For a little village it has two of the most beautiful beaches and about 18 eating establishments.
Best place to take the kids: The beach when it's sunny, or when it's raining the fantastic cinema with its sofas and super atmosphere.
Best place to get a drink: Apart from the Waiheke Wine Centre, the Sand Bar's garden is top for a tipple. Although everywhere is good and there are many options.
Best food night: Go to Vino Vino for a gorgeous steak or lamb rack. The Oyster Inn for relaxed nibbles and drinks or Ajadz for Indian or Red Crab for Thai.
Best food, day: Wai Kitchen is fab, as is Ricky's - counter food or off the menu, it's up to you.
Best flat white: Spice for coffee, the Chilean women there have been serving excellent coffee for nine years.
Best bakery: Little Wai, excellent pastries and cakes.
Best Library: The new Oneroa Library is going to be gorgeous. Part of the Art Works Centre it will be opened soon.
Best museum: Whittakers Music Museum is super fruity. They put on exhibitions and recitals and have a grand collection of rare and unusual musical instruments.
Art gallery: Waiheke Community Art Gallery and Toi Gallery are both full of lovely stuff, as are all the galleries in the village.
Best walk: The Matiatia Headlands walk - there are no sculptures there at the moment, but it's a fabulous walk.
Best view: Stand in the middle of Oneroa on the viewing platform in between Ray White's and Wai Kitchen.
Best adventure: Hire a scooter and tootling around, but keep your eyes on the road. Or hire a bicycle or a kayak.
Best park: Little Oneroa has a huge playground, a big lawn, free barbecues, and there's a fantastic wood-fired pizza place called Dragonfired. All the Argentineans work there, helping to make Oneroa the Argentinean party capital of NZ - bongos and dreadlocks for no extra charge.
Here for a short time: A lot of people who come for the day tend to visit the vineyards. Cable Bay is a breathtaking modern facility with amazing art installations, Mudbrick is a beautiful French style chateau with chandeliers, and potager gardens and one of New Zealand's most picturesque restaurants. But at the risk of sounding repetitive, they're all good.
Best kept secret: You can hide on Waiheke, turn the phone off and take a proper break
Best shops: Veranda for luxury household items and gorgeous beachy stuff. Escapade does hand-knitted cardies, shrugs and hats. Islands has something for everyone, including lots of art.
Best swim: Little Oneroa - there are less boats than Oneroa, and the sun hits it for a longer time.
Wildlife to watch for: Aside from the locals, it's a bird-watchers paradise with kereru, riroriro, piwakawaka, silver eye, kingfisher, morepork and tui flitting about. Kaka are also becoming more common and shining cuckoos visit each year.. In the water you might spy koura, banded kokopu, tuna and dolphins.
When a local has visitors staying: They might hire a charter and take them fishing and if they really want to push the boat out they get caterers along for the ride. Only problem is, they'll never get the guests to go.
Safety warnings: Do your homework before you come, check opening hours and if things are operating.
Locals say: Best place on Earth, bet you wish you lived here.
Visitors say: 100 per cent paradise.
Thanks to Shane from the Waiheke Wine Centre.