Elisabeth Easther becomes 'spokes woman' for the joys of the Hauraki Rail Trail.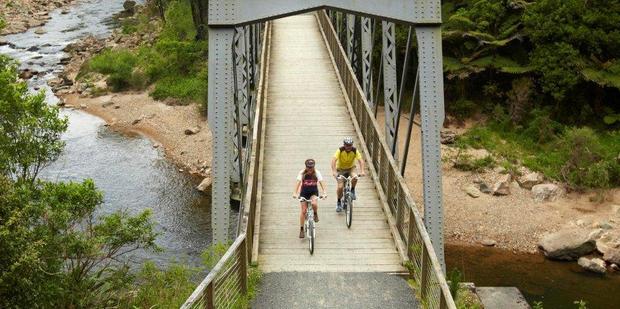 If you're fond of riding a bike, gorging in gorgeous gorges, contemplating rich history and digesting even richer food, the Hauraki Rail Trail is for you. Currently connecting Thames, Paeroa, Waihi and Te Aroha (with aspirations to go as far as Kaiaua, beyond Miranda), the former railway lines make excellent flat, elevated lanes for easy cycling. The region's miners, who dug and drunk their way from Thames to Waihi, have been replaced by the new gold mine, cycle tourism.
Our tour, led by an energetic Peter Maynard (one of the principle trail managers, ably assisted by son Josh), is ideal for friends, families or solos. The bikes are fabulously comfy, like sofas with pedals and gears, our lodgings were all cosy and the food was magnificent everywhere we went.
Day one: Thames to Paeroa, 34km
Waking in torrential rain, and cyclonic winds, the Coastal Motor Lodge never looked so good, but intrepid writers don't let a spot of weather rain on their parade.
So I dragged my companion (or did she drag me?) to Trail HQ on Mackay St to meet the rest of our team, a gaggle of seven lively ladies fresh from the Otago Rail Trail, brimming with enthusiasm. Starting with a leisurely turn around Thames, we cruised past the pretty historic houses, the Mine School Museum, the seafront, and the Saturday market. It would have been easy to spend the day pootling round Thames but it was soon time to change gears and head south for Paeroa. For two pleasant hours, we pedalled through dairy country, the cows watching us pass with bovine nonchalance. The spring grass was a vivid green, the willows trimmed just so, to the height of the tallest cow, and the occasional rafter of ripening turkeys reminded us Christmas is coming.
We soon became peckish (a recurring theme on this trip) and right on cue we reached The Cheese Barn in Matatoki, with its fabulous grub and quirky gifts. This organic oasis is great for a sit-down lunch; the cheese platter was a thing of beauty, ditto the carrot cake. Then we're back on our bikes for more cows, pretty trees and waterways. Just when our bones are saying "enough already", we pull into Paeroa's L&P Cafe which, like so many treasures on this trip, I'd regularly passed and never stopped in. Their L&P cake should be world famous, the L&P cheesecake too. Happily we left some room for dinner though, because Bistro at the Falls is a wonder. This rustic retreat, nestled in the wooded hills above the Karangahake Gorge, is a food lover's fantasy. From the bruschetta to the lamb shanks, the salmon to the panna cotta, all was sublime.
Day two: Paeroa to Waihi via Karangahake Gorge. 24 km
This was my favourite leg, starting with a quick check of Paeroa's antique shops, bursting with treasures, before setting our course for Waikino, the river burbling at our shoulder. The Karangahake Gorge is one of the 14 Wonders of NZ and rightly so too, spoiled as it is with quaint houses, a swing bridge, mazes of mine tunnels, a waterfall, a functioning steam railway and more phenomenal food. Once deep in the gorge, we dismounted to take a wander through some of the mine network. You'd need days to do the place justice and once again we were hungry. Fortunately, the Ohinemuri Winery, up the hill behind Waikino, proved a marvellous discovery. My seafood chowder was outstanding, as was the German pork shank. To work it off, we pedalled the mighty kilometre-long Karangahake Rail tunnel, before taking the Goldfields Steam Train, bikes and all, into Waihi. And though it would have been tempting to fast for a year after the feasting we'd done so far, once in Waihi, we were taken to Roland's Waitete Restaurant, and all thoughts of diets departed. Roland trained at a Michelin-starred restaurant and his pedigree was apparent in every dish.
Day three: Waihi to Te Aroha 35km
Finally, the last leg - and it felt a bit sad cycling back through the gorge, closer to journey's end. We rode back past the old mining relics, down the kilometre long tunnel with the little lights flickering above and again over the bridge strung across the river. At Paeroa we took an east turn towards Te Aroha, the wind at our tails. Interestingly Hauraki means North Wind and, whichever way it blew while we were there, it always felt to be in our favour.
Safely in charming Te Aroha, we hauled our weary bones to the hot pools for a well-earned soak until it was time to return to Thames, to our cars and everyday life.
TRAVELLER'S TIPS
The Hauraki Rail Trail: Ph (07) 868 5140. Whether you want a fully guided tour, free accommodation bookings, transport, sherpa-ing of luggage, or just bikes and a map, Peter and his team can show you the way.
Matatoki Cheese Barn: Ph (07) 868 1284. 4 Wainui Rd, Matatoki.
The Falls Retreat: Ph (07) 863 8770. 25 Waitawheta Rd Waikino
Ohinemuri Winery: Ph (07) 862 8874 Moresby St, Karangahake
Waitete Restaurant and Cafe: Ph (07) 863 8980 31 Orchard Rd, Waihi
Elisabeth Easther was a guest of Hauraki Rail Trail