New Zealand celebs are pulling out all the stops on the red carpet during awards season.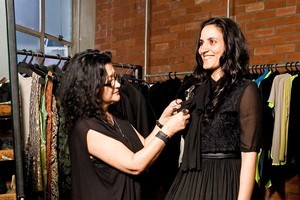 Guess which actress promised two separate fashion designers that she would be wearing their dress to the Aotearoa Film and Television Awards (Aftas) on Saturday night? One of those gowns ended up on the wardrobe floor, leaving a disappointed designer in its wake.
For fashion designers vying for the exposure a celebrity-in-a-dress can bring, there's always the fear of a fickle actress keeping her options open. Despite fittings and promises, nothing is set in stone until she steps out of the car. During award shows' season overseas, actresses (or, more likely, their stylists) can ask several designers to provide their best red carpet-appropriate gowns for perusal, keeping each designer guessing as to what outfit she'll choose until she steps out on to the red carpet. Sometimes she may even think she's decided, but change her mind at the last minute - like notoriously fickle Hilary Swank, who told Christian Dior she would wear one of their gowns to the 2000 Academy Awards, but swapped to one by Randolph Duke the night before; then in 2005 changed her mind from Calvin Klein to Guy Laroche (at the time Calvin Klein were paying her to be the "face" of their underwear, so it was assumed she would wear a Calvin Klein gown - although perhaps she had CK knickers on).
A Valentino spokesman once said to the New York Times that with many actresses, "you never know until the last moment. Her boyfriend can say, 'I'd rather see you in pink', or her dog will bark twice and it's all over".
It's happening more here too: there's that aforementioned actress who shall remain nameless, and when we spoke to fashion designer Kate Sylvester last week before the Aftas, she didn't want to say who she was dressing for fear of jinxing it. "You never know!" she laughed. "We hope we are [dressing them], but until we see it ...". She needn't have worried: her designs appeared on some of the loveliest ladies of the night, including Breakfast co-presenter Petra Bagust and actresses Tandi Wright, Antonia Prebble and Keisha Castle Hughes.
New Zealand's taste for red carpet glitz is growing, with awards events, charity galas and fashion week shows helping to glamorise our evenings. Just last week actresses and TV presenters over Auckland were being fitted and preened in preparation for the Aftas: on Friday night TV3 reporter Samantha Hayes picked up her black strapless Ruby dress, on Friday morning actress Madeleine Sami was being fitted by designer Elisabeth Findlay in her Zambesi outfit (and tweeted about having her first ever mani/pedi on Saturday morning). Stylists had been looking for dresses for weeks, each vying for the greatest gown for their client.
Michiko Hylands, the style director at TVNZ, is responsible for the overall look of all their presenters and reporters, whether they're on screen or attending a charity gala, cocktail event, or awards night. She works closely with each presenter, and though most are happy and trustworthy enough to leave it up to Hylands and her co-stylist Clifton Piper to choose their red carpet outfit, others, like Petra Bagust, have a strong love of fashion and have their own ideas.
For Hylands, big events are always about upping the glamour stakes. "The glam factor is very important to us; it's about taking it all up another notch or two, and why not? There aren't that many big events, so I tend to see most as an excuse to pump up the glamour, which is something us Kiwis tend to shy away from," she says.
On Saturday she dressed One News co-anchor Wendy Petrie in an azure blue Carla Zampatti dress, entertainment reporter Joanna Hunkin in Badgley Mischka and Miriama Kamo in a green gown by local designer Turet Knuefermann.
"For a big event, you should always be a bit larger than life; keeping in mind that the overall look needs to work harmoniously as one. It's really important to always keep it tasteful. I think that sometimes people lose their vision and this is when an outfit borders on being ridiculous, or too 'try-hard' in a desperate bid to stand out from the crowd."
Then there are those lucky enough to have something made especially for them - lucky because there's no chance of the ultimate awards show nightmare: someone turning up wearing the same thing. Bagust's orange Kate Sylvester dress was made especially for her. Fashion designer Juliette Hogan worked with TV presenter Shannon Ryan to create three bespoke dresses for Ryan's presenting duties at the Vodafone New Zealand Music Awards last month - three dresses in shades of cream, including an elegant floor-length gown for the red carpet, a shorter, sequinned dress for halfway through the show, and a sexier lace one-shouldered dress "that Shannon could go out to the after-parties in" explains Hogan. Like Kate Sylvester, Hogan has become something of a go-to for well-known women wanting something clean and classic to party elegantly in: she tailor-made a dress for actress Rose McIver to wear to the premiere of The Lovely Bones, while other well-known faces have worn her designs for big events - like Hayley Westenra when she sang the national anthem at the Rugby World Cup final, and Alisa Xayalith from the Naked and Famous, who wore Hogan to the VNZMAs.
But no matter if it's borrowed or bespoke, what every celebrity - and stylist - prefers is to wear it first. Overseas, there's a new red carpet trend that pushes this first look idea even further: advance looks, where actresses wear a dress on the red carpet before it has been seen on a runway (Gwyneth Paltrow debuted a Pucci number on the red carpet at this year's Emmys, a week before Milan Fashion Week).
So what works for red carpet glamour? Sequins are the obvious answer, but often it's about subtleties. The way a garment moves is key - Brooke Fraser's fringed Kate Sylvester dress moved beautifully as she accepted her awards at the VNZMAs last month. Print and colour always look good on the red carpet and, importantly for celebrities wanting to get their face in the social pages, on camera. Makeup artist Jeanine Lobell once told Vogue that dresses that are too clever or complicated don't work in front of a camera, but that isn't necessarily always true - classic gowns may win over mainstream audiences, but directional outfits are always more memorable. Think of Tilda Swinton's clever black Lanvin asymmetric satin velvet dress at the 2008 Oscars, Michelle Williams' ruffled canary yellow Vera Wang gown in 2006, or even Madeleine Sami's black hoop skirt by Zambesi at the Aftas - not your "traditional" red carpet outfit, but she looked far cooler, and more modern, than most.
For designer Kate Sylvester, our growing attention on event dressing is something to celebrate. And though her gowns may appear frequently, she says she doesn't necessarily design them with the red carpet in mind.
"It's just so cool to make really gorgeous, show-stopper dresses. What I love is that these awards events have evolved - a few years ago in New Zealand, there wasn't really anywhere for anybody to wear a real statement dress. It's really been in the last few years I feel that these awards events have picked up some momentum and people do make an effort and get dressed up.
"We used to make pieces like that, and they were a real indulgence almost - they'd maybe get shot for a magazine, and that might have been it.
"What's great now is that there are events where people do get dressed up, and they [the dresses] can get out there and do their job."