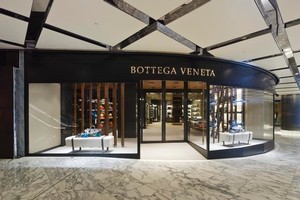 Book your tickets: Zara's first Australian store is set to open in Sydney on April 20. The three-floor store, in Sydney's new Westfield on Pitt St, will be a massive 1400sq m, with women's, men's and children's collections.
In more luxury fashion shopping news, Bottega Veneta has opened its first Australian store in Sydney. The luxe boutique will offer handbags, women's and men's shoes, jewellery, luggage, eyewear and items for the home. Visit it at Westfield Sydney, Shop 3029/30, 188 Pitt St.
Easter hunt
It's almost Easter, and The Department Store is celebrating with a special Easter treasure hunt. Until April 24, if you buy anything from the Takapuna store you'll receive a chocolate bar from Devonport Chocolates. Five lucky winners will find a golden ticket inside worth $1000 in vouchers from Karen Walker, Topshop, Stephen Marr, Black Box, Simon James, The Men's Department and Lucy & The Powder Room - just like Willy Wonka's golden ticket, but with fashion!
Charming trinket
To celebrate the 10th anniversary of the popular Pandora bracelet, Viva has a limited edition gold charm studded with diamonds to offer to a lucky collector. The charm retails for $88 and will make a terrific keepsake for a reader to either start their own Pandora collection or build on to an existing bracelet. The Danish company makes a range of items, including watches, which can be individually customised, but the craze for the bracelet with keepsake charms has seen Pandora grow from humble beginnings to now being sold in 10,000 outlets worldwide. Silver, gold and glass beads, and a choice of metal or leather straps are among the combinations that ensure each bracelet is unique to the wearer.
To go in the draw, simply email your name, address and contact phone number to vipviva@nzherald.co.nz with "Pandora" in the subject line. Entries close April 18. Winners announced April 20.
Harrods hearts Karen
Harrods of London now has an New Zealand flavour, with pieces from Karen Walker Jewellery's "Superfine" collection sold at the iconic and prestigious British store.
Biker chic
If you're crazy for leather then a visit to a Trelise Cooper boutique may be in order - last year's leather jacket is being repeated, while this Cooper by Trelise leather jacket ($725), appropriately called "Biker's Delight", is something new.
Belle of the ball
Designer Sera Lilly is holding a special Ball & Bridesmaids Dress show at luxury boutique hotel Mollies, on May 3. Tickets are $55, and include drinks, nibbles, a goody bag - and lots of pretty gowns for ball and bridesmaid inspiration. To buy tickets, phone (09) 360 6994 or email seralilly@gmail.com.
Top suits
Who doesn't love a man in a suit? Topman at The Men's Department are selling some great, affordable suit pieces for modern guys, with suit jackets starting for $175, suit pants begin at $85, shirts at $55 and ties at around $25 - so he has more money to spend on you. Get him to Topman at The Men's Department now, ph (09) 4899 202.
Get knits
We loved Huffer's knitwear when we first saw it on the runway at New Zealand Fashion Week last year, and now it's finally available to buy - perfect for the brisk autumnal weather. The mohair digital leopard print pieces are our favourites - from cardigan to sweater to cosy beanie.
Art does good
Ten local artists and creatives have collaborated on the Amazon Art Smash, a special charity auction organised by Dan Buckley, formerly of Huffer. Around 18 pieces are being auctioned off on Trade Me, including work from Charles Howells, David Read, Brett Chan, Jay Smith and Buckley himself - with proceeds going towards rebuilding Christchurch. The works ar on display for a week at the Amazon Concept Store at 74 St George's Bay Rd in Parnell - or get bidding now.
High Street markets
Central Auckland boutique House of Hedone will hold a monthly underground "Afterhours" market, with the first happening tonight from 5pm to 8pm. There will be clothing samples, new and vintage jewellery, art, food and music - so pop in after work. House of Hedone, 5b High St, City.
A cafty art
Attention crafters: applications are now open for the third Auckland Art & Craft Fair on June 11 at the Aotea Centre. The organisers want to select a group of vendors focusing on quality, craftmanship, creativity and uniqueness - visit aucklandfair.blogspot.com to put your name forward. Applications close on April 26 at 4pm.