Food writer Leanne Kitchen has had an enviable career, including writing a new cookbook, which took her to delicious Turkish nooks and crannies.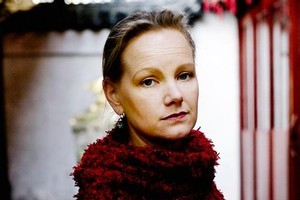 Sydney-based Kiwi chef Leanne Kitchen is a well-respected food writer and culinary explorer. And considering her career is based around food and cooking, her surname is delightfully apt.
"I married Mr Kitchen," she says. "Let me get this on record. I am not so pretentious as to make up my own surname."
Raised on a dairy farm near Te Awamutu, Kitchen "couldn't cook to save my life when I was at home". Her affinity with food was discovered thanks to a cooking roster in the Christchurch flat she lived in while studying art history and English literature at university.
"I started with good old meat and three veg, and it just grew from there."
Kitchen moved across the Tasman temporarily in 1988 then, after a few years back in New Zealand, settled in Sydney permanently 14 years ago. Working for magazines such as FQ Entertaining, Vogue Entertaining & Travel and Australian Gourmet Traveller, she carved out a career in food and travel publishing as a stylist, writer and editor.
Viva met Kitchen on her recent trip to New Zealand to complete photography for a new iPhone app detailing "cheap eats" in Auckland.
The success and enviable lifestyle she enjoys today has been achieved despite a less than encouraging start. Although she qualified as a chef at ATI (as Auckland University of Technology was then called), she initially found it tough to secure a job in the industry.
"No one wanted a bar of me. I was 24, I was a woman and I'd come from an academic background. I just did not fit any kind of demography for being a chef. Cheffing was aimed squarely at boys who were young and who weren't academic achievers. They were going into a trade."
Leading restaurateur Judith Tabron gave Kitchen her first job at Hotel DeBrett in the early 80s. "I owe her a lot really, because she employed women when a lot of other people just weren't that keen," says Kitchen who now lives in inner Sydney with her husband and son, Harry, 9.
As a family they eat "really simple, really good [food], from scratch, all the right mantras. I don't do elaborate, that's what restaurants are for." For the past two months Kitchen has been testing recipes for a celebrity chef. "So we've been eating his food. We've been eating quite nicely on the back of that job."
If she's entertaining at home Kitchen will choose a theme - perhaps Thai, rustic Italian or Turkish/Middle Eastern - and "create an extravaganza". Her formula involves multiple dishes served at room temperature so little last-minute attention is required. "I'll just platter or bowl everything up, put it all out on a bench and say: 'Bun-fight. Go for it, help yourselves.' I hate ceremony, I hate anything too structured."
Indeed, her trips through Turkey, where she recently spent more than two months researching her new book Turkey: Recipes and Tales From The Road were similarly haphazard. "My travels ended up being very random." She roamed from Istanbul, the Turkish city she fell in love with, to far-flung locales, way off the typical tourist trail.
Kitchen journeyed down the Aegean coastline and up to Amaysa on the Black Sea. She stopped at Kastamonu, Tokat, Erzurum and Van, near the Iran border, and took a slow train - "consistently four hours late" - from Sivas to "quite Russian in feel" Kars. She was especially taken with Kurdish-influenced Diyarbakir.
While many world cuisines, notably French and Italian, have been recorded in minute detail, Turkish food remains relatively unexplored. "The thing about Turkey is they take their food for granted and they're quite low-key about their food. It's not extraordinarily well documented yet, even in Turkey."
So how would Kitchen sum up the food culture? "Turkey is a really difficult country to come to terms with culinary-wise because it's physically large and it's bordered by about seven countries but I suppose ... the commonalities would be the kebab, the use of grains, such as bulgur wheat, and yoghurt, of course, is a staple."
She stayed in "cheap and cheerful" places and relied heavily on public transport. Chance encounters would send her in the direction of authentic food experiences. "Often I'd be the only white, Western woman within coo-ee. People would offer to show me around and guide me. It wasn't hard to get the low-down on where to go," says Kitchen, who found Turkish people to be very hospitable. "I was invited to people's homes for dinner, complete strangers. They could have been axe murderers but I went."
A highlight was witnessing a large-scale, yet manually-based, baklava production in Gaziantep where pastry was rolled tissue-thin and pistachios were sorted by hand. "It gives me goose-bumps when I think about the skill and precision that went into that."
Her book has more than 100 recipes, including red lentil kofte, zucchini fritters, slow-roasted lamb with pomegranate juice, sweet tahini spirals and Turkish coffee custard. "[The recipes] are embarrassingly simple. I don't know what it's like here but in Australia there's this whole MasterChef/celebrity-chef-phenomenon and people are exposing themselves to extraordinarily difficult, highly technical recipes. Then I come along with, you know, roasted beetroot dip and things that are very simple to execute. That said, there are some things that are more difficult." Manti, a kind of ravioli "with a high fiddle factor", is one such example.
Despite having boldly explored towns and villages where outsiders seldom venture, Kitchen resists the label of pioneer when it comes to deciphering Turkish cuisine.
She cites the work of Musa Dagdeviren, proprietor of Ciya restaurant - "the go-to place in Istanbul for foodies" - who has spent the past 25 years harvesting gastronomic gems from the back of beyond, as truly ground-breaking. "He's like a food anthropologist," says Kitchen.
Turkey: Recipes and Tales From The Road delivers on its simple promise: to make Turkish cuisine, from the feasts of the Ottoman court to rustic peasant fare, accessible to the home cook.
"I never set out to write the last word on Turkish food. There's a lot more to discover about Turkish food, so much more."
* Turkey: Recipes and Tales From The Road by Leanne Kitchen (Allen & Unwin $85) goes on sale tomorrow. Meet Leanne at Nosh Mt Eden on March 29 at noon-2pm or 6-8pm. $50 (includes a copy of the book). Tickets are limited. To book, ph (09) 531 5366 ext. 703 or email meltingpot@noshfood.com