Beastwars look to the past to make their unique brand of heavy metal, writes Scott Kara.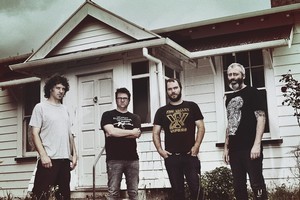 One devoted fan of Beastwars wrote on the heaving and unhinged Wellington quartet's Facebook page that they made him proud to be a New Zealander.
"It was the coolest thing," says Nathan Hickey, the band's bludgeoning drummer, "but I never really thought music could make someone feel patriotic like that. But I suppose it reminds me - and not to compare us to the mighty Shihad or anything - but when I was young listening to that band was something special."
Though Beastwars don't sound much like the Shihad of today, after many years playing in other bands it was a longing to be in something like their high school bands that got Hickey, singer Matt Hyde, guitarist Clayton Anderson and bass player James Woods together.
"This music is like the closest music to what my high school band sounded like," he laughs. "And in one way or another I think for all of us it's what sort of music our high school bands played - noisy, punky, heavy metal kind of stuff."
Hickey met Anderson at a gig and through "just being pissed at a bar" they got talking about what sort of band they wanted to be in; out of that drunken union, Beastwars was born.
That was 2006. Then along came Hyde, formerly of the Larry Normans, who turned up to one of the band's first shows when they were an instrumental three-piece. "Apparently he was in the crowd singing along, making up words to the songs," says Hickey who can't remember inviting him to the next practice but he turned up and joined in.
And they have played solidly ever since, and although it's taken a while they released their excellent self-titled debut album this month.
It's, well a beast of a record. Though it's easy to play hard fast and heavy metal, it's another thing to do it with perfect poise, power, and venom, as Beastwars do. So how did it come out sounding like that?
"I think because we're older," reckons Hickey. "I'm the youngest and I'm 32 and we've got two 40-year-olds in the band. So I think we don't have anything to prove, like look how fast we can play.
For me it's like cooking a sausage - you've got to cook it long and slow to retain that flavour. We tune down low, play quite slow, and keep the intensity there through hypnotic riffs rather than just bashing people over the head."
And they only made the album because people were coming to their shows and asking to buy some music that they could take home.
"The band has always been just for ourselves. There has never been a plan. So we had no expectations when we made the album and we just thought we'd go and record one."
They saved up between $100 and $200 each show and got enough money to record the album with Dunedin producer Dale Cotton, who in the past has worked with Dimmer and HDU.
"We recorded at Dale's house in the middle of winter, we all slept on the floor of the studio, and we only had a window of five days. But we figured Black Sabbath did their first album in two days so we could manage it," he laughs.
LOWDOWN
Who: Beastwars
Where and when: Biddy Mulligans, Hamilton, tomorrow; Thirsty Dog, Auckland, Saturday; and with Helmet, Kings Arms, Auckland, June 18 and Bar Bodega, Wellington, June 19.
Debut album: Beastwars, out now
- TimeOut