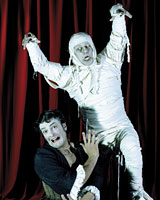 REVIEW
What: The Mystery of Irma Vep.
Where: Silo Theatre.
When: Until December 15.
Reviewer: Shannon Huse.
The Silo Theatre has the perfect cure for end-of-year-itis. A dose of The Mystery of Irma Vep should have even the most stressed feeling lighthearted again.
While the name suggests a whodunit, The Mystery of Irma Vep is more a "what the heck" exercise in theatrical ridiculousness with its pastiche of horror movies, gothic novels and more serious literary classics such as Jane Eyre and Wuthering Heights. (Think Mel Brooks' Young Frankenstein.)
The plot is less a coherent storyline and more an excuse for silly gags. For the record, it's all about the strange goings-on at Mandacrest Manor and a tomb in Egypt, where we meet the gruff Lord of the Manor, his nervous new bride, the cruel maid, stupid swineherd, a vampire, a mummy, werewolf and the mysterious Irma Vep of the title.
All eight roles are played by Michael Hurst and Oliver Driver, who obviously relish the cross-dressing camp comedy.
This is a match of two comedy talents, and some of the most delicious moments are watching them push each other to near wipe-out.
Driver uses his height and quick wit to great effect andcan work an audience as well as the best. But for my money, Hurst was the comedy knock-out of the night thanks to his combination of serious acting chops and silly physical humour.
With two such big show-offs starring, it's tempting to think that all director Jennifer Ward-Lealand had to do was stand back and let them do their thing. But this kind of theatrical froth requires a surprising amount of discipline and she is perfect at enforcing appropriate standards of theatrical craft.
The Mystery of Irma Vep has been described as a tour de force for two actors, but in this production special mention must go to musician Jason Smith, who is an able third player in the piece. A human octopus, he often plays multiple instruments at once and his score has some nice humorous references. A particular favourite was the snatch of Duelling Banjos played on a dulcimer to demonstrate the rivalry of the two leading "ladies".
John Verryt's set design is scarily provincial - a gothic manor, as depicted by the Eketahuna Players. As with his accomplished work on Badjelly the Witch, it's the low-tech special effects that delight.
Elizabeth Whiting's costumes are special effects in themselves, with lovely Victorian flourishes. The hats, wigs, pipes, novelty teeth and other accoutrements almost take on a life of their own as Hurst and Driver make increasingly frenzied costume changes. Despite that, the garments appear very detailed and are a credit to Whiting's design skill and the clever wardrobe construction of Victoria Ingram. Rounding out the design is Andrew Malmo's lighting, which plays with horror movie cliches and is most effective in evoking vaudeville conventions, as atmospheric footlights cast ghoulish shadows on the actors' faces.
Trygve Wakenshaw fills in for Oliver Driver on some nights of the season, and given his experience in physical comedies such as The Magic Chicken, he is bound to be a very able understudy. His presence also provides a great excuse for a repeatviewing.
Whether you go to see the new boy on the block or Michael Hurst and Oliver Driver strutting their stuff, The Mystery of Irma Vep is a seasonal treat. It's a funny, family-friendly little oddity that's as nutty as a fruitcake.
By Shannon Huse