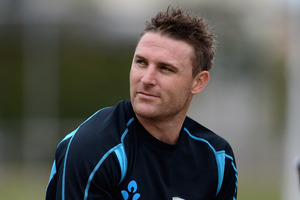 Former New Zealand great John Parker and his elusive email "cc" listers have thoroughly impressed me in the way they've kept the issue of New Zealand Cricket's perceived incompetence alive.
I've unwittingly been using Parker's prophetic prose as a sleeping aid of late as I attempt to get to the bottom of a saga which has produced more column centimetres than Shrek and Humphrey the Sea Elephant combined.
Last week, it was revealed that Black Caps captain Brendon McCullum had advised his lawyers to pursue a retraction from Parker regarding comments made about his role in the Great Galle Captaincy Change of 2012, or GGCC (2012) as it's now known in New Zealand Sports Journalistic Circles (or NZSJC).
According to sources close to McCullum's cousin's dental hygienist's friend, Parker is travelling overseas oblivious to the fact that he's driving a large, spiky, grey wedge through the very fabric of our summer game.
Nobody denies that Parker loves cricket. His radio commentary was never completely dull. He helped his community build a magnificent cricket oval in the Waikato for a fraction of the normal cost.
And apart from occasionally bludgeoning young up-and-coming bowlers with his trademark pick-up shot off his legs - which One News love to use as their current file footage of him - the building of the ground is not for his benefit alone.
I'm told the oval has given the cricket-loving locals a place to congregate and socialise free from the evils of methamphetamine and pokie machines - and lord knows urban New Zealand needs relief from P and Pokies.
Unfortunately for Parker and his invisible Facebook friends, their timing was a little off.
Since last year's administrative mishaps, public opinion has shifted dramatically from disaffection to love, driven mainly by the team's dramatic performances against the top two teams in the world.
Couple this with NZC's constitutional review which was already planned before the GGCC (2012) and it's hard to find oxygen for an argument that, at its core, claims complete administrative incompetence from New Zealand Cricket.
Every organisation is entitled to make mistakes. It's how you learn from them which defines you in the long term. NZC CEO David White has apologised for the way the GGCC (2012) was handled.
Enough said. Move on.
Parker's assertion of foul play and cronyism inside the New Zealand ranks has to be backed up by some facts.
And McCullum and other senior players are right to feel annoyed about being named as agitators by an agitator who wasn't involved in the team at the time.
Some will argue that people like Parker are essential to the well-being of the game in this country... and they have a point. He has certainly kept cricket in the public spotlight.
In the end, though, will having more cricketers on a board prevent mismanagement? Does Parker apply the same logic to other sports boards? Does his own lack of first-class netball experience prevent him from doing God's work for the Waikato-Bay of Plenty Magic board?
Interestingly, McCullum's legal team hasn't gone after Parker's millions, instead taking the moral high ground by drawing a very deep groove along the line of middle stump.
Parker's response will be fascinating. His options are now limited to acknowledging he's overstepped the line, or alternatively ripping in a bouncer - an unlikely approach unless he has some kind of physical evidence incriminating McCullum in the GGCC (2012).
Dear God, it's been an interesting summer. An ODI series win in South Africa, a drawn test series at home with England and now some off-field legal drama.
Whoever came up with New Zealand Cricket's old tagline "Anything Can Happen" was ahead of their time.