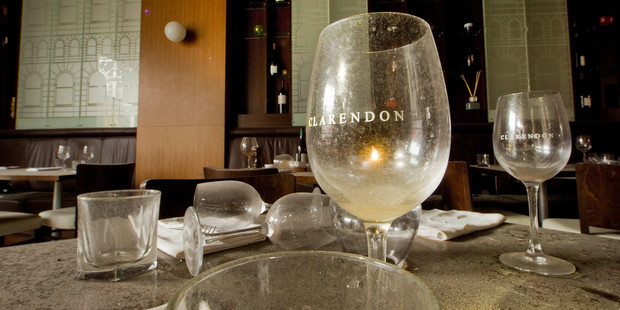 Time has stopped at the Clarendon Restaurant & Bar in Christchurch.
Table tops, seats and the floor are covered in a thick layer of dust.
Yesterday, for the first time since February 22 last year, the restaurant was opened to media, before the Clarendon Tower it is housed in is pulled down.
Plates of half-eaten somethings still sit on some tables, once-crisp white napkins are browning and wine glasses are now settled where they toppled the day the earthquake hit.
Pictures taken yesterday in the Clarendon Tower ground floor, where the restaurant is, show a room frozen in time.
In the kitchen is a yellow docket, its sides now smudged with mould, showing what table 12 ordered for lunch: one soup of the day, $14, and one risotto, $26.
The order was taken at 12.45pm - seven minutes before the quake. The docket reads: "Clarendon Restaurant & Bar.
You have been served by Sarah."
Just over a year has passed and yet slices of bread, scones and even the pot of marshmallows at the counter don't look all that bad.
But looks are deceiving.
Canterbury Earthquake Recovery Authority spokeswoman Monique Devereux said the food was shrivelled, hideous and mouldy and there was a strong smell.
The Clarendon Tower is being taken down piece by piece.
Ms Devereux said it needed to be demolished because it was now a danger to nearby buildings.
Several people were trapped inside during the earthquake, when internal staircases collapsed. No one was killed in the tower.
- Staff reporter