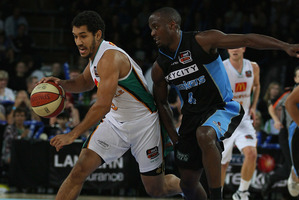 Breakers coach Andrej Lemanis says his side were "embarrassed" by their performance in Friday night's loss to Townsville - but that's actually good news for their hopes of a turnaround.
The Breakers dropped the first game of their best-of-three semifinal series against the Crocs, leaving them with a trip to north Queensland to fight for their playoff lives on Thursday.
And Lemanis reckoned their poor standard of play in the 99-82 defeat at Vector Arena was more a blessing in disguise than cause for concern.
"I think, as a team, we're probably a little embarrassed about how we played on Friday night," he said. "I guess, in some ways, the strange thing is that's the good news, because we can fix that and we can certainly come out and play with a much greater intensity on Thursday night."
The Breakers will need to if they are to stand any chance of repeating as Australian NBL champions.
In losing just their second game at home all season, the North Shore club looked nothing like the side which romped to the minor premiership with a 21-7 record.
Lemanis said a lack of intensity from his team was the salient factor in the Breakers' downfall.
"I don't think [Townsville] did anything that was different, or anything they hadn't done during the season. I certainly think they played with a good energy level and a good effort level, and we didn't match it. That was the crux of it."
Another flat performance and a season which promised so much will end with a whimper, but the Breakers set about righting the wrongs at practice yesterday. A high-level session was punctuated by a closed-doors discussion in which the players cleared the air surrounding Friday's failure.
"We often sit down and talk about stuff and we speak openly to each other. I just wanted to make sure the guys felt comfortable speaking openly to one another without anyone there listening."
What was said during that meeting was probably as pretty as what the Breakers showed on the floor during game one. The 99 points the home side conceded were a season-high and Townsville led in almost every major statistical category, including the rebound count which so rarely goes against the hard-nosed Breakers.
But Lemanis believed there was no reason to alter a style of play so successful for his side during the regular season.
The recent winner of the league's coach of the year award was never likely to push the panic button after one game, regardless of the result. The Breakers have been down this road before, losing the equivalent game to Perth last year but still going on to take the series.
The memory of that comeback, and of the subsequent championship, ensured there would be no shortage of motivation heading into the Swamp, according to Lemanis.
"You don't often get a chance to win a championship, so to have that opportunity - and for some guys to have the opportunity to win back to back - that's pretty rare." APNZ
- APNZ