Donald Trump may be in serious trouble.
For the first time, the US leader has been linked to a federal crime, and now there's even talk that he could face jail time over it.
"There's a very real prospect that on the day Donald Trump leaves office, the Justice Department may indict him. That he may be the first president in quite some time to face the real prospect of jail time," Adam Schiff, Democratic Representative of California, told CBS News' Face The Nation.
"We have been discussing the issue of pardons the President may offer to people or dangle in front of people. The bigger pardon question may come down the road, as the next president has to determine whether to pardon Donald Trump."
The President is facing off against a series of accusations put together by a team of investigators.
WHAT'S TRUMP BEEN ACCUSED OF NOW?
Special counsel Robert Mueller has launched an 18-month investigation into the legitimacy of Donald Trump's 2016 election win.
On Friday, he released a number of filings on the president:
• Trump ordered his then-lawyer Michael Cohen to make illegal payments to two women — Stormy Daniels and Karen McDougal — in exchange for their silence about their alleged sexual affairs with Mr Trump in the mid-2000s.
• In November 2015, a Russian national spoke with Cohen and tried to offer "political synergy" with Trump's campaign.
• Cohen lied to Congress over the level of his involvement in reaching a deal on Trump Tower Moscow with the Russians.
• Paul Manafort, who has pleaded guilty to financial crimes unrelated to the campaign, downplayed the extent of his contacts with Konstantin Kilimnik, a Russian official with ties to a Russian military intelligence agency accused of hacking the Democrats' servers.
• Manafort remained in contact with Trump administration officials long after his indictment late last year.
Trump was referred to in documents as "Individual-1", but prosecutors made it clear this was him.
"On approximately June 16, 2015, Individual-1, for whom Cohen worked at the time, began an ultimately successful campaign for President of the United States," they noted.
Prosecutors said Trump's lawyer clearly sought to influence the outcome of the 2016 election from the sidelines through illicit payments.
Legally, this could potentially be a big deal. Under US federal law, any payments made for the "purpose of influencing" an election must be reported in campaign finance disclosures.
"While many Americans who desired a particular outcome to the election knocked on doors, toiled at phone banks or found any number of other legal ways to make their voices heard, Cohen sought to influence the election from the shadows," the prosecutors wrote.
"He did so by orchestrating secret and illegal payments to silence two women who otherwise would have made public their alleged extramarital affairs with Individual-1. In the process, Cohen deceived the voting public by hiding alleged facts that he believed would have had a substantial effect on the election."
Prosecutors said Cohen took great steps to hide the payments, creating shell companies, using fake invoices and sending them in small amounts so they wouldn't arouse suspicion.
He arranged for a $US130,000 payment to adult film star Daniels, which prosecutors concluded violated campaign finance law prohibitions against donations of more than $US2700 in a general election.
Trump has denied all wrongdoing, has repeatedly claimed the affairs did not take place, and compared the investigations to a "witch hunt".
He touted his administration's accomplishments, claiming his administration has "accomplished more than any other US administration" in its first two years.
'AN IMPEACHABLE OFFENCE'
Jerrold Nadler, a New York Democrat set to take over the House Judiciary Committee next month, said this would be an "impeachable offence".
"What these indictments and filings show is that the President was at the centre of a massive fraud — several massive frauds against the American people," he told CNN.
"They would be impeachable offences."
However, he did add that "whether they are important enough to justify an impeachment is a different question", noting it was too early to say whether Congress would pursue impeachment proceedings based on the illegal payments alone.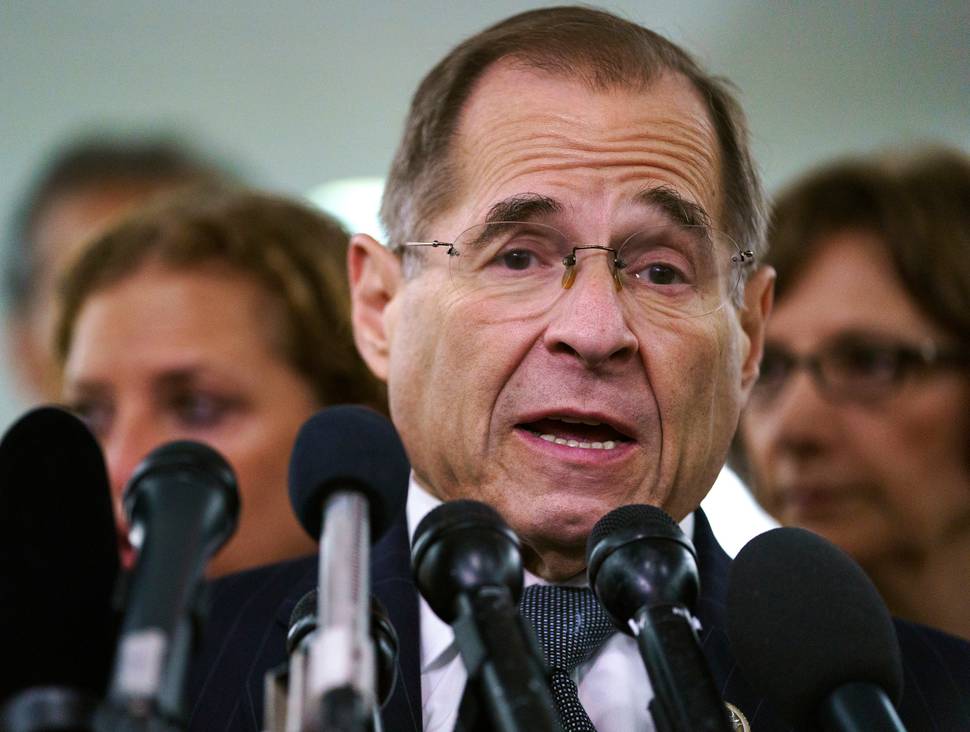 The House Judiciary Committee oversees the administration of law and justice within federal courts in the US.
But he did note that the Democrats will step up their own investigations on the matter come January.
"The new Congress will not try to shield the President," he said.
"We will try to get to the bottom of this, in order to serve the American people and to stop this massive conspiracy — this massive fraud on the American people."
John Dean, a White House counsel who became a key witness in the Watergate scandal in the 1970s, similarly said the allegations give Congress "little choice" but to begin impeachment proceedings.
"I don't know that this will forever disappear into some dark hole of unprosecutable presidents," Mr Dean told CNN. "I think it will resurface in the Congress. I think what this totality of today's filings show (is) that the House is going to have little choice, the way this is going, other than to start impeachment proceedings.
"In his allocution, he (Cohen) implicated Trump directly. And he was doing it, his instructions, that's why the payments were made and they were for his benefit."