Captivating footage has emerged of the last known survivor of an Amazonian tribe murdered by farmers over two decades ago.
Known as "the indigenous man in the hole", the tribesman has been captured on video by Government officials in the Brazilian state of Rondonia.
He is seen half naked attempting to fell a tree and is thought to have his own papaya and corn plantations that surround his homemade hut made of trees.
Experts first discovered him in the jungle in 1996 and his face was only filmed for the first time in 1998, the MailOnline reported.
They think he has lived alone there for 22 years. Aged in his 50s, he spends most of his time hunting forest pigs, birds and monkeys with a bow and arrow, reports The Guardian.
Farmers and land grabbers are believed to have murdered the other five members of his tribe in an attack in 1995.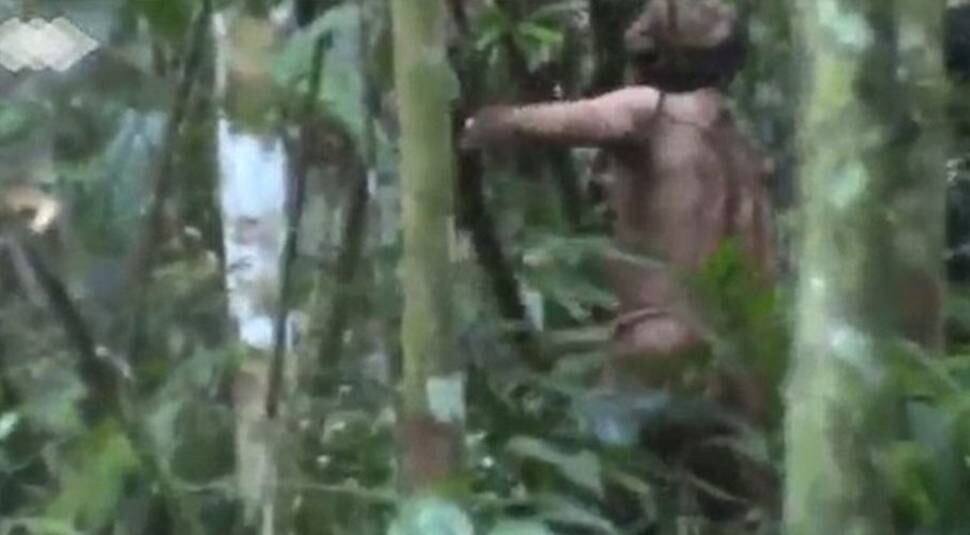 They killed and expelled indigenous Amazonians throughout the 1970s and 1980s, but he managed to survive, according to indigenous Government agency Funai.
Funai has a strict policy of leaving isolated groups in the region alone, but they have monitored his activity from a distance since he was first spotted in 1996.
They do not know his name or the name of his tribe, but have worked to extend the area of his jungle home to 8,070 hectares so he can maintain his lifestyle.
Traditional weapons like axes and machetes have been left by Funai workers for him to find, but they never allow themselves to be seen by him.
Fiona Watson, of research group Survival International, told The Guardian the video clip of the man is 'extraordinary' given his land is surrounded by ranches on all sides.
She said: "Funai has a duty to show that he is well and alive. The crucial thing is Funai has managed to keep his territory."
"The fact he is still alive gives you hope. He is the ultimate symbol, if you like."
Funai, who works to protect the rights of indigenous people and isolated groups, claims there are 113 uncontacted tribes in the Brazilian Amazon, 27 of which they have confirmed sightings of.
WHO IS THE INDIGENOUS MAN IN THE HOLE AND WHAT TRIBE WAS HE PART OF?

The 'indigenous man in the hole' or 'the last man' was first seen living a solitary life in the Amazon jungle of Rodonia in 1996.
Experts believe he was left on his own when the other five members of his tribe were killed by farmers in an attack on the land the year before.
Funai, Brazil's governmental agency for indigenous affairs, has strict rules that limit interaction with isolated and uncontacted tribesmen, so they do not know what his real name is or that of his original group.
Members of the research and conservation group have been monitoring his behaviour since 1996, but he has only been seen on film once before now- in a Brazilian documentary called Corumbiara shot in 1998.
They regularly check to see his still alive and often find him building holes in the earth, which is how he got his nickname, - to trap animals or hide in himself.
He spends time felling trees, hunting animals to eat and walks around half-naked covered only by a loincloth.
The last man, aged in his 50s, has his own mini plantation where he grows papaya and corn.
The area where the man lives is around 8,070 hectares, but surrounded by ranches on all sides.
It is 'extraordinary' he has been able to keep himself cut off from mainstream society for so long, given land grabbers and farmers are keen on his jungle land, according to research non-profit group Survival International.
They have helped expand his land and lay down handmade weapons for him to use.
Funai believe there are 113 uncontacted tribes living in the Brazilian Amazon, 27 of which have been sighted.