Missile strikes on a Syrian air base have left 14 dead hours after Donald Trump warned "animal" dictator Bashar al-Assad there would be a "big price to pay" for a horrifying chemical attack that killed dozens of children.
Syria and Russia has blamed Israel for the strike on the T-4 military base in Homs province, but the country has refused to comment on its possible involvement.
Moscow said two Israeli F-15 fighters launched the attack while flying over neighbouring Lebanon, targeting the base with eight missiles - five of which were shot down. The aircraft did not enter Syrian airspace, it said, while local reports claimed the rockets crossed Lebanese airspace over Keserwan and Bekaa districts.
The US and France have both denied launching the attack, which is understood to have killed a number of Iranian fighters loyal to Assad.
It followed a suspected poison gas attack on Saturday on the last remaining foothold for the Syrian opposition in the eastern suburbs of Damascus. At least 40 were killed while horrific images showed men, women and children gasping for air and foaming at the mouth and medics said survivors smelled strongly of chlorine.
Syria's state-run news agency SANA said this morning's airbase attack was "Israeli aggression" having earlier pointed the finger at the US.
Israel has so far refused to comment but it carried out strikes against a Syrian government base in the country's centre in February, with war monitors identifying it at the time as T-4.
Israel has struck targets inside Syria on multiple occasions throughout the country's seven-year war, including those linked to Iran and Hezbollah or to Assad's chemical weapons programme. An Israeli military spokeswoman declined to comment this morning.
Trump and French counterpart Emmanuel Macron had on Sunday vowed a 'strong, joint response' to the suspected chemical attack on the rebel-held town of Douma.
Horrific images from the alleged strike sparked global alarm and the UN Security Council was expected to discuss the crisis later on Monday.
The Syrian government denies carrying out the chemical attack, calling the claims a fabrication. But human rights groups and U.N. officials say the tactic amounts to forced displacement, a war crime.
Trump promised a "big price to pay" over the apparent chemical attack as he lashed out at Russian President Vladimir Putin for his role in propping up Assad.
"Many dead, including women and children, in mindless CHEMICAL attack in Syria. Area of atrocity is in lockdown and encircled by Syrian Army, making it completely inaccessible to outside world," Trump wrote. "President Putin, Russia and Iran are responsible for backing Animal Assad.
"Open area immediately for medical help and verification," he ordered. "Another humanitarian disaster for no reason whatsoever. SICK!" he wrote.
Trump also used the opportunity to criticise his predecessor.
"If President Obama had crossed his stated Red Line In the Sand, the Syrian disaster would have ended long ago!" Trump tweeted. "Animal Assad would have been history!"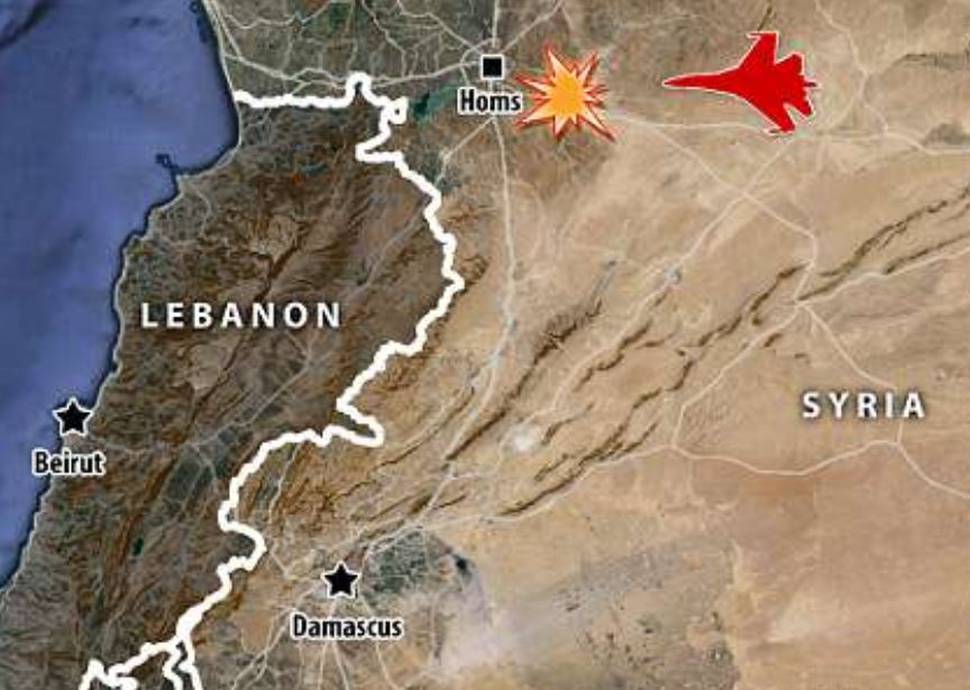 Trump was referring to Obama's statement – which the former president later backed away from – that if he saw "a whole bunch of chemical weapons moving around or being utilised" that would be a "red line" that would change the equation in Syria. Obama had threatened military action if this was the case.
Britain's Foreign Secretary Boris Johnson said he suspected Assad's regime was to blame and warned Russia not to interfere with an investigation.
He warned the international community it "must respond" to the latest chemical weapons outrage in Syria. Johnson, who has backed military action after earlier atrocities, said the attack in Douma was "deeply disturbing".
Warning Britain was in "close touch" with allies, he added: "Those responsible for the use of chemical weapons have lost all moral integrity and must be held to account."
Syria's SANA agency reported just before dawn that "several missiles" had hit T-4 and that air defence systems had been activated. It initially reported the strike as a 'suspected US attack' but later withdrew all references to the United States.
The Syrian Observatory for Human Rights, which monitors the country's conflict, said 14 fighters had been killed, including Iranian forces allied to the country's regime.
Forces from Russia and Iran, as well as fighters from the Lebanese Hezbollah militia, are known to have a presence at the base, said Observatory chief Rami Abdel Rahman.
No Russian specialists present in Syria were injured in the attack, Moscow's defence ministry said.
The Pentagon said this morning that it was not carrying out strikes in Syria "at this time" while French military officials told AFP: "It was not us".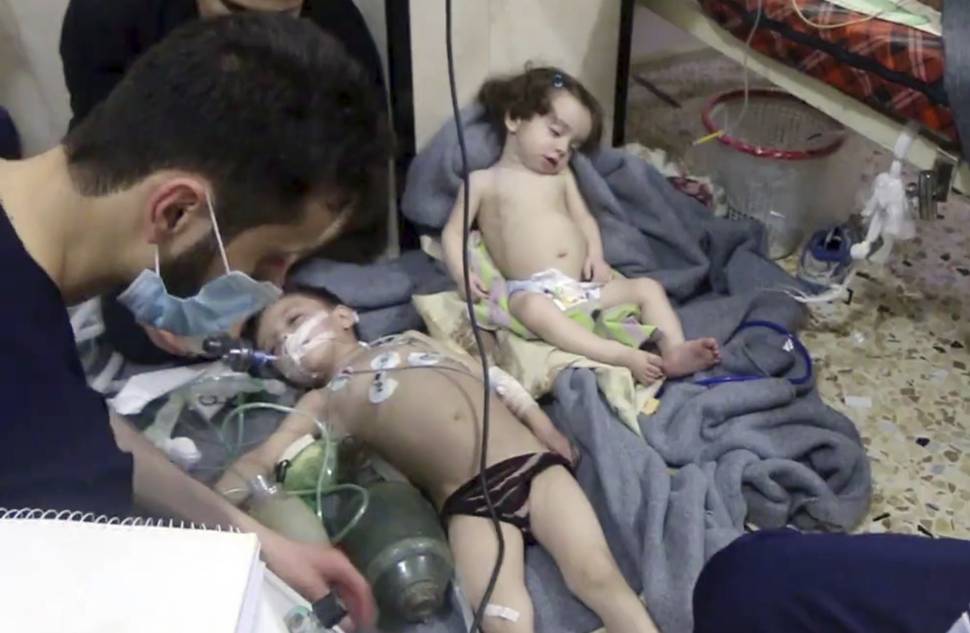 Last year, the U.S. launched several dozen Tomahawk cruise missiles at a Syrian air base after a chemical attack in the northern Syrian town of Khan Sheikhoun killed dozens of people. Israel has also struck inside Syria in recent years.
Haitham Bakkar, an opposition activist inside the town where the chemical attack took place, spoke to the Associated Press by WhatsApp.
Bakkar said several bombs laced with chemicals landed in Douma Saturday night. Another activist, Bilal Abou Salah, said a large, yellow cylinder smashed through the roof of an apartment building and came to rest on the third floor and started to discharge gas.
The Syrian Civil Defense group documented 42 fatalities but was impeded from searching further by strong odors that gave rescuers difficulties breathing, said Siraj Mahmoud, a spokesman for the group.
A joint statement by the civil defense group and the medical society said that more than 500 people, mostly women and children, were brought to medical centers complaining of difficulty breathing, foaming at the mouth and burning sensations in the eyes. Some had bluish skin, a sign of oxygen deprivation.
The symptoms were consistent with chemical exposure. One patient, a woman, had convulsions and pinpoint pupils, suggesting exposure to a nerve agent, the statement said.
The Syrian Observatory for Human Rights issued a higher death toll, saying at least 80 people were killed in Douma, including around 40 who died from suffocation. But it said the suffocations were the result of shelters collapsing on people inside them.
"Until this minute, no one has been able to find out the kind of agent that was used," Mahmoud said in a video statement from northern Syria.
The Syrian government, in a statement posted on the state-run news agency SANA, denied the allegations. It said the claims were "fabrications" by the Army of Islam and a "failed attempt" to impede government advances.
"The army, which is advancing rapidly and with determination, does not need to use any kind of chemical agents," the statement said.
Russia denied any involvement in the attack. Maj. Gen. Yuri Yevtushenko was quoted by Russian news agencies Sunday as saying Russia was prepared to send specialists to Douma to "confirm the fabricated nature" of the reports.
It came after talks between the Army of Islam and Russia collapsed Friday, ending 10 days of calm for residents trapped inside.
Syrian state media said today that dozens of civilians who had been held for years by the rebel group have been set free.
SANA news agency said the people were freed around midnight on Sunday. It says they had been held by the Army of Islam since 2013.
Their release is part of a newly reached deal in which thousands of Army of Islam fighters and their relative will be allowed to leave the town of Douma and head to rebel-held parts in northern Syria.
SANA released pictures of men, women and children waving from buses shortly after they crossed into government-controlled areas on the edge of Douma.
The Army of Islam is holding thousands of people in the Tawba prison that they run inside Douma.
Meanwhile, President Trump has said that he wants out of Syria as quickly as possible.
The Associated Press reported on Friday that Trump made it clear to top aides that he wanted U.S. troops out of Syria within the next six months.
His plan faced unanimous opposition from the Joint Chiefs of Staff, the Pentagon, the State Department and the intelligence community, who all argued that keeping the 2,000 soldiers in Syria was the key to keeping the Islamic State at bay.
Defense Secretary James Mattis argued that an immediate withdrawal could be catastrophic and logistically impossible to pull off in a responsible way, the AP reported.
Mattis floated a one-year withdrawal as an alternative.
Trump said he'd give the military six months to get the job done.