A 16-year-old girl has been arrested in the French city of Montpellier on suspicion of plotting a suicide attack in Paris.
She was one of four suspects arrested after investigators from the anti-terrorist sub-directorate swooped this morning.
Agents had been monitoring their computers for several weeks, and it thought the four may have been identified on social media.
A 'bomb-making laboratory' was found in the single flat raided in Montpellier, said a source close to the case.
Ingredients found included the peroxide-based explosive, triacetone triperoxide, or TATP.
Also known as the 'Mother of Satan', TATP has been used by terrorist bombers for years, and figured prominently in the suicide belts used in the 2015 attacks on Paris.
Those arrested today included a 16-year-old girl, and her 21-year-old boyfriend. The source said that all four suspects 'were living together' and planning 'a kamikaze attack'.
Suicide attacks by young girls are unheard of in Europe, although there have been a number of cases in Africa, including by bombers linked to Nigerian group Boko Haram.
Police sources in Montpellier confirmed that a raid on a council estate in the city was 'underway and that four people have been arrested'.
'Explosive substances' and computer equipment was seized by the police, who can now hold the suspects for up to four days before levelling charges, or releasing them.
It was exactly a week ago that Abdallah El-Hamahmy, a 29-year-old Egyptian, ran into the Louvre museum in Paris with two machetes, and attacked a group of soldiers.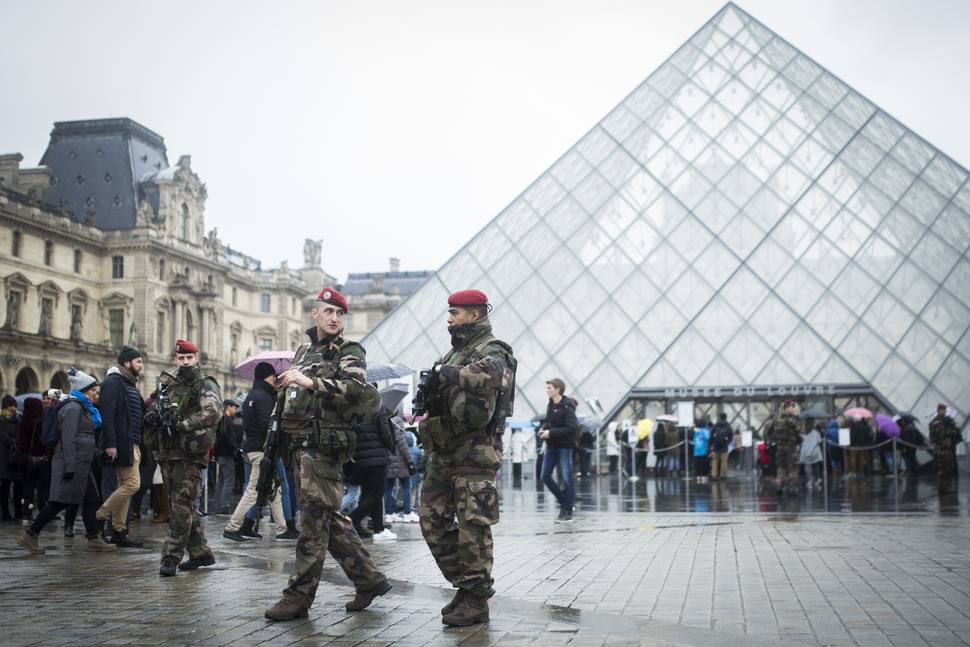 He was immediately shot five times, and ended up in hospital, where he is now recovering from stomach wounds.
Hamahmy has since been linked to Islamic State, although he denies any affiliation to the terrorist group.
Islamic State were responsible for a series of attacks on Paris in 2015, murdering 130 people in a single night of violence on November 13.
Suicide belts were used by Kalashnikov wielding operatives, most of whom came from France and Belgium.
A State of Emergency was imposed immediately afterwards, allowing agencies like the DGSI greater powers to monitor suspects.
In November, a former French paratrooper was charged with murder after a female care worker was killed and 70 retired priests were held hostage at a care home near Montpellier.
The bloody attack in the village of Montferrier-sur-Lez was originally linked to terrorism, but then it emerged that the alleged attacker was a local man with no links to Islamist extremism.