As the mother and brother of slain Melbourne man David Dick sat crying during a public appeal yesterday, a picture of a suspect was shown behind them.
The image of the man, who could be seen carrying what is thought to be a sword, was captured on CCTV at the Doncaster Westfield last Thursday, the day before Mr Dick was brutally slashed and killed as he stepped out of a carpark lift.
His mother Carol Cloke choked back tears when she said to media: "Why does this happen? My son has been murdered."
Her other son, Simon Dick, held his mother's hand tightly as he turned and looked at the image of the man police wanted to question over what police say was a "calculated, vicious attack".
They didn't recognise the man as a family member - 39-year-old Jonathan Dick, Simon and David's brother and Ms Cloke's middle son.
In a stunning twist, homicide squad detectives are now hunting Jonathan Dick in connection with the murder of his brother.
The revelation that he was the man in the images came to police last night after extensive publicity. The family didn't see it coming, Homicide Squad head Detective Inspector Mick Hughes told media on Wednesday.
They had "absolutely no idea" Jonathan appeared to be the man pictured in the footage.
"This family are under so much stress - I can't second guess why they wouldn't recognise him," Insp Hughes said.
They had no idea Jonathan could be linked to his brother's death, and didn't recognise him as he had cut his hair short and was lighter.
They were shown the footage before they spoke to media and told police they didn't know who the man was.
"Not one of them had an inkling that this could have even been a possibility."
Police believe the murder was targeted so began looking at those closest to Mr Dick. They looked at a recent picture of Jonathan and thought it was "a possibility" he was the man on the CCTV footage.
"But when you're speaking to the family - they are a really honest, open family - when you talk to people like that, you take them at what they're saying, that they don't know him. Not only they didn't think it was their son and brother they didn't think it was anyone they knew."
Police believe the mentally ill Jonathan Dick may be headed interstate to New South Wales or Queensland.
"We're asking Jonathan if he does see the media, can he contact police, contact Crimestoppers or triple-0, and we will make ourselves available to him wherever he is," Insp Hughes said.
No one has heard from him for a number of days, since he left his Seymour, Melbourne, address.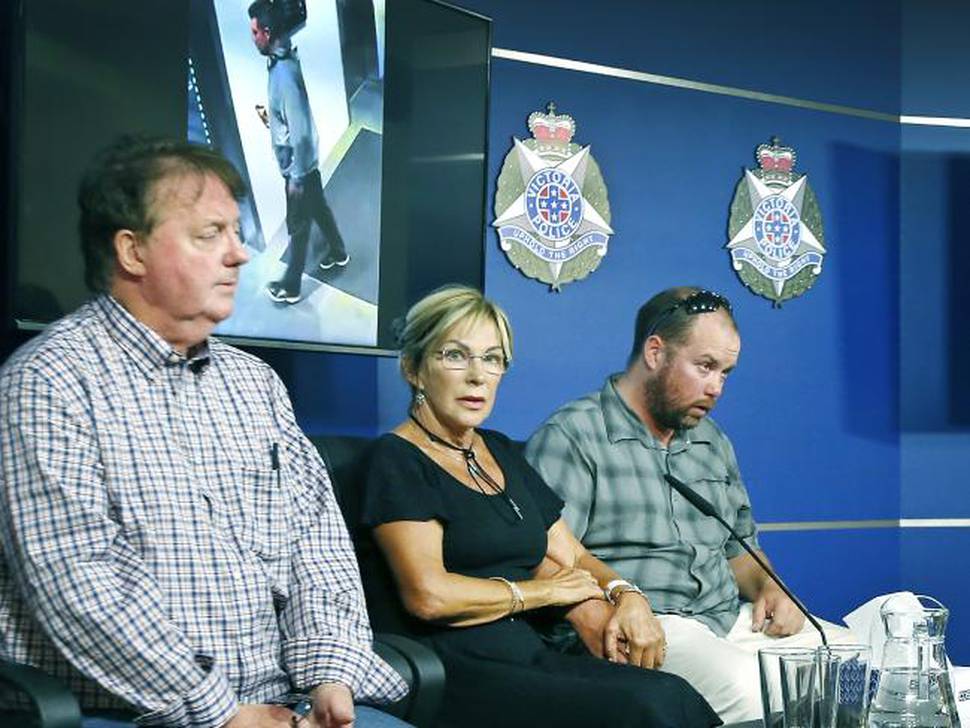 His uncle reported him missing.
He revealed there was "significant contact" with people after yesterday's appeal which led police to naming him as a "person of interest".
"We're concerned for Jonathan himself, he's had a recently diagnosed medical condition ... We're concerned for his safety, we're concerned for the public's safety only from the point of view that they don't approach Jonathan."
He is not taking medication for his condition, which was related to mental health.
Police don't know what the motive for the attack was.
Ms Cloke was "coming to terms" with the development, Insp Hughes said. Simon Dick was close to his brothers so was particularly traumatised.
Insp Hughes had a message for Jonathan: "You're family is still here, no matter how difficult the circumstances are."
'My son has been murdered'
Ms Cloke made a desperate and tearful plea on Tuesday to anybody who had information about who killed her son.
David was on his way to work on Friday, his normal routine, when he was attacked about 6.10am.
The person who killed him was planning to do it on Thursday - except Mr Dick didn't turn up to the carpark that day, police said.
Insp Hughes said Mr Dick was found by a fitness group in the carpark lobby. They tried to help and called the ambulance but Mr Dick had died. He had reportedly had his throat slashed.
Mr Dick, 36, was a concreter and often parked in the carpark of Westfield Doncaster, east of Melbourne, before catching a bus.
"This was an incredibly brutal attack and David's family is devastated by his death," Insp Hughes said.
The killer is believed to have been near the carpark between 5.45am and 6.10am on Thursday, February 2, and again the next morning when Mr Dick was slain.
Police said the attacker had what is believed to be a long, edged weapon in an equipment bag on both the Thursday and Friday. The attacker reportedly fled via a fire exit.
There is no known motive for the attack and police said Mr Dick had no time to fight back, or even feel fear. Police believe the attacker injured himself during the brutal murder.
"It is a targeted attack, there will be a connection. Whether they are known to each other we don't know but you don't spend time watching someone," Insp Hughes said yesterday.
"This isn't random. It's a calculated, vicious attack."
"I'm not quite sure where to start," Ms Cloke said at the public appeal as she choked back tears.
"Why does this happen? My son has been murdered."
Ms Cloke has three sons, Mr Dick being the middle child, and she said she spoke to them every week.
"David was the most beautiful, fun-loving, magical person. We all loved him so much, he had an enormous strength of character, he played football and cricket in Melbourne," she said.
"I don't know what else to say about my son. All I know is I'll never see him again."
Ms Cloke said her son had been sad and down for a little while but he'd finally just started getting on with his life.
Through tears, she said she just wanted her son back.
Mr Dick's uncle, John Hird, had dinner with him just a week ago and said he was happy and everything was going well.
"We just talked about his job, he got extremely fit, was doing the gym. We talked about life in general, nothing specific, but he didn't seem to be stressed. He was extremely happy and started establishing a relationship with a girl," Mr Hird said.
"I'm angry. Nobody deserves to be treated like that and I think if you know who that person is will you please come forward and speak to police because it's wrong, it's just simply wrong. I'm not saying David was an angel but nobody deserves it."
Police released CCTV footage of a man they wanted to speak to in relation to the brutal attack. He is of Caucasian appearance, aged in his 30s and about 176cm tall with a solid build and mousy brown hair.
Footage taken on Thursday, a day before the attack, shows him wearing a grey hooded jumper, tracksuit pants and runners and carrying an item with a long yellow cover.