Victoria's Police Chief Commissioner Graham Ashton has confirmed the driver of the vehicle that "intentionally" ploughed into pedestrians in Melbourne's CBD is a 26-year-old man known to police and was on bail.
The man police believe is responsible for today's atrocity is 26-year-old Dimitrious Gargasoulas, the Herald Sun reports.
The driver was shot by police in his arm and is being treated in hospital.
The incident is not terrorism related.
Police will today try to interview Gargasoulas, as more details emerge on the four people who were tragically killed.
Deputy Commissioner Andrew Crisp has told the Nine Network that police hope to charge and interview Dimitrious "Jimmy" Gargasoulas, the man who allegedly stabbed his brother Angelo in the morning then evaded police for hours before ramming his car into pedestrians who were walking in a mall.
A 10-year-old girl, 25-year-old man and a 32-year-old woman died at the scene in Bourke St, while a fourth victim, a 33-year-old man, died in hospital last night.
Along with the four killed, more are in hospital critically injured after pedestrians were mowed down on Melbourne's Bourke St mall.
Gargasoulas is in hospital recovering from a non-life-threatening gunshot injury to his arm.
This morning the cordon was lifted and shoppers are returning to the Bourke St mall.
People are leaving flowers at the scene.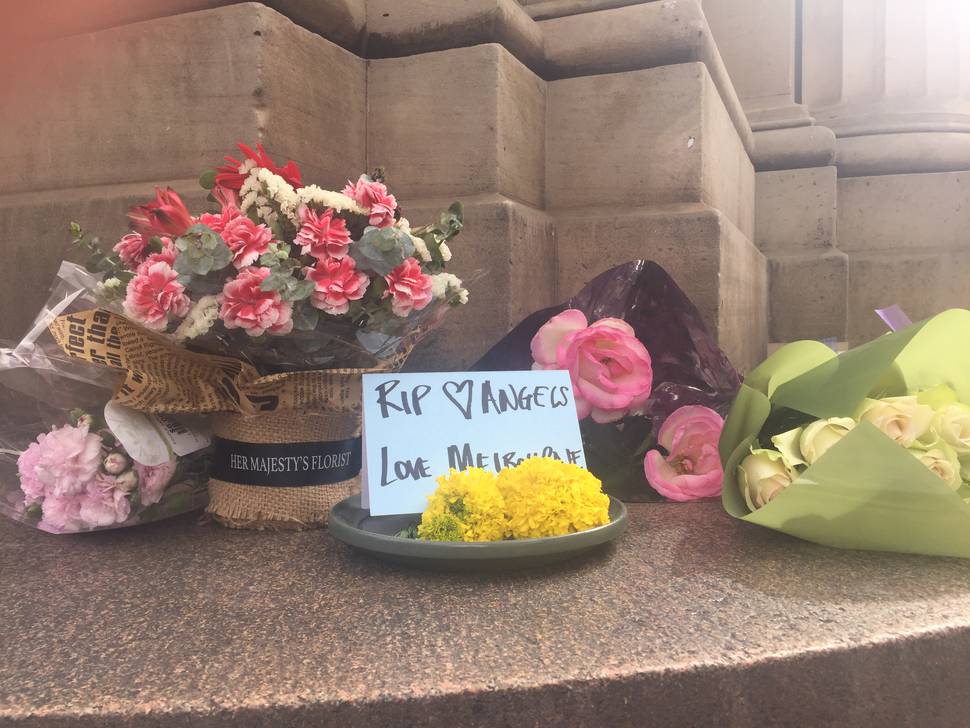 Police understand the incident is linked to a stabbing that took place in Windsor early Friday morning involving parties known to one another.
Following this incident, it is alleged the same man took a woman, who is known to him, hostage in a stolen Holden Commodore.
She managed to escape from the car on the Bolte Bridge earlier today.
Four people have been confirmed deceased with more than 20 people injured.
As the event unfolded, pictures gradually emerged revealing the true horror of the incident
The deceased are yet to be formally identified however police can confirm one of the deceased is a young child.
Police and emergency services remain on the scene and request that people avoid the area.
The Homicide Squad will be investigating with the assistance of the Major Collision Investigation Unit.
Police are going to charge him in relation to multiple homicides and some other charges.
They want him to be remanded in custody, Mr Ashton told ABC's 7.30.
The driver was under police guard in St Vincent's Hospital as homicide squad detectives head a major ­inquiry into the tragedy, the Herald Sun reports.
Mr Gargasoulas had been wanted over the stabbing of his brother, Angelo, at their ­mother's Windsor home at 2.15am.
It is unclear what happened in the 11 hours after the stabbing, some of which was spent with a female hostage.
Mr Gargasoulas allegedly disrupted a television journalist's report at the scene of the stabbing, parking in the background in the stolen car.
Days before the alleged rampage, an ominous post on Mr Gargasoulas's Facebook page said: "I'LL TAKE YOU ALL OUT ... YOU NEED AN ARMY TO TAKE ME."
Witnesses have placed the Commodore at South Melbourne, Docklands and Yarraville.
At one stage in Yarraville, Mr Gargasoulas is alleged to have shouted: "Armageddon is coming. The end of the world's going to come today. Watch the news."
It comes as a Victoria Police statement confirmed among the four dead was a 10-year-old child.
Police said more were injured by the car, including four children, after the man deliberately targeted people at Bourke Street Mall, one of the main streets of Melbourne's Central Business District.
One child was so badly injured that "police ended up taking that child to hospital in the police car because we couldn't wait for the ambulance to arrive, such was the condition of the child", Mr Ashton said.
"That infant child is currently in a critical condition at hospital at the moment.
"We have other people who are presenting as a result of witnessing the incidents with health problems and Ambulance Victoria are in the process of treating those people."
The dead were scattered along "separate locations in Bourke Street".
"They aren't located together. They are at different intersections as this vehicle has made its way up so we don't believe at this point that those - either of the two adults or the child - are related but certainly they have been killed at various locations as this vehicle has made its way up Bourke Street," he said.
Mr Ashton said the deceased were a man and a woman both in their 30s.
Paramedics treated 24 people at the scene.
Ambulance Victoria State Health Commander Paul Holman said bystanders provided first aid in the minutes before paramedics arrived.
"It was quite a difficult scene with injured people spread across almost three city blocks," Mr Holman said.
"Despite several people having serious injuries, bystanders remained calm and were helping those who had been hurt.
"Ambulance Victoria activated its highest level of emergency response and sent more than 40 ambulance vehicles to the scene including an Emergency Support Vehicle used up to triage injured people at major incidents. A Health Commander and managers were also sent to the scene.
"Ambulance Victoria worked with hospitals to distribute the injured to hospitals in and around the CBD including the trauma centres at the Royal Melbourne Hospital, The Alfred and Royal Children's Hospital, as well as St Vincent's Hospital and the Eye and Ear hospital.
"Unfortunately three people died in the incident. Another 15 people were injured. Five of those are in critical condition. Those injuries include serious head injuries and fractures.
"A further nine people who weren't injured in the initial incident were treated and taken to hospital with various medical conditions.
"Our paramedics worked alongside Victoria Police and MFB and we appreciate their assistance in difficult circumstances," Mr Holman said.
Those injured were taken by ambulance to:
Ten were taken to Royal Melbourne Hospital, six to The Alfred Hospital, three to the Royal Children's Hospital, four to St Vincent's Hospital and one to the Eye and Ear Hospital.
A spokesman for the Royal Children's Hospital said the hospital was treating five patients.
"A three-month-old who is currently in the operating theatre, a two-year-old who has been transferred to the intensive care unit, a nine-year-old with limb injuries who has been transferred to the ward and a 12-year-old who is currently undergoing assessments," he said.
A 23-year-old was also treated at the hospital for a limb injury.
DRIVER WAS KNOWN TO POLICE, HISTORY OF VIOLENCE
Mr Ashton confirmed the 26-year-old man had been "coming to our attention more recently over recent days in relation to assaults, family violence-related assaults".
He said the man "was charged by us over the course of last weekend".
Mr Ashton described the moment police intercepted the car, "ramming" it before shooting the driver in the arm.
"The offender has been taken into custody. During that process, the offender has been shot by police. He has been injured and we believe he has been hit in the arm," Mr Ashton said.
"Those injuries are being treated at the moment at hospital. That offender is at hospital under police guard obviously."
A police statement said the incident is linked to a stabbing in Windsor earlier on Friday morning.
"Following this incident, it is alleged the same man took a woman, who is known to him, hostage in his car," the police statement said.
"She managed to escape from the car on the Bolte Bridge earlier today."
Mr Ashton said police knew "a fair bit about (the accused's) background".
"This individual is not related to any counter-terrorism or any terrorism-related activities. He is not on our books as having any connection with terrorism and we're not regarding this as a terrorism-related incident," Mr Ashton said.
"What we do know of the person is there is an extensive family violence history involved. He has come to our attention on many occasions in the past.
"We have mental health and drug-related issues in the background of this particular person. He has been coming to our attention more recently over recent days in relation to assaults, family violence-related assaults."
Mr Ashton explained the incident unfolded after police attempted to intercept the "erratic" car this morning.
The driving was of such a nature, Mr Ashton explained, the pursuit had to be terminated because of the actions of the driver and concerns for the community in the area.
"We then brought in the support of the air wing who were maintaining observations as we tried to find another opportunity to intercept the vehicle. That was in the process of happening as the vehicle has come into the city from the inner western suburbs, in the Yarraville area."
Melbourne's Lord Mayor Robert Doyle has described how the driver found his way towards Bourke Street Mall, in a video tweet posted this afternoon.
"As that car reached Colin Street it accelerated down Swanson Street, attempted to turn left into Little Collins St and then to our horror, because its way was blocked by the bollards which were in place at lunch time, it mounted the pavement and drove at speed down towards the Bourke Street Mall," Mr Doyle said.
"The rest of the story unfolded at the mall."
HOW THE INCIDENT UNFOLDED
•
2.00am - Man linked with a stabbing in Windsor, left the scene by the time police arrived
• 11.45am: Man had a woman hostage in a car, she escaped, jumping out of the moving vehicle on Bolte Bridge, car sped off
• 1.30pm: Car spotted doing burnouts outside Flinders Street Station
• 1.35 pm: Car then deliberately struck a number of pedestrians in the vicinity of Bourke and Queens streets; Three killed and 20 injured
• 2.20pm: Police fire shots, man pulled from car and arrested near William and Bourke streets; Suspect with non-life threatening injuries.
• 2.30pm: Victoria Police release statement confirming the situation has been contained
• 3.20pm: Police confirm three dead and the incident was not terror related
• 4.30pm: Police confirm one of the dead is a young child.
In extraordinary and terrifying scenes, people were forced to run for their lives as the car sped towards them.
Emergency services were flooded with calls with reports of a car doing burnouts across tram tracks outside Flinders Street Station which was then chased by police up Swanston Street.
The car, a red or maroon-coloured Holden, then struck a number of pedestrians in the vicinity of Bourke and Queens streets and then into Bourke Street Mall.
The driver was dragged from the crashed car by heavily armed police and handcuffed.
Ambulance and hospital staff are being called back into work as the city was on a "code red", which is a mass casualty situation.
A Twitter user has shared unverified CCTV footage from inside a store of pedestrians fleeing as a car runs them down.
A baby was sent flying out of a pram that was struck by the car.
Christine Nixon, a former police commissioner, was on the scene a minute after the incident.
"The mother kept asking me 'where is my baby?'" She responded: "I don't know."
Ms Nixon also helped direct traffic afterwards.
WITNESSES RECOUNT THE HORROR
Witnesses described their horror at seeing bodies "flying" into the air as a car allegedly deliberately targeted pedestrians as it rampaged down the street.
Witness Sian Bayliss, a visitor to Melbourne, told the ABC the car appeared to be driving at least 60km/h.
"But he was just driving in a really determined fashion, just in a straight line. There was no hesitancy as he got to the crowds, he didn't swerve, he just drove right through them.
He said the footpath was full of people.
"Yes, because he was on the footpath, so it was packed, it was lunchtime and he just drove through them. There was no slowing down, there was no attempt to move out of the way - he couldn't have gone anywhere obviously, so he obviously committed to it, if he was even thinking all that clearly and, yeah, just mowed them down basically."
He described the horrifying scene.
"I've got years of first aid training so the moment I realised what had happened - as soon as the police had driven past and it was safe - I ran across to the other side to see who needed treatment and ... I ran over to several people who weren't too badly injured and already had people attending to them, until I got to the young man who has passed away and he was already - I don't think there was anything we could have done for him."
One young boy, aged about nine, had a bad abrasion to his head.
"There was just constant, high-pitched, panicked screaming, the terror in his eyes - he just looked straight at me while I was talking to his father and just ... Screaming. Out of control."
Others had terrible injuries.
"You know, there was one lady who looked like she had had a fairly serious spinal injury. They were just holding her very, very still, and it felt like a long time. . But the response time was great, but every minute seems like an hour, so she was lying there waiting for what felt like a very long time."
An employee of a health food store just off Bourke Street said the scene was "just crazy".
"You could hear the chopper first, that was the first thing and then it all just went nuts. You could hear the cars hitting stuff and people were just screaming," the witness told news.com.au.
"I came out and people were running everywhere. It was just crazy. It sounded like there were crashes happening everywhere."
The witness said there were injured people lying everywhere.
He said he saw two bodies covered up lying near emergency workers while others were frantically seeking treatment.
"I can't believe it. There was one guy who was just screaming near them (the bodies). He looked real bad. I think he just lost his mate."
"They were just over there, but there were people injured all up the street."
'OUR HEARTS ARE BREAKING THIS AFTERNOON'
Premier Daniel Andrews paid tribute to the Melburnians who helped out after the rampage.
"Every minute these last couple of hours we have heard more and more stories coming out of ordinary Victorians coming to the aid of their fellow Victorians - reaching out, helping, providing assistance, doing the right thing," Mr Andrews said.
"That does them great credit and it makes me and all of us very proud to be citizens of this great state.
"So we thank each and every member of the public, everyone affected around this incident who has reached out to provide support, care and love to those that have been affected.
"Our hearts are breaking this afternoon that a number of people have died.
"Others remain in a critical condition, very, very serious ill or gravely ill in hospitals around our city but we are stronger than this.
"We through our response, through the work of our emergency services, the work that the instinctive way in which Victorians have reached to support each other we can be confident we are stronger than this evil criminal act."