A large brawl erupted among "Schoolies" in Surfers Paradise last night when an Australian mockingly danced around a group of New Zealanders performing the haka.
The Gold Coast Bulletin filmed the mayhem that unfolded when the man and one of the New Zealanders came to blows at the beach end of Cavill Mall.
Police swiftly grabbed the Australian and isolated him from the group about 11.15pm.
But a couple of minutes later one of his mates became involved in another fight and this time others joined in.
More than a dozen people were involved in the brawl and nearby police were forced to tackle one of the men to the ground, while others were detained next to a kebab shop.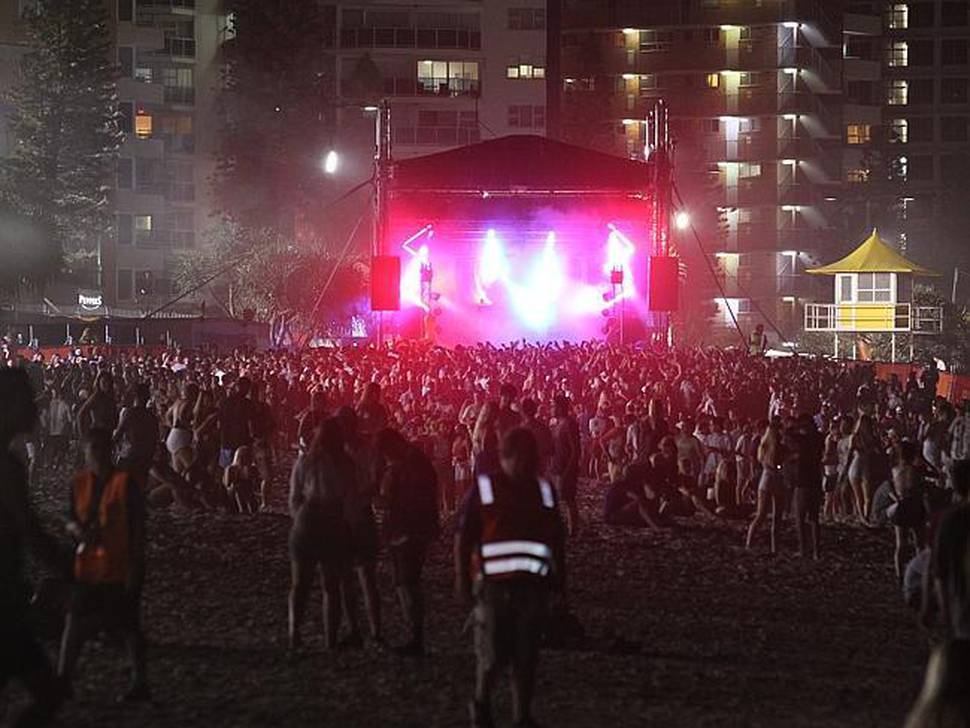 Innocent bystanders were pushed over during the altercation and many others were left shaken by the ordeal.
One of the witnesses told the Gold Coast Bulletin: "I was so scared ... it just happened right in front of us.
"Schoolies should be a celebration not a place to fight.
"The fight was caused because the New Zealanders were insulted by what the young guy did during the haka.
"I understand it was not polite to do what he did, but violence is not the answer.
"We all need to be more respectful to different cultures."
Police held and questioned a number of men about the incident. Those involved were among 11 arrested at Schoolies.
Meanwhile, more schoolies were arrested last night than Saturday but police and organisers say there was a good "vibe" in the party precinct.
Overnight police arrested 11 schoolies on 17 offences, eight of which were for drug possession, according to police.
Compared to Saturday night seven schoolies were arrested on 11 offences.
A few "incredibly stupid" acts emerged which included a girl who was filmed standing on a balcony ledge and the eight schoolies arrested for drug possession.
Gold Coast Schoolies Advisory Group chair Mark Reaburn said arrests and high risk behaviour made up a tiny fraction of the 16,802 revellers with Schoolies wristbands.
"We have seen on social media that there was some very stupid activity going on the balconies, it is extremely dangerous and it is an offence," Mr Reaburn said.
"For many it's the first time away from home, first time independent, so some of the kids do some incredibly stupid things and expose themselves to risk and dangers.
"So again I say be safe watch your mates."
After crunching the numbers he said the vast majority of schoolies were doing the right thing with just 0.00066 per cent Schoolies arrested.
"There were 11 schoolies arrested last night and 23 non-schoolies," he said. .
"Our focus is on the kids are doing the right thing and I'm really pleased to say the overwhelming majority are - keep up the good work."
Gold Coast District Officer Chief Superintendent Terry Borland said schoolies were often asking to have photos taken with police because officers weren't using "Mexican standoff" tactics.
"My intent is to make the environment a safe and enjoyable, and that is the brief we give police, we want to be out there engaging and interacting," Supt Borland said.
"If you're going to have a Mexican standoff scenario then there is a degree of tension immediately, our view is not to do that," he said.
Superintendant Borland said there was a very small amount of drug use compared to the numbers visiting the area.
"There are some drug activities that we're seeing out on the street over the weekend," Supt Borland said.
"Not necessarily has it been associated with school leavers,"
The drugs allegedly found in overnight are believed to be MDMA, also known as ecstasy.