Key Points:
Warning: This article contains images and language that some readers may find distressing Accused murderer Gable Tostee stopped to sit and eat pizza while he wandered aimlessly around Surfers Paradise for an hour and a half after Kiwi Warriena Wright plunged to her death from his apartment balcony, CCTV footage has shown. More than 40 minutes of security camera footage of the night Wright died was shown to jurors on the third day of Tostee's Brisbane Supreme Court murder trial on Wednesday morning. CCTV captured the pair, who matched on dating app Tinder, awkwardly hugging when they met in Cavill Mall, in the heart of the Gold Coast nightclub precinct, about 8.45pm on August 7, 2014. They are shown to walk into a nearby tavern, only to walk out three minutes later and continue along the mall, where they walk into a bottle shop. The CCTV inside the store captured Ms Wright placing a six pack of beer on the counter, before her Tinder date pays. Various public and private CCTV cameras then captured the pair continuing to walk along Cavill Mall to Avalon Apartments, where Tostee lived alone in an apartment on the 14th floor. The last sighting of Ms Wright is when she gets into a lift at the apartment complex with Tostee. The footage then skips forward to 2.23am the following morning, when Tostee, dressed in a collared green shirt and pants, is seen to calmly exit the lift. He returns two minutes later and takes it back down to the car park, where he is seen walking from the building. For the next hour and a half, presumably as emergency services swarm to his building, he is seen to walk in circles around the Cavill Avenue area. Shortly after 3am, he can be seen walking into a Dominoes pizza store, then sitting on a bench to eat pizza. About 3.15am, nearly an hour after he left his apartment building, he gets up, puts something in a nearby bin and continues to walk around Surfers Paradise, without any apparent direction. The CCTV finishes just before 3.50am, with him continuing to walk around the area. It is day three of Tostee's murder trial. On Monday, he pleaded not guilty to murdering Wright on August 8, 2014.
Warriena Wright screamed 'no' 33 times in 75 seconds
When the cries of Warriena Wright rang out, via an audio recording, across the Brisbane Supreme Court on Tuesday, the chilling tape left no question the 26-year-old was in fear for her life in the moments before she plunged to her death from the balcony of Gable Tostee's 14th floor Gold Coast apartment. The voice of Tostee, which had, in the recordings played on Monday, seemed so calm and rational, suddenly turned. The Crown earlier argued it could best be described as threatening and intimidating. Witness after witness on Tuesday testified that there was something different about these screams. They were not just regular cries, according to James Evans, who was passing by the Avalon Apartments when Wright fell from the 14th floor balcony of the apartment belonging to Tostee on August 8, 2014.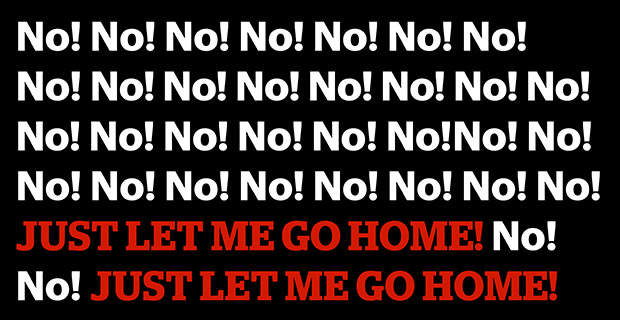 "It wasn't just an ordinary scream. It was a terrified scream," he testified. Wright screamed "no" 33 times in 75 seconds. He then heard what he described as "a large bang". Minutes later, he saw a man later identified as Tostee running from the apartment building on foot. Nick Casey, a hairdresser, was visiting a friend in the apartment two levels beneath that belonging to Tostee, when he heard cries for help from above. When he went to the balcony and looked up, he saw a woman lowering herself over the balustrade. "I heard her say, 'I want to go home'. I heard her say, 'help' and at that point I said to her, 'go back inside' and it wasn't long after that she fell." Casey's may well have been the last voice Wright ever heard. "She fell straight past where I was standing on the balcony and ricocheted off a few balconies below us and kept on going to the ground," he said. Wright, 26, fell to her death from the balcony of Tostee's 14th floor apartment. The audio recording played to the jury over the past two days will be a key factor in the jury determining whether he is guilty of murder. The Crown has argued that Wright was so in fear of her life, that when Tostee locked her on his balcony, after refusing to let her leave his apartment, she felt she had no other choice but to escape by climbing over the balcony. They argue this constitutes murder. Tostee's legal counsel, however, has argued that the chain of causation ended when he locked her out on the balcony. It will be up to the jury to make the ultimate decision. In the chilling tape played on Tuesday morning, Tostee is heard to threaten the young New Zealander, whom he had apparently plied with alcohol in his apartment after they matched on dating app Tinder.
Recordings played on Monday revealed Wright was drunk and often violent towards Tostee but as the evening wore on, she apparently seemed in fear for her life, pleading with him to let her go home. "You goddamn psycho. I'm going to let you go, I'm going to walk you out of this apartment, just the way you are," he says. "You're not going to collect any belongings. I'll slam the door on you. You're not going to pull anything or I'll knock you out. I'll knock you the f*** out. Do you understand? Do you understand?" He apparently changes his mind, however, after a muffled scuffle between the pair. "No, no, no, no," Wright is heard to repeatedly yell, in chilling, bloodcurdling screams. "I want to go home. Just let me go home." "I would, but you've been a bad girl," he replies.
The apparently violent fight, in which Tostee later confessed to his father he tackled the young New Zealander to the ground, is silenced by the sound of a sliding door, which fits with the Crown's contention that Tostee locked her on his 14th floor balcony. Within moments, the 26-year-old had fallen to her death. In the aftermath, amid the silence, Tostee is heard breathing heavily, before making a phone call that goes unanswered and then leaving the apartment. In a later phone call to his father Gray, also recorded, he tells his father he, "might have a bit of a situation". When his father comes to collect him, Tostee explains that he and Wright had watched a movie and had sex throughout the course of the evening but that she drank heavily. "The last thing I remember is trying to hold her down and she ran out onto the balcony. I hope I just imagined it," he says. "I might have locked her on the balcony. I absolutely did not throw her off my balcony. I would never do anything like that." There is no contention by the Crown that Tostee murdered Wright by pushing or throwing her off the balcony. However, his culpability in her death is disputed. The Crown has argued that the obvious fear in Wright's voice before she was locked on the balcony constitutes murder by virtue of the fact she was fleeing for her life when she fell. The ultimate decision, however, rests with the six men and six women of the jury. The trial, before Justice John Byrne, continues.
The Tinder date that proved fatal
Gable Tostee told New Zealand tourist Warriena Wright she looked "delicious" and he wanted to do "dirty things" to her during their Tinder texts. The pair first started messaging each other on the dating app on August 1 before arranging to meet in person on August 7, 2014. Their saucy exchanges also showed Tostee asking Ms Wright whether she was a "freak in the sheets". Their Tinder conversation and text messages tendered in his trial show the two had only spoke sparingly before their date.
Tostee:
"You look delicious. I want to do dirty things to you."
Wright:
"That usually work?"
Tostee:
"Haha, not trying to make anything 'work', im just saying. Got a problem with that? :P"
Wright:
"Lol fair enough. I was just asking :P"
Tostee:
"So you're down with that then? Can you be a freak in the sheets Cletes (Ms Wright's Tinder alias)?"
Wright:
"Lol probably not. Depends"
Tostee:
"What does it depend on?"
Wright:
"What ive had to drink! Lol."
Tostee:
"Lets get drunk together, I'm a pornstar after a few drinks!" It's not alleged Tostee threw or pushed Ms Wright but that he intimidated her so greatly she felt the only way to escape him was to climb off his locked balcony.
Timeline of Warriena Wright's final night
(Based on CCTV and audio recording exerts tendered in murder trial)
Thursday, August 7, 2014
8.46pm
- Gable Tostee and Warriena Wright meet for their Tinder date on Cavill Ave, Gold Coast.
8.50pm
- Tostee buys a six pack of beer from BWS.
8.53pm
- They get into lift at his block of units. Last time Wright is seen alive.
Friday, August 8, 2014
1.05am
- Tostee starts recording audio on his mobile phone
2.14am
- Tostee: "You have to leave." Ms Wright: "It's all good." Tostee: "You're f***ing insane."
2.15am
- Tostee: "You're lucky I haven't chucked you off my balcony you goddamn little pschyo bitch."
2.17am
- Tostee: "I'm gonna let you go, I'm gonna walk you out of this apartment just the way you are. You're not going to collect any belongings, you're just going to walk out. I'm gonna slam the door on you. If you try to pull anything I'll knock you out, I'll knock you the f*** out." Heavy breathing then crashing sound
2.20am
- Tostee: "You just don't understand. Let go! You think if you hit me I'll just fall down like in the movies?" Ms Wright: (screaming) "No, no, no, no, no. Just let me go home." Tostee: "I would but you have been a bad girl." Ms Wright: (screaming) "I want to go home, I want to go home." Distant scream followed by loud heavy breathing
2.22am
- Tostee: "Shit" (call goes to voicemail) "Where the f*** are my keys?"
2.23am
- Gets out of lift on ground floor, paces around, goes back in.
2.25am
- Gets out of lift in basement, leaves building via car park.
3.07am
- Tostee continues walking around Gold Coast entertainment precinct.
3.11am
- Orders and eats pizza from Cavill Ave shop. Tostee calls father Tostee: "Hello dad, might have a bit of a situation ... I locked her out on the balcony and I think she might have jumped. I've been walking around and there's million cops around my building ... I swear to God I didn't push her. I just chucked her out on the balcony because she was beating me up ... why does s*** happen to me, I didn't do anything wrong."
3.44am
- Tostee picked up by father Gray Tostee in car. Tostee: "Oh my God I hope she's not dead."