A British Labour MP has died after she was shot three times and repeatedly stabbed in a shocking attack as she arrived at her constituency surgery.
Mother-of-two Jo Cox, 41, was rushed to hospital after a gunman opened fire on her in Birstall near Leeds.
Witnesses said the man was at the office before she arrived and shot her three times, once in the head, before stabbing her as she lay on the ground.
Her husband Brendon tweeted a photo of his wife two hours after she died from catastrophic injuries.
In a statement, he said: "Today is the beginning of a new chapter in our lives. More difficult, more painful, less joyful, less full of love. I and Jo's friends and family are going to work every moment of our lives to love and nurture our kids and to fight against the hate that killed Jo.
"Jo believed in a better world and she fought for it every day of her life with an energy, and a zest for life that would exhaust most people. She would have wanted two things above all else to happen now, one that our precious children are bathed in love and two, that we all unite to fight against the hatred that killed her. Hate doesn't have a creed, race or religion, it is poisionous.
"Jo would have no regrets about her life, she lived every day of it to the full."
A 53-year-old - named locally as Tommy Mair - has been arrested by police and his house is currently being searched by police forensics experts.
David Pickles, a neighbour of Mr Mair, said: "He's just quiet. He kept himself to himself. He lived by himself. He's been on his own for about 20 years. I've never seen a lot of people visiting or anything like that."
Labour leader Jeremy Corbyn said: "Jo was universally liked at Westminster, not just by her Labour colleagues, but across Parliament.
"In the coming days, there will be questions to answer about how and why she died. But for now all our thoughts are with Jo's husband Brendan and their two young children. They will grow up without their mum, but can be immensely proud of what she did, what she achieved and what she stood for."
David Cameron added: "The death of Jo Cox is a tragedy. She was a committed and caring MP. My thoughts are with her husband Brendan and her two young children."
Campaigning for the EU referendum by Britain Stronger in Europe and Vote Leave has been suspended for the day after the attack.
NZ Labour's housing spokesman Phil Twyford also paid tribute to Ms Cox, with whom he worked in the early 2000s.
Mr Twyford, who worked with Ms Cox at Oxfam, said: "It is really a shock. It is an awful, violent thing to happen. She kind of represented the best of what you want an elected representative to be - very brave, outspoken, smart, and really dedicated to serving her constituents.
"She was just a huge amount of fun to work with, and had a great sense of humour. She was very proud of her working class background in Yorkshire."
Listen: NZ MP Phil Twyford pays tribute to friend Jo Cox

Commenting on the attack, temporary Chief Constable Dee Collins said: "Just before 1pm today Jo Cox, MP for Batley and Spen, was attacked in Market Street, Birstall. I am now very sad to have to report she has died as a result of her injuries.
"Jo was attacked by a man who inflicted serious wounds that later proved fatal. There was a subsequent attack on a 77 year old man nearby.
"She was pronounced dead by a paramedic crew at the scene. This is a very serious investigation with a large number of witnesses. There is a large crime scene. There are a large number of police officers in the area. A full investigation will take place.
"Additional officers are working in the area this afternoon. Clearly as this inquiry is at a very early stage and as we have a 52-year-old man in custody, we cannot comment further at this time. It is too early to comment on any motive. We are not looking for anyone else in connection with the incident."
She added: "We have recovered some weapons, including a firearm, and we will be able to examine those very closely. We are attending a number of scenes as part of this investigation and we will be looking very closely at what evidence we may or may not be able to recover."
Witness Clarke Rothwell who runs a cafe near where the attack took place, told the BBC: "He [the attacker] was stabbing her as well, he was stabbing her with his knife."
Another witness, Sam Watson, added: "The man walked away calmly and nobody wanted to approach him."

Hichem Ben Abdallah, 56, was in the cafe next door to the library when he heard screaming and went outside. He said: "There was a guy who was being very brave and another guy with a white baseball cap who he was trying to control and the man in the baseball cap suddenly pulled a gun from his bag. He was fighting with her and wrestling with her and then the gun went off and then she fell between two cars and I came and saw her bleeding on the floor."
It was earlier thought Ms Cox had intervened in a fight between two men but it is now believed she was attacked.
After around 15 minutes, the shop owner said emergency services arrived and tended to her with a drip.
Mr Abdallah said the weapon looked handmade and that the man who had been wrestling with the assailant continued to do so even after he saw the gun.
He said: "The man stepped back with the gun and fired it and then he fired a second shot, as he was firing he was looking down at the ground."

Aamir Tahir, of The Dry Clean Centre, said the gunman was heard shouting: "Britain first."
He said: "The lady I work with heard two loud bangs. I wish I was there because I would have tried to stop him. Apparently the guy who did it shouted 'Britain first' and if I had been there I would have tackled him."

Britain First is the name of a far-Right group which said it was "not involved and would never encourage behaviour of this sort".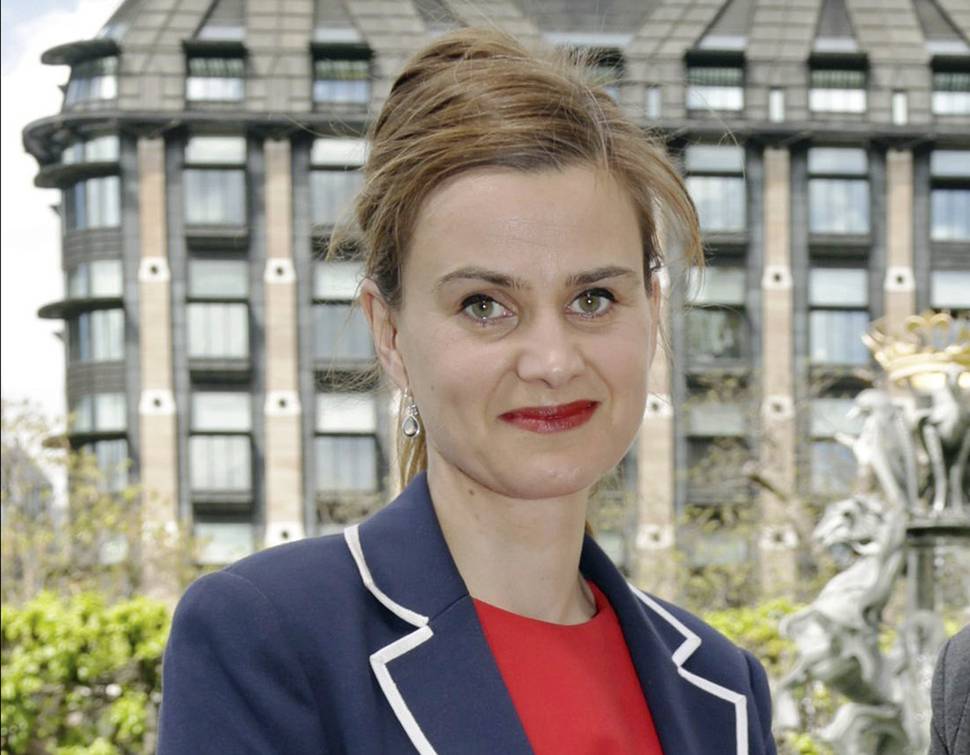 Ms Cox worked for Oxfam before she entered parliament as MP for Batley and Spen at the general election last year.
Her husband, Brendan, was a former adviser to Gordon Brown who has also been chief executive of Save the children.
Ms Cox worked closely with Mr Brown's wife Sarah on efforts to prevent mothers and babies dying needlessly in pregnancy.
Since entering the Commons, she has made a name for herself by campaigning on Syria issues, including calling for the UK to enforce a no-fly zone.
In 2015 she abstained in a vote on whether we should join airstrikes.
Ms Cox nominated Jeremy Corbyn for Labour leader, but is regarded as a moderate within the party and is very popular among her fellow MPs.