Doubts raised over Isis affiliate's claim as investigation begins.
Three major airlines announced yesterday that they would no longer fly over the Sinai Peninsula in Egypt after a Russian passenger plane crashed in the troubled area, killing all 224 people on board.
The Isis (Islamic State) affiliate in Egypt claimed it downed the plane, without saying how. But Egyptian Prime Minister Sharif Ismail expressed doubt about the claim, saying experts confirmed that a plane cannot be downed at such an altitude, and Russian Transport Minister Maksim Sokolov said the claim "cannot be considered accurate".
Emirates, Lufthansa and Air France said they would avoid the airspace over Sinai until it was established what had brought down Flight KGL9268, operated by Metrojet, the brand name of Kogalymavia, a small Russian airline.
The Airbus A321 took off from the Red Sea resort of Sharm el-Sheikh on Saturday, bound for St Petersburg. The aircraft disappeared from radar screens 23 minutes later while flying at 31,000ft (9450m) in a mountainous area. It is the worst aviation disaster in Egypt's history.
Egypt's Civil Aviation Minister Hossam Kamal said there had been no sign of any problems on board the flight.
Initially reports suggested it had asked to land early because of a technical failure but Kamal told a press conference yesterday that this was not the case. "Up until the crash happened, we were never informed of any faults in the plane, nor did we receive any SOS calls," he said.
All contact with air traffic control had been normal, and pre-flight checks showed no problems, he added.
An Egyptian official had earlier said the pilot had reported technical difficulties before losing contact with air traffic controllers. Ayman al-Muqadem, of the Aviation Incidents Committee, said the pilot had asked to divert to the nearest airport.
FlightRadar24, a flight tracking service based in Sweden, said the Metrojet Airbus had begun to descend rapidly at a rate of about 6000ft per minute.
"It was climbing quite normally when, after 23 minutes, it passed 30,000ft and suddenly started to lose speed," said Mikail Robertson, of FlightRadar24. He said the plane "started to drop very fast", then "after about 20 seconds we lost the signal from this aircraft".
A senior Egyptian air traffic control official said the pilot told him in their last communication that he had radio trouble.
Russian aviation official Sergei Izvolsky told Interfax news agency that the aircraft did not make contact as expected with Cyprus air traffic control.
The wreckage was found roughly 100km south of the North Sinai town of El-Arish, Egyptian officials said.
Debris and bodies were spread over an area of about 7sq km. The aircraft's black box had been found and sent for analysis, Ismail said.
The Isis affiliate waging an insurgency in the Sinai claimed that "the soldiers of the caliphate succeeded in bringing down a Russian plane". It said this was in revenge for Russian airstrikes against Isis in Syria.
Three military experts said Isis in Sinai does not have surface-to-air missiles capable of hitting a plane at high altitude. But they could not exclude the possibility of a bomb on board or a surface-to-air missile strike if the aircraft had been descending to make an emergency landing. The shoulder-launched surface-to-air missiles Isis is believed to possess are rarely effective above 10,000ft. Only an advanced missile system - of a kind that no terrorist group in the region is known to deploy - could have destroyed the plane at its last known altitude.
David Learmount, a consulting editor with Flight Global, an aviation information website, said it was too early to rule anything out.
"Flight radar data makes clear there was a flight upset, but we have no idea why," he said. "There are loads of terrorist factions operating in the area and many affiliated to Islamic State. The Egyptians work very hard on security at Sharm el-Sheikh because if you wanted to destroy the tourist economy that would be the likeliest target.
"However, the plane was too high for a shoulder-launched missile, but it was 2000 feet lower than MH17." Malaysia Airlines Flight 17 crashed over eastern Ukraine in July last year after being hit by a Russian-made missile. All 283 passengers and 15 crew were killed.
Emirates, Lufthansa and Air France will avoid Sinai until the cause of the crash is clear. "Emirates is currently avoiding flying over the Sinai Peninsula until more information is available," a spokesman said. A Lufthansa spokesman said: "We took the decision to avoid the area because the situation and the reasons for the crash were not clear." British Airways said it would continue to fly over Sinai. "Our safety team continually liaises with the appropriate authorities around the world, and we conduct very detailed risk assessments into every route we operate."
The Kremlin said President Vladimir Putin ordered rescue teams dispatched to Egypt. Russian experts would take part in the Egyptian-led investigation, Ismail said.
After not answering its phones for much of the day, Kogalymavia broke its silence with a statement offering condolences to the families of the victims. "We will all need great courage to overcome these losses," it said. It also defended the pilot, saying he had "more than 12,000 hours" of flight experience, "including 3860 hours with Airbus A321".
Captain Valery Nemov, 48, had learned to fly the A321 at a training centre in Turkey in 2008.
Of the 217 passengers and seven crew, 221 were Russian and three Ukrainian. Tearful families waiting at St Petersburg airport were taken to a hotel for counselling after news of the crash reached them.
"Unfortunately, all passengers ... have died. We issue condolences to family and friends," the Russian Embassy in Cairo said.
An Egyptian security officer at the crash site described a "tragic scene", saying there were "a lot of dead on the ground and many who died whilst strapped to their seats".
The security officer said: "The plane split into two, a small part on the tail end that burned and a larger part that crashed into a rock. We have extracted at least 100 bodies and the rest are still inside."
Most of the passengers on board were holidaymakers. About three million Russians visit Egypt every year, mainly for the Red Sea resorts of the Sinai.
Among the passengers were 17 children and newlyweds Elena Rodina and Aleksander Krotov, both 33.
Putin declared a day of national mourning.
Egypt will lead the investigation with the help of Russian experts. Because the Airbus was made in Europe, the European Aviation Safety Agency will take part. The United States National Transportation Safety Board will also be involved because the engines were manufactured in America.
Russian investigators raided the Moscow office of Metrojet. Metrojet has a fleet of seven planes serving 12 international destinations.
The aircraft that crashed was built by Airbus in 1997 and flown by Metrojet from 2012. It had recorded more than 56,000 flying hours during nearly 21,000 flights.
Metrojet says it has two A320s and seven A321s, and that it carried 779,626 passengers in the first nine months of 2015, according to the Russian aviation agency Rosaviatsia.
Russia has a dismal air safety record, with charter operators often under pressure to book to capacity on ageing jets in a bid to cut costs.
The crash is likely to raise renewed concerns about the safety of air travel in a country with an ageing fleet of airliners.
The last major air crash in Egypt was in 2004, when a Flash Airlines Boeing 737 plunged into the Red Sea after taking off from Sharm el-Sheikh. All 148 people on board, most of them French, died.
Area overrun by insurgents
The British Foreign Office map of the Sinai Peninsula tells the story of this remote area of Egypt. Almost all of the region's deserts and mountains are marked red for "advise against all travel" or amber for "advise against all but essential travel".
Like a besieged outpost, only the tiny perimeter encompassing the resort of Sharm el-Sheikh is marked green and considered safe enough. The ancient monastery of St Catherine's, built in the sixth century at the foot of Mt Sinai, is now thought too dangerous for visitors.
Over the past four years, thousands of square kilometres of Sinai have slipped out of the control of the Cairo Government and into the hands of a plethora of Islamist movements, including Isis terrorists.
Last year, Isis bluntly declared Sinai to be a province - or "wilayat" - of their supposed "Islamic State". Day after day, gunmen proclaiming their loyalty to Isis fight the Egyptian Army, which has responded with airstrikes by helicopter gunships.
The Sinai insurgency began after the downfall of Hosni Mubarak in 2011. Although Isis attracts all the attention, it is actually a new player in an old conflict.
The nomadic Bedouin tribes of Sinai bitterly resent their treatment by the Cairo Government, which they accuse of stealing their land and water for tourism projects and trying to stamp out their way of life.
Isis and other violent Islamists have exploited these grievances to turn simmering Bedouin anger into a fully fledged insurgency, directed at Western visitors as much as Egyptian rulers. The authorities have responded by turning Sharm el-Sheikh into a closely guarded enclave in a region awash with resentment and violence.
Friends and relatives grieve as news of crash reaches airport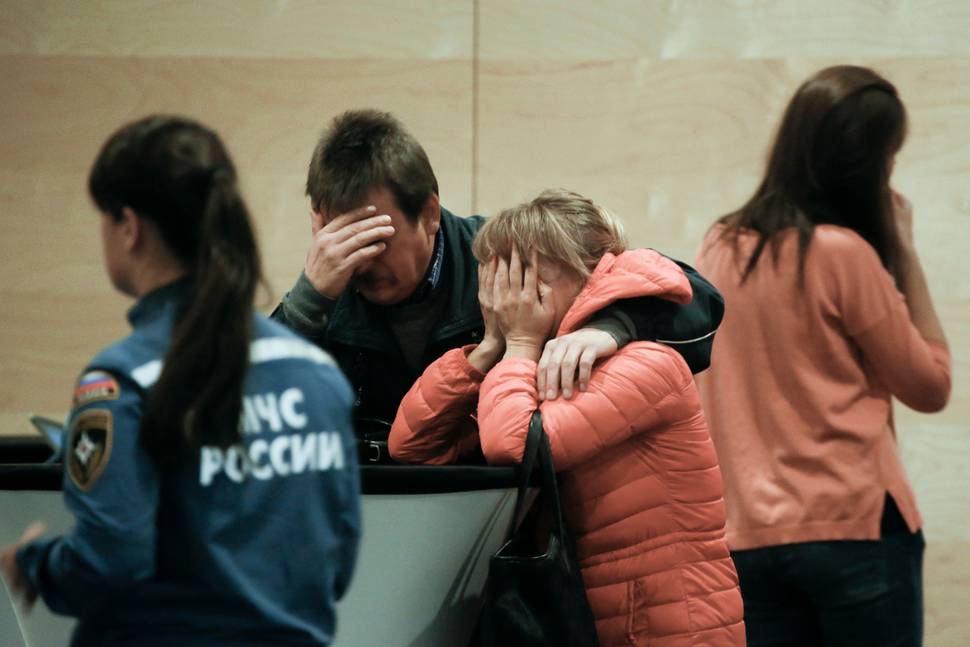 Irina Semyonova says her friend Natasha last called her from the Egyptian resort of Sharm el-Sheikh to say she'd bought her a present from the airport's duty-free shop.
"She was vacationing there with a friend," Semyonova said blankly, showing a picture on her phone of a smiling swimsuit-clad young woman, her blonde hair in a long plait.
Semyonova was one of a crowd of people gathered in Pulkovo Airport in St Petersburg, Russia's second largest city, who were left reeling.
Like many Russians, Semyonova's friend had gone on holiday to one of Egypt's Red Sea resorts which are especially popular during the winter when people try and escape the long months of cold and dark in search of warmer climes.
Many of those who came to pick up friends or relatives were in denial.
Some waiting relatives were taken to a hotel where psychologists and doctors were waiting at an impromptu crisis centre which has already asked family members to provide DNA samples for identifying remains.
"My wife was on that plane," said Nail, a grief-stricken 60-year-old with tears in his eyes. "She was on vacation with our children but thank God, the children had come back two days earlier. I had a bad dream today, she was in it. At 6am she sent me a text message that she was going to the airport, and that was it."
"I am meeting my parents," said 25-year-old Ella Smirnova, a tall young woman with a shock-induced smile on her face, waiting by Pulkovo's information stand. "I spoke to them last on the phone when they were already on the plane, and then I heard the news. I will keep hoping until the end that they are alive, but perhaps I will never see them again."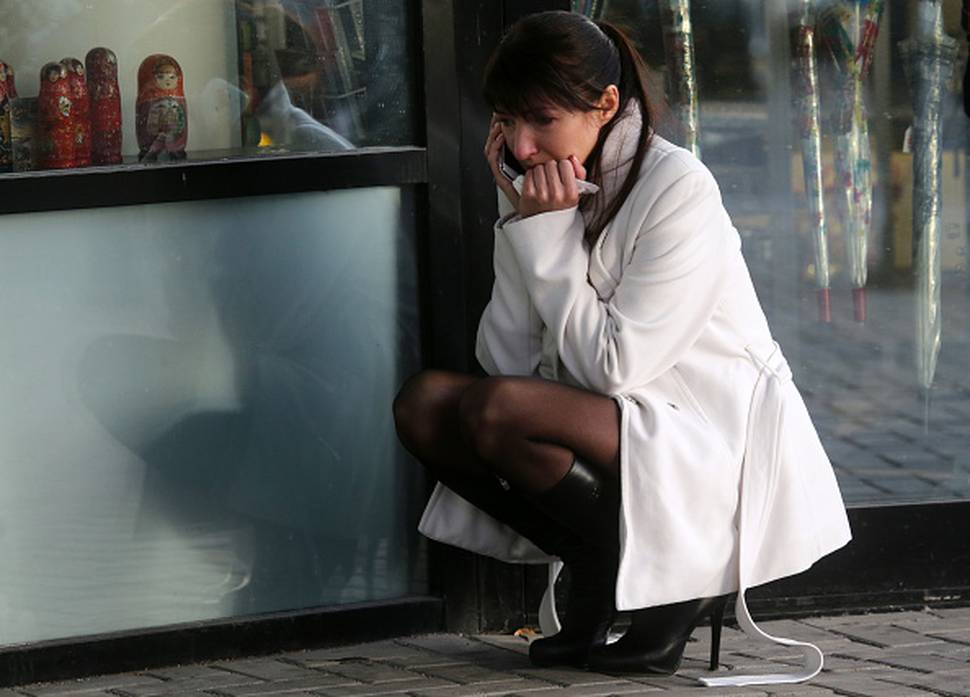 Shortly afterwards, the Russian Embassy in Egypt issued a statement saying there were no survivors.
Pictures of the dead began to emerge, including Alena Moiseeva, a 5-year-old girl; Yury Shein with his daughter Anastasia; and two young women, Valeria Bogdanova and Anastasia Bogdanova.
Viktoria Sevryukova, 24, had worked at a St Petersburg restaurant chain. Her friend Yevgenia Beryozina said that she felt "emptiness" and couldn't believe what had happened. "She was my best friend. She had waited for this trip like I don't know what. And now she's gone. Just like that, she's gone."
Relatives and close friends gathered at a hotel near Pulkovo Airport. Yulia Zaitseva said of newlyweds Elena Rodina and Aleksander Krotov: "We were friends for 20 years. To lose such a friend is like having your hand cut off."
She said Rodina's parents felt "like their lives are over".
- Telegraph Group Ltd, Observer, AFP