We need you to help the Forgotten Millions one more time. The Herald and World Vision have relaunched a major campaign to raise funds and help the millions of children left homeless by war in Syria. With your help we can make a difference to the children and their families in desperate need throughout this region
Hundreds of thousands of Syrians are dead, millions are displaced or living as refugees, and 13.5 million people are relying on aid just to sustain their lives.
In the past month, more than 170,000 refugees have travelled the well-worn route to Europe. Some didn't make it. Many were ill-treated. The pathway to peace has been anything but peaceful.
In Macedonia, refugees faced stun grenades and tear gas. In Hungary, it was water cannon and police batons. In Greece, those who survived the Mediterranean were corralled in open camps or held in crowded detention centres.
If you are Syrian, life has become overwhelmingly wretched.
I didn't think I would find anything uplifting to write about when I travelled to the Turkish-Syrian border last week, but that was before I met Ahmed.
I smiled as soon as I saw him. He had a warm face, smiling eyes and a quick humour that easily translated from Arabic to English.
"You are welcome," he said, inviting us into a terraced house in Kilis, not far from the border.
In his downstairs office, over tea, he told us of his work. He is Syrian and running a relief and development programme for Syrian refugees. Much of his work targets women and children.
"They weren't smiling when they arrived from Syria, but we are slowly bringing back their smiles," he says.
I ask him how he does it.
"It is easy. Show people some kindness."
Ahmed says he offers "unofficial teaching". Syrian children are learning Turkish to help them communicate in their adopted country, tutors teach practical first-aid including triage because Ahmed says "that is the world Syrians are now living in" and he runs empowerment courses for women. He says it is important that widows learn to live independently and manage their money. Some women are learning to teach, others are training to be hairdressers. All are learning conversational Turkish.
I ask Ahmed if I can meet some of the children and he leads me upstairs to the second floor. I can hear children chanting the Turkish alphabet and as I reach the landing, four open doorways reveal classrooms full of children.
"How many children are here?" I ask.
"I have 70 children in the school," Ahmed says, smiling.
In the first classroom, children are colouring-in. Next door, they are learning Turkish. In a third classroom the children are singing The Love Of Our Homeland and the class of new entrants is sitting on the mat in the kitchen eating morning tea.
Ahmed smiles. So do I. Sometimes war and conflict brings out the best in people. This is one of those moments. Ahmed is one of those people.
He teases the children and they giggle. He ruffles their hair and they hug him back, laughing. He tests their spelling and they race to reply, eager for his praise. He chants the Turkish alphabet and they parrot him. The children seem to hang off his every word.
In one class he tells me not to take photos. One of the children has been severely wounded by a barrel bomb.
"He doesn't want people to see his wounds."
The little boy's injuries are horrific. One arm ends in a stump above his elbow. The other arm hangs limply by his side, shredded and sliced by shrapnel. The bicep has been split in two and there is a large, gaping hole in the middle of the muscle. In his lower arm, there are two deep crevasses that stretch from his elbow to his wrist. It is a miracle in itself that he didn't lose both arms.
He tucks his limp arm behind his back and beams at me. He must be 9 or 10. I can't begin to imagine how his life played out in the hours and weeks that followed the bombing.
"He is happy now, he is doing well at school," says Ahmed.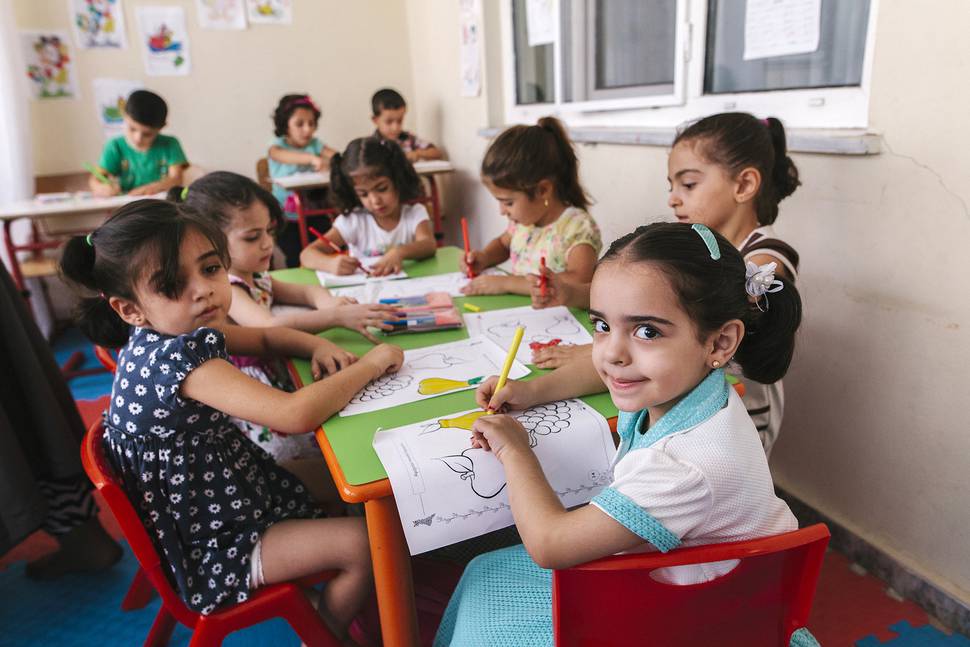 He points to a little girl who's writing with her left hand. Her right hand is minus three fingers and the knuckles. She too was the victim of a barrel bomb; a crude, indiscriminate weapon filled with explosives and shrapnel that detonates after being rolled through the open door of a helicopter.
In another room Ahmed points to a little girl who looks up for a moment and smiles, coyly. I notice the dark rings under her eyes.
"She didn't say a word for a month. She was traumatised. She wouldn't talk but now she is talking and playing with the other children. She has found her voice."
The youngest children are having morning tea. They sit diligently on the mat eating biscuits and drinking juice.
"I try to bring happiness and joy to these children. You need to move their hearts because love is always the first step."
The New Zealand Herald and World Vision have launched The Forgotten Millions campaign to raise funds to meet an immense and urgent humanitarian need. With your help we can make a difference for the children and their families in desperate need throughout this region
Ahmed says he has encouraged Syrian families to remain in Kilis and not join the mass exodus trying to reach Europe. The risk to life, he says, is too great.
"I tell them to stay. Wait. Living in Turkey is better than dying trying to reach Europe."
A woman has just arrived at the school with a qanun, a traditional Syrian instrument similar to a harp. She begins to play and a little girl jumps up and begins to dance. Ahmed encourages her, holding her hand and singing. Later, I ask him why he is helping.
"I can't stop the killing. I can't stop the massacres. All I can do is help these children."
And then he is gone again. Clapping, singing and dancing. Ahmed's star is one of the few that shines brightly in the midst of one of the world's most violent and brutal conflicts.
How can I make a donation?
You can make online donations, phone donations and offline donations.
Phone donations can be made on
0800 90 5000
.