At least 17 people, including five working for a New Zealand company, were killed at the Mt Everest base camp in Nepal by an avalanche set off by the country's massive earthquake on Saturday.
Last night, a magnitude 6.7 after-shock hit near the capital, Kathmandu, said US Geological Survey, and there were reports of another avalanche near Everest.
Google executive Dan Fredinburg was among the dead in Saturday's avalanche. He died of head trauma.
Wanaka-based Adventure Consultants said the 7.8 quake on Saturday is thought to have shaken loose large hunks of ice on Mts Pumori and Lingtren that in turn triggered deadly powder-snow avalanches that blasted through and buried parts of the base camp where climbers and their support crews were preparing for ascents of Everest.
Trekkers lower down in the valleys heard what one Kiwi said was a "massive long roar" of avalanches and rock falls.
And now there are fears that Everest climbing teams which had ascended the difficult, dangerous Khumbu Icefall to Camp 1 may have had their retreat route cut by the quake, although the teams were well-stocked with food and cooking fuel.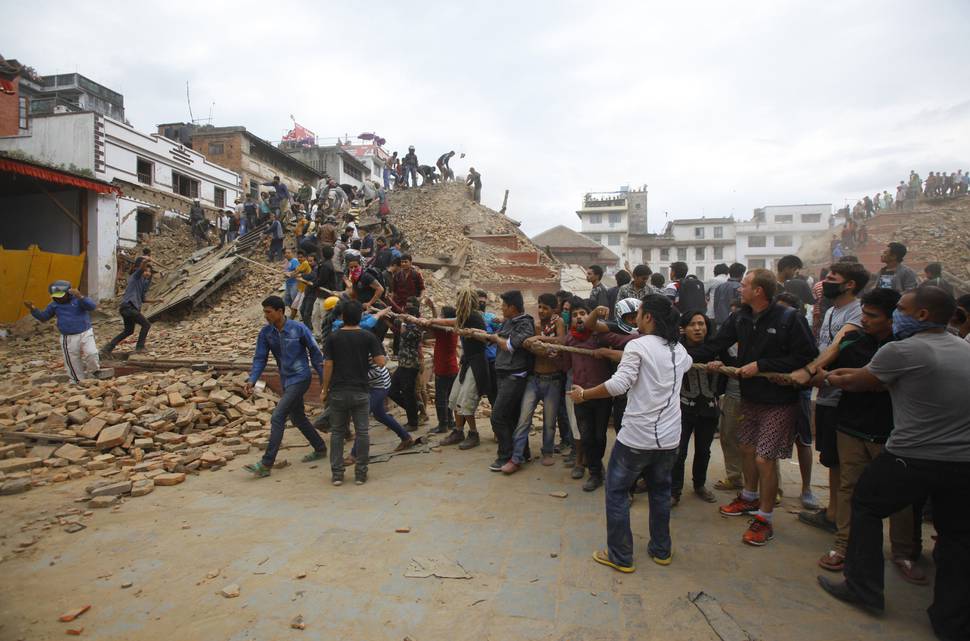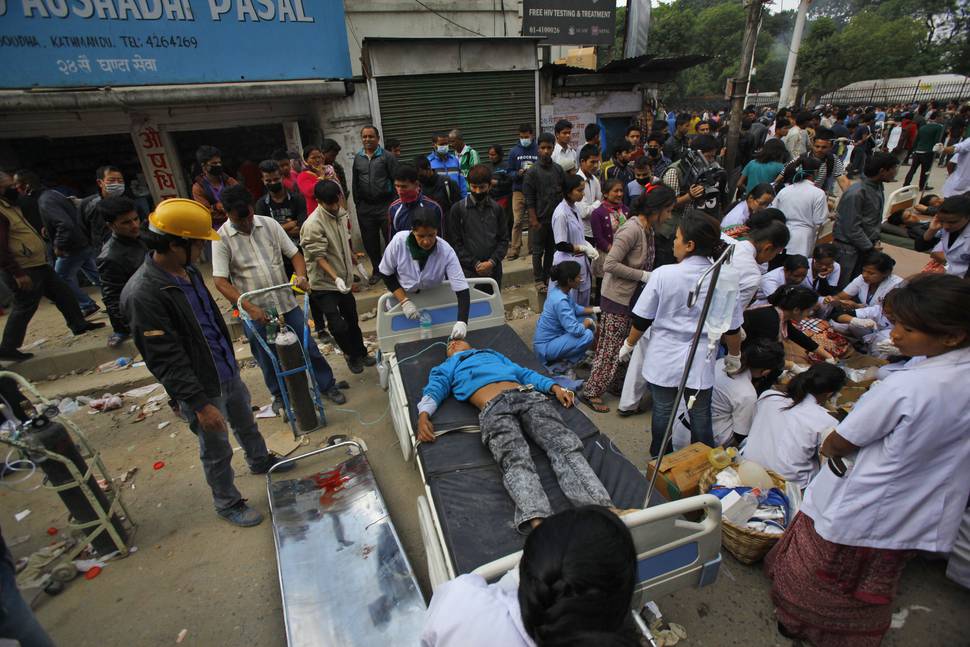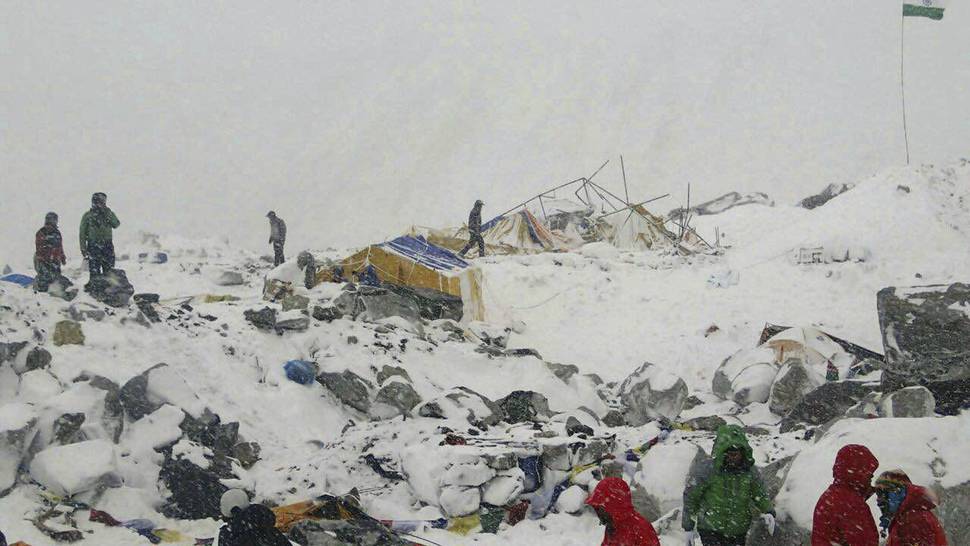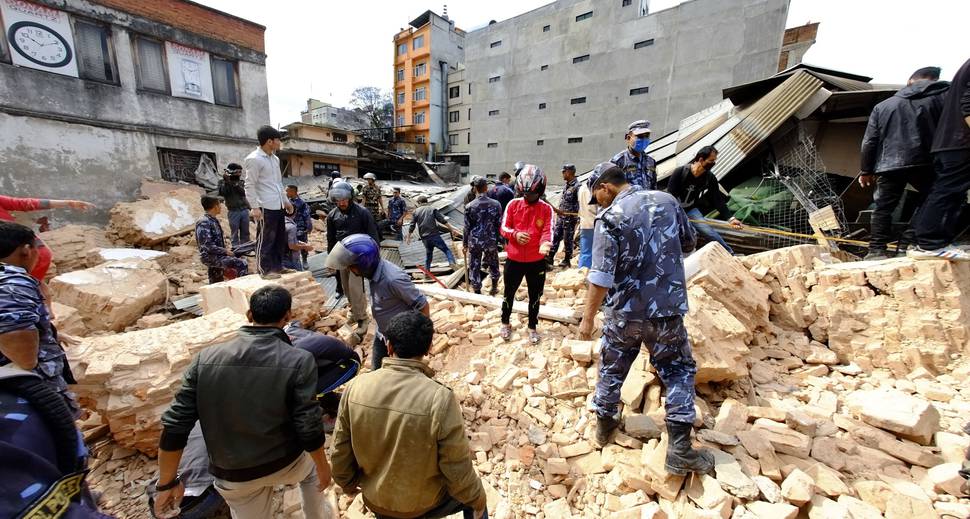 A helicopter yesterday ferried the injured, of whom there were more than 60, to the village of Pheriche.
Mt Everest veteran Peter Hillary - son of the late Sir Edmund - is in the area leading a trekking group of 11 other men who attended King's College with him. Peter Hillary's wife, Yvonne Oomen, contacted family of the trekkers yesterday to assure them the group were safe and well. They were at Gorak Shep, a tiny village just down-valley from the base camp.
Adventure Consultants said last night five of its Nepalese staff had been killed by the base camp avalanche. Last April, three of the company's Nepalese staff died in an Everest avalanche that killed 16 Nepalese guides.
The company said it has clients, Sherpas and guides, including expedition leader Guy Cotter, at Camp 1 and 12 climbing Sherpas at Camp 2 further up the Western Cwm. All these are "safe and accounted for".
Steve Moffat, the company's New Zealand operations manager, said from Wanaka, "I imagine areas of the Khumbu Icefall will have been affected by the ground shaking, causing damage to the route they take. As far as I know no one is attempting to drop down from Camp 1 at this stage.
"I know there's a lot of supplies at Camp 1 and Camp 2 so the people up there - there's numerous teams up there right now - they are safe where they are and they have food and fuel to survive."
Wellington trekker Lachlan Davis, who had been at the base camp two days earlier, said: "The quake shook the mountains an incredible amount and it came with a massive long roar which was multiple landslides and avalanches at once.
"The path ahead of us was damaged by landslides so we were lucky where we were," said Mr Davis, who was at Namche Bazaar. "Given the state of the trail at certain points I think it likely some tourist climbers and trekkers would have died or been injured."
New Zealand guide Russell Brice, of Himalayan Experience, said the company's climbing clients and staff at the base camp were safe.
He said the company's large communal tent was being used as a make-shift medical centre.
Mr Fredinburg was with several colleagues from Google who survived the tragedy, Lawrence You, the director of privacy at the internet company, said in a blog post.
On the other, Tibetan, side of Everest, a British expedition leader, Chris Harling, said on Facebook the earthquake caused rock falls in the northern base camp area. "An area of steep cliffs did break off, sending car-sized boulders hurtling down only a few hundred metres from our tents."