Australia's Foreign Minister says reports that investigators are being deterred from the MH17 crash site by land mines are "utterly despicable".
Julie Bishop said she was aware of reports that Ukrainian rebels had been laying land mines on roads through to the crash site of the downed flight in eastern Ukraine. The claims were reportedly by made a Ukrainian military spokesman.
"I don't know if those reports are confirmed," she told ABC radio this morning. "If that is true, it is utterly despicable."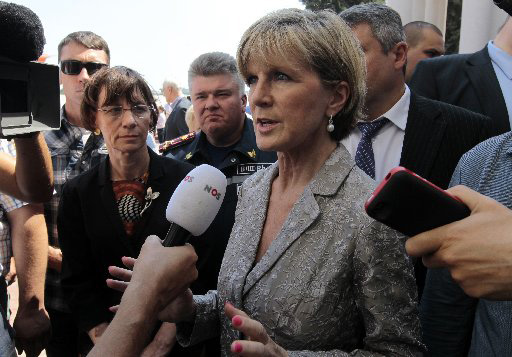 Australian Foreign Minister Julie Bishop. Photo / AP
Australian and Dutch police investigators were forced to abandon the search for remains for a fourth consecutive day yesterday because of fighting between Ukrainian forces and separatist fighters.
Ms Bishop said new information suggesting remains of up to 80 bodies were still on the site had made the joint team even more resolute and desperate to gain access.
"It's heartbreaking, it's so distressing.
"We have the team in place, we have the experts ready to work, and we can't get to the site."
The foreign minister was concerned that Russia could be actively undermining the access process. The Ukrainian government had been offering strong support for a humanitarian corridor and ceasefire.
Watch: OSCE monitors examine wreckage
"We sent out a team in advance and they get halfway down the road ... sometimes three quarters of the way ... and then the shelling starts.
"Whilst I can't point the finger at who starts the shelling, we get absolute assurances from the Ukraine government that it's not them."
The joint team was also determined to retrieve a large pile of victims' belongings from a morgue in the rebel-stronghold of Donestk, where it was believed some of the bodies had been at one point.
The belongings will be sent to the Netherlands, where body identification is taking place.
- AAP