A German auction house has for the first time made public its records from the Nazi era in what could be a major breakthrough in the recovery of works looted during the Second World War.
The name of the auction house's then owner, Adolf Weinmuller, is not well known. But when the "Monuments Men" - the Allied officers in charge of saving looted art and the subject of a recent Hollywood film - seized a hoard of paintings, sculptures, tapestries and drawings from him at the end of the war for investigation, the list of items ran to 13 pages. However, it was only a fraction of the looted artwork that made its way through Mr Weinmuller's auction house during the Nazi era: he sold a total of 32,000 works of art between 1936 and 1944, many of them stolen from Jewish families and occupied nations.
The auction house in Munich had said its records of that era were destroyed in an air raid, but last year catalogues were discovered in a basement filing cabinet.
It has now made the information available on the internet - the first time any German art dealer has publicly released its records from the Nazi era.
Their publication is the initiative of Katrin Stoll, who took over the Neumeister auction house in 2008, and has no connection to Mr Weinmuller. "I feel very fortunate to have this difficult task," she told Frankfurter Allgemeine Zeitung.
Names and images of the artworks can be browsed on lostart.de, the German government website for recovering looted art. The list includes work by Pieter Bruegel and Albrecht Durer.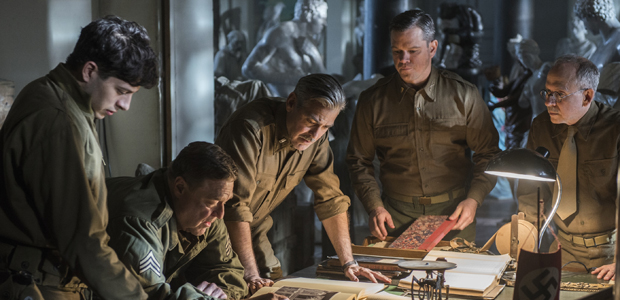 A scene from Hollywood film 'The Monuments Men' featuring Dimitri Leonidas, John Goodman, George Clooney, Matt Damon and Bob Balaban. Photo / AP
The website states where Mr Weinmuller obtained the artworks, and the entry "seizure by the Gestapo" frequently crops up. Despite his significance, Weinmuller has remained a shadowy figure. He lied to the "Monuments Men" about his role during the war and hid his connections to the Nazi high command. He rose to wealth and prominence by his loyalty to the party, and counted Martin Bormann, Hitler's private secretary, among his clients. He became chairman of a pro-Nazi trade organisation and took over the Munich arts scene as Jewish dealers were forced out.
The "Monuments Men" were unable to prove anything against him, or prevent him from reopening. He held a further 35 auctions before his death in 1958. The Weinmuller auction house was sold to Ms Stoll's father, Rudolf Neumeister, who changed its name.