A girl who spent several months last year as a hostage of Boko Haram has told how she was ordered to fight alongside the Islamists in ambushes on the Nigerian military.
The girl, who asked to be named only as Hanna, said she was taught how to fire a gun and then ordered into battle on three occasions, with ammunition strapped to her back.
Her account provides a chilling indication of the fate that could await the group of more than 200 schoolgirls kidnapped by Boko Haram last month in Chibok, north-east Nigeria.
Read more:
• Nigeria kidnapping: 'I saw my poor girl in Boko Haram film'
• Kidnapped schoolgirls: NZ Govt urged to offer assistance
• Can a hashtag offer any help to abducted girls?
Diplomats fear the girls will be forcibly recruited as both fighters and "bush wives" unless the Nigerian government bows to demands from Boko Haram's leader, Abubakar Shekau, to free them for jailed comrades. Nigeria has said it will refuse any such prisoner swap.
Hanna is among at least a dozen girls believed to have been abducted by the group in the 12 months before April's mass abduction at Chibok boarding school. She spent two months as a hostage, including periods where she was tethered like an animal and beaten for refusing to convert to Islam.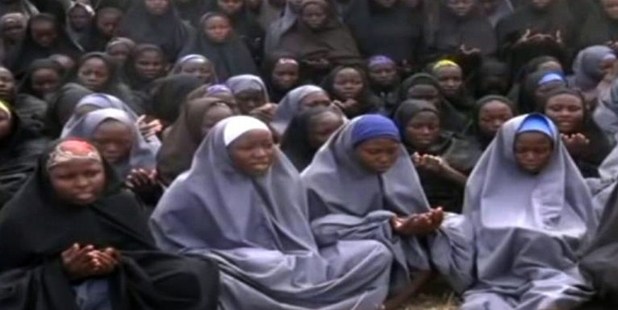 A screengrab taken from a video of Nigerian Islamist extremist group Boko Haram claiming to show the missing schoolgirls. Photo / AFP
"They tied a rope around my neck and pulled me to the ground," she said in an interview outside the Nigerian capital, Abuja, with America's CBS News. "They said they would slaughter me."
After receiving weapons training, she was taken three times into battle with the group when they attacked Nigerian security forces. "They took me along with them, strapped bullets to me and told me to lie down whenever they exchange gunfire with Nigerian soldiers," she said.
Details of Hanna's ordeal match other accounts given by women kidnapped by Boko Haram over the past year.
Watch: Raw: Video claims to show missing Nigerian girls
Some speak of being told to convert to Islam while a knife was held to their throats, and of being ordered to lure other Nigerians into Boko Haram ambushes, who were then slaughtered in front of them.
In one account given to a news agency last year, a female hostage told how she was forced to stand in a field near a village to attract the attention of civilians working with the army. When five men approached her, they were ambushed.
"They took them back to a cave and tied them up," she said. "They cut their throats, one at a time. I thought my heart would burst out of my chest, because I was the bait."
Francois Hollande, the French president, was due to meet Goodluck Jonathan, his Nigerian counterpart, and the leaders of several neighbouring African states for a special security summit in Paris yesterday.
Britain and American officials were also attending, amid concerns that Boko Haram's insurgency is increasingly spreading into neighbouring Chad, Niger and Cameroon.
US officials appeared to rule out the prospect of a rescue mission for the missing schoolgirls, admitting privately that it would be impossible to do so without large numbers being killed.