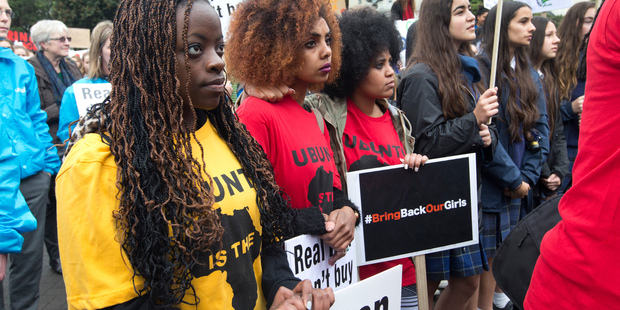 A large group of New Zealand schoolgirls and Nigerian expats have urged Government to offer assistance to more than 200 girls kidnapped by the militant group Boko Haram.
Around 250 people gathered on the steps of Parliament this afternoon, holding signs saying "Real Men Don't Buy Girls" and "Bring Back Our Sisters".
It coincided with rallies around the country.
Wellington Girls' College student Dawape Giwa-Isekeije, 17, originally from Lagos, Nigeria, said she had been surprised at the slow international reaction to the mass abduction in mid-April.
She said New Zealand a responsibility to intervene, and Nigeria did not have the resources to claim the girls back for their families.
Former Race Relations Commissioner Gregory Fortuin, originally from South Africa, told the crowd: "As a son of the African soil, we say to our fellow Nigerian Mums and Dads, we stand with you in solidarity, we are part of humanity.
What happens to you happens to us.
"It took three months for the bodies to come down the Uganda river before the world intervened on Rwanda. It is time that the international community raises its voice and intervenes on this issue."
The militants opposed Western education for Nigerian children, and kidnapped 297 schoolgirls from the north-eastern town of Chibok on April 14. Around 223 of them were still being held.
Several MPs spoke at the gathering at Parliament, which coincided with rallies around the country.
Education Minister Hekia Parata condemned the "unacceptable and deplorable" actions of the kidnappers, and said every girl had a right to education.
Prime Minister John Key said in the House this afternoon that Government was "deeply concerned" and noted that New Zealand had already listed Boko Harm as a terrorist group.
He has previously said that Government would provide moral support to Nigeria.