Designer Mary Katrantzou, queen of prints, talks to us about her vibrant new collaboration with Adidas.
Known for her bold, digital prints, fashion designer Mary Katrantzou has lent her eye for detail to Adidas, with a new line that arrives in store this week. The debut 'Adidas Originals by Mary Katrantzou' range is the first in an ongoing series, with the London-based luxury designer joining Stella McCartney and Raf Simons in designing for the sporting giant.
"We both have a very distinctive brand identity, so it was important to marry the two and create a line which is a true blend of each. The first collection I designed for them highlights the history of the Adidas running shoe itself," explains Katrantzou.
We asked Katrantzou a few questions about her move into sportswear.


How would you describe your main line - and how do you see that luxury approach and aesthetic translating into sportswear for Adidas?
When Adidas approached us, we were beginning to work on our SS14 collection, inspired by footwear, and with a section devoted entirely to the ergonomic workings of the sneaker. We started by looking at everything that was iconic about Adidas, such as their trefoil logo. After this we magnified images of the sneaker to a hyper-real scale, laces became the central focus, eyelets and rivets were supersized and go-faster stripes were incorporated into streamlined silhouettes.
We carried this concept through the Adidas range, using their 1970s and 1980s track shoes as a reference. I haven't previously had such an opportunity to explore sportswear textiles and technologies, so combining luxury fashion with utilitarian fabrication was a challenge, but one I embraced totally.


Sportswear doesn't automatically come to mind when thinking of the Mary Katrantzou brand. Why did you want to do this collaboration with Adidas Originals?
My designs are bold and graphic, silhouettes are strong but the designs are ultimately very feminine, which is something Adidas wanted. Though sportswear isn't something I'd worked with before, because of the research we were doing for the SS14 collection the timing couldn't have felt better.

Your favourite piece?
There's a coat dress in the collection that really captures the balance between both of our aesthetics; the silhouette is bold and directional and the print is entirely inspired by Adidas' trefoil symbol. The sneakers are really cool. In recent years the sneaker has evolved beyond the realms of practicality and become a must-have wardrobe item and I feel the three styles we have really represent that evolution.

You are a pioneer of digital print technology, and of course technology is huge in sportswear. How are you embracing this with the Adidas Originals collection?
Adidas are pioneers in precision engineering, they constantly push the boundaries of technical design, so for me it was very exciting to be a part of that. This made it all the more exciting to marry what Adidas do with the work I do in digital print, and create a product that would be exciting to both the Adidas and Mary Katrantzou customer.


Why do you think sportswear is so huge at the moment?
Sportswear is no longer just resigned to the gym. It's becoming an asset to any catwalk and is really defining the fashion and luxury markets. People are becoming more conscious about what they wear in all aspects of life, including exercise.
The industry has acted on this and now we see designers filtering this concept through a more luxury medium - "sports luxe" has become a phrase indicative of the movement. It's about a relaxed attitude to styling, it's feminine, directional and is easily incorporated into a wardrobe, which is why I think the demand for it is so huge at the moment.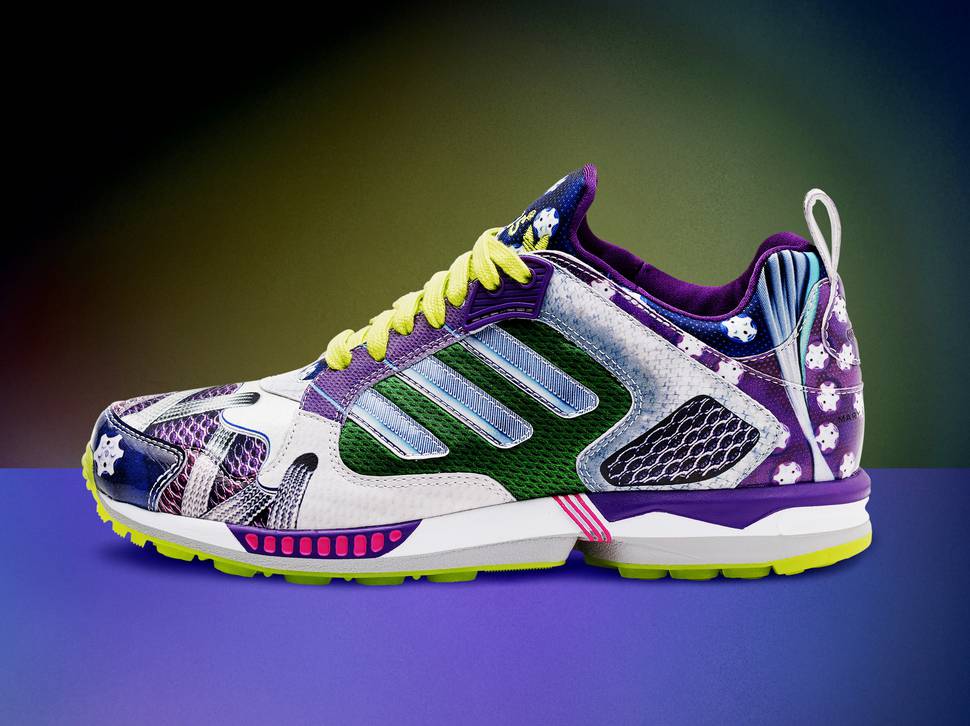 Adidas collaborates with some of the most relevant designers and names - from Raf Simons to Stella McCartney, Pharrell to Rita Ora. How does it feel to be part of that group?
It feels like an exciting time to be a part of the Adidas family. They have such an incredible heritage and their place in popular culture today is important, not just in sportswear, but in communicating more about our generation and generations to come.

Why are collaborations so important for fashion designers now?
Collaborations are a fantastic opportunity to gain an insight into another brand's way of thinking and combine your creative strengths to create something unique. They are a welcome challenge and a chance to celebrate two different aesthetics. What I do is quite niche and luxurious, so the chance to be able to translate work into a product that a completely different demographic of people can buy into and enjoy is a great incentive.


• The Adidas Originals x Mary Katrantzou collection is at Black Box Boutique at The Department Store on November 15. Ph: (09) 489 5629.


- VIVA