Beauty - or what guys like to call grooming - is big business and men are all over it. Viva beauty editor Janetta Mackay talks to three New Zealanders in the thick of things.
THE ENTREPRENEUR
Peter Fahey's extensive beauty industry experience and flair for making things happen has opened up a new career path at a time of life when the aviation enthusiast could just kick back and enjoy his passion for flying Warbirds.
Instead, the 64-year-old has opted for the best of both worlds, working from an office looking down the runway at Ardmore Airport. "I'm the happiest guy in the universe," he says.
Fahey takes regular commercial flights to North America, where he acts as consultant and broker on two separate ventures he has set up. Back home, there are vintage planes to fly and more deals to do.
There's not a lot about the luxury beauty business that the man, once regarded as Mr YSL in New Zealand, doesn't know. For a time he chaired the Cosmetic Toiletry and Fragrance Association. Before opening and heading the Yves Saint Laurent business here for 25 years, he had worked in management roles with the distributor of Christian Dior fragrances and at Shiseido and Revlon.
But when he quit Yves Saint Laurent in 2008, he knew he didn't want to work in fragrance, for the French, with partners or in a business where he held inventory. He was tired of corporate life, with its endless budgets and reporting.
"If being an entrepreneur means doing it on your own, then that's me."
What Fahey has done is that impressive entrepreneurial thing of successfully ushering an idea to an international market and cashing in on it, all the while having another project on the go. He's sold his North Shore house and relocated to a studio apartment at Ardmore, although he likes to tell people he's "living in a hangar". Recently single, he retains a place on Rakino Island, and relishes setting his own timetable. This includes serving on the committee of New Zealand Warbirds and flying antique open-cockpit craft weekly. He wasn't put off flying by a nasty accident a few months back, even though it totalled the plane he owned.
"I was 300 feet up and the engine died, so I had to find a paddock fast." He was flying out of the Hunuas and describes the unavoidable crash-landing as a "bit of a shake-up".
The beauty business has also had its fair share of shake-ups and these have provided Fahey with a nice little niche. With the global players focusing on new markets and acquisitions to fuel growth and the fragrance market beset by parallel imports, there are opportunities for new approaches. Fahey thinks many consumers are sick of over-hyped anti-ageing products. His concept of problem-solving products for a fuss-free approach to beauty has taken off.
For a while his company Viscorpe imported the Lipstick Queen range - breaking his own rule about holding stock - but five years ago he developed his own version of an invisible lip liner for local sale and branded it No More Bleeding Lips. "I realised there was a concept there under 'No' ... a concept, based under the no-fuss, without hassles, no fripperies, not-glam approach to the things that women needed in beauty."
An old YSL contact suggested he show the "No" liner to her boss at Canadian beauty company Quadrant, who agreed he was on to something. A royalty deal was struck and sales have been strong in North America, with the line now including a concealer called No Dark Shadows. The products are about to be ranged in the United States into Sephora as the beginning of a worldwide roll-out in the chain of beauty emporiums.
Fahey is in the final stages of selling the business to Quadrant, but retains a position as consultant, with other "No" products in the pipeline. He describes the sales deal as gratifying, but says he would rather be busy than retired.
That's where his private label cosmetics business comes into play. He deals with another Canadian company to facilitate production of quality "own brand" cosmetics.
Private branding allows the likes of department stores, makeup artists, boutiques and spas to get their own labelled beauty brands out of factories that also cater for the industry's big names.
"The Canadians have the most stringent regulations in the world," he says, explaining why the likes of M.A.C and Estee Lauder make a lot of product there. Fahey also travels to New York, another centre of contract manufacturing.
Unlike dealing with China where volume counts, he can, in Canada, arrange small runs for clients. These include gift store Isabel Harris in Newmarket, which has a small range of its own lipsticks; and brow products for the Off Wax and Brow bars.
"I've even got a girl in Balclutha who's a makeup artist who does weddings, who has her own cosmetics," says Fahey.
It's a long way from the high-life of being flown to Paris for Yves Saint Laurent fashion shows in the 1980s, but Fahey, a former Territorial Army officer, enjoys meeting all sorts. He got into cosmetics while working for Cadbury in the Britain in the early 1970s only because it sounded more exciting.
"Cosmetics attracts interesting people," he says - four decades on and still going strong.
• www.viscorpe.com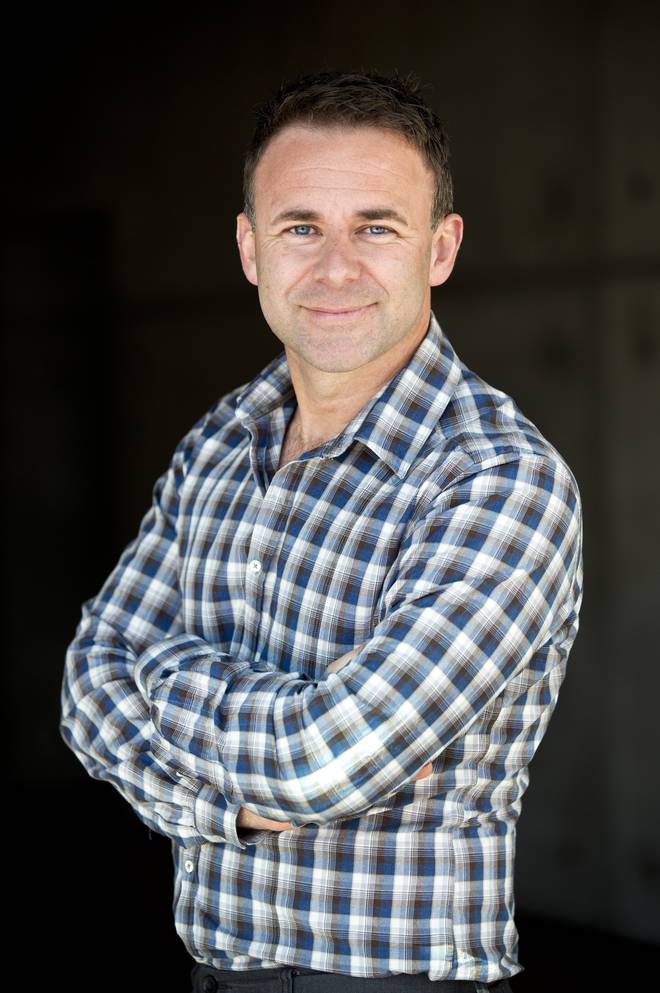 THE E-TAILER
Mark Toner is a well-turned out city lawyer and the name behind a new website catering to the grooming needs of discerning guys. He runs the One Man site with wife and former lawyer Rochelle Richardson, and reckons he has spotted a market gap to offer a wider choice of mostly international products.
"Being involved in professional services and the world of suits, looking the part etc, I was interested in and exposed to the emergence of men's grooming products from my time in London and New York. New Zealand men work and play harder than ever before and I think are entirely justified in taking a little time to take care of their appearance."
Toner, aged 39, points to the rise of wet shaving and wearing beards and stubble as having fuelled a demand for men to have more in their bathroom cabinet. As you'd expect of a lawyer, he has done his homework and honed in on products beyond what he describes as "supermarket gloop and female-led brands with a men's add-on range".
His website is clean and modern, with more than 200 premium products, most sourced from the United Kingdom or New York, where guy-specific skincare is a speciality.
Among the brands Toner is championing are several new to New Zealand, including Ernest Supplies and, soon to come, Owen & Fred, plus those catering to the new tribe of "urban beardsmen".
The site's 101 series offers tips to demystify skincare, shaving, hair care and beard and moustache maintenance.
"We knew some Kiwi men might need a little coaxing into a better grooming routine," says Toner, but he reckons for the most part they are receptive to looking and feeling better, realising good grooming gives them a competitive edge.
Customers range from pilots to baristas, designers to electricians.
"For men, it is not about beauty - it's more about feeling confident in the way they look."
That's why they respond to masculine brands but, that said, though research reveals around 60 per cent of New Zealand men use moisturiser many still sneak it from their partners. Toner believes because men are results focused, have shaving or beard maintenance issues and like problem-solving products, the market that caters specifically to their needs has plenty of room for growth.
"Guys spend $300 on a pair of shoes, or $1200 on a suit, but how many spend $300 a year on moisturiser?"
Men have been early adopters of the ease of internet shopping, liking what he describes as the function-over-fuss approach of an online "man aisle". A retail One Man store may be a possibility down the track, but for now Toner is keen to consolidate building the business online.
• oneman.co.nz
Toner's tips
• Establish a skincare routine and you'll enjoy the benefits of healthier-looking skin. Cleanse, tone and moisturise.
• Make sure you protect your skin from the sun as it's known to be the biggest factor in the appearance of ageing.
• Try wet shaving using a quality shaving cream applied with a badger hair brush. It gives a much closer shave and you won't look back.
• Don't neglect the pre-shave ritual. Try a pre-shaving oil and spend a little extra time working this and your shave cream in to moisturise your face. This also raises beard hairs to make them easier to cut.
• Seek out products you enjoy. "In the shower I am using a Marlborough-made Whiskey & Mint soap from Manstuff, which smells great and certainly helps me wake up in the morning."
• Travel packs that are ready to go and can be taken as carry-on luggage are convenient. (Toner likes One Man's Anthony Logistics Grab and Go kit).

THE INTERNATIONALIST
Bill Watson is living proof that facing new frontiers keeps you fresh. The international education and artistic director for Toni & Guy for China and the Southern Hemisphere has a big job introducing the leading UK salon brand to new markets, but the former Wellingtonian - who has long lived in London - is loving life in Beijing. "It's where things are happening."
His company has a philosophy that its senior staff should not be non-hairdressing hairdressers, so his professional life includes not just demonstrating, which he did recently in Auckland, but also regular runway and editorial work. He loves collaborating with designers, saying: "I don't do hair for people, I do hair to complete a look."
One of his recent shoots was with top Chinese model Du Juan for Vogue China.
Watson says working in China, where there is an explosion of interest in fashion, is fascinating. "There's an obsession with the new."
The scale of shows is vast, including a recent one with Harper's Bazaar involving 100 models. But there are challenges too, in that many of the culture references used routinely in the West just aren't relevant or need to be put in context. "Eighty per cent of Chinese wouldn't know Elvis and Marilyn."
Visual memory shapes so many of the references creative types call on, as does reinvention, but working in new markets adds another dimension. "Geography means nothing, talent is everything," says Watson.
At 50, he is well-travelled, having worked across Europe and into Japan on and off for 15 years. He believes being an adaptable Kiwi is a strong calling card.
He headed to London 20 years ago, armed with some contacts, and fell into what he describes as the Toni & Guy family. Founded by the Italian Mascolo family in 1963, the company has a strong fashion presence, its own brand called Label M and a desire to grow its salon footprint worldwide, including New Zealand.
Wilson says hairdressing has turned out to be a terrific career. "It can be very personalised and taken to many levels."
The key is being able to do bespoke work, which goes beyond technical skill to communicating and working well with people. Parking your ego and a keenness to keep learning are vital. "You've got to be clever enough to have more than one idea."
Training is better these days, says Watson, who encourages those he mentors to explore the social context of trends and understand the history of fashion, while always being open to the new.
He loves the improvement in hair products, enabling styling that parallels skincare and makeup innovations in creating a barely there look - "almost a nude-looking hair".
The relationship of colour and cutting is evolving, with a contoured approach to both, enabling hair to be more sculpted or thicker in appearance.
Product picks
For men and women, Watson's go-to products are dry shampoo and dusts, which not only refresh without washing but give volume and texture. Sea salt sprays also add texture with relaxed control. Try Label M, available from Toni & Guy's two Auckland salons.