As Zambesi toast three and a half decades of doing it their way in New Zealand fashion, Noelle McCarthy goes behind the scenes to discover the secrets of the iconic label.
At Zambesi there is a particular meaning to the term "old school".
"It's an abundance of knowledge," says Dayne Johnston, who has been designing menswear for the company for 11 years. "It comes from that dressmaking era when all of the skills were there."
"It's all about construction, it's very considered," adds Liz Findlay who founded Zambesi with her husband, Neville, 35 years ago this year.
She and Johnston are sitting together in the calm and quiet of the magisterial Zambesi showroom on the first floor of the label's headquarters in Newton, Auckland, attempting to describe what it is exactly, that constitutes an "old school" sensibility on the part of their staff.
Pam Thornton has got it. Zambesi's head machinist is at her desk in the workroom below us. She's been with the label for as long as anybody can remember. Definitely the past two decades, possibly more. She's not even sure herself, she admits.
Thornton did a stint at Wanganui Woollen Mills before Findlay hired her, and before that, she was at a tiny workroom the name of which she can't even remember, it was so small and so long ago. Not that she's forgotten what she was taught there.
"That's where I really learned how to sew. They taught me all the little tricks of the trade. Then I moved to the mills for five or six years."
That must have been a great experience, learning how to work with wool and all the different techniques.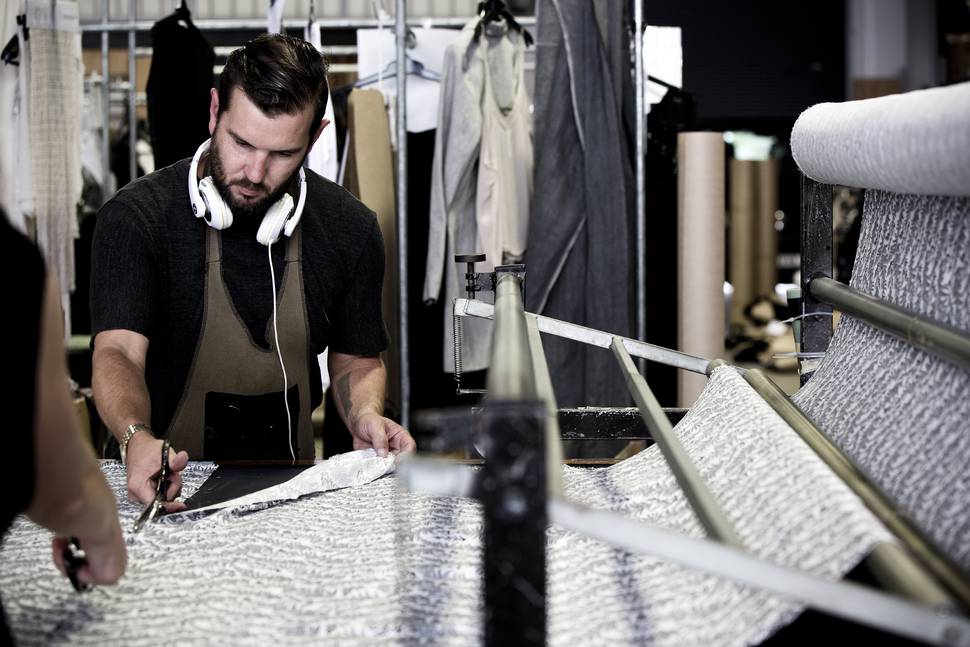 "It was terrible," she laughs. "All I ever did was pockets."
Pockets?
"Yes, pockets, pockets, pockets. I did the pockets of the men's jackets. They were all named after planes. Spitfires and all that. The names denoted whether they had four pockets or five, and we had to get them all matched up perfectly.
[I learned] good skills, though, especially when I started working at Zambesi and I had to do all these coats with pockets. I knew what I was doing by then, I tell you."
Thornton's pocket history has gone on to serve the company richly. Three and a half decades on from its establishment, Zambesi's reputation for quality and finish remains one of the most valuable hallmarks of the brand.
Setting a high store by "old school" skills like Thornton's has been part of the company's ethos from the beginning. Of course, the nature of the business means such values have to go beyond a mere mission statement and into the nuts-and-bolts reality of how garments are put together.
"When I started here, I was in the hand-finishing department and I remember watching how all the buttons were actually stitched on individually," Johnston remembers. "It was a real eye-opener. I thought 'everything's done so intricately, it's so considered'. That brings it up to the next level in terms of longevity."
Certainly, when I get a tour of the workroom a little while later, the hand-finishing department is still manned by just that - a flesh and blood pair of hands. They belong to Tatiana Gabova who is making buttonholes when I meet her.
From the Altay region of Siberia, Gabova has lived in New Zealand for 11 years. She has spent eight of those at Zambesi, where she is part of a multinational workforce with staff members from all over the world including Malaysia, India, Ukraine and New Zealand.
Two other women are from Russia: design assistant Olga Khimitch works closely with Findlay on the womenswear production, and Irena Kouzakova, a fellow Siberian and former architect who now works as a machinist.
In recent years, the Findlays and Johnston have learned to look to new migrants for the industry skills that recent generations of native Kiwis don't seem to be cultivating any longer.
"There are a lot of out-workers that we've had a long relationship with, ladies who work from home, who've been working for Liz and Neville for over 30 years.
The skills they have are valuable, because today not a lot of people want to be machinists, or strive to do that because the apprenticeships aren't there," says Johnston, who sees the general move away from the more skills-based aspects of fashion design as a prevalent, if dispiriting, sign of the times.
"It's a different attitude. When I studied at Wellington Polytech, there was a great focus on construction and pattern-making, and I'm not sure if that's there anymore."
Being able to hire skilled migrants like Gabova and her colleagues, though, means the company has been able to keep all aspects of its production within New Zealand. Being home-made is not simply a brand value for Zambesi.
"It's a quality aspect for us. But it's also the backbone of the collection; the tailoring, and the skills that are being put forward to develop it. We're proud that it's made here, because today it's quite rare that the entire collection would be executed from here," says Johnston.
Although keeping the whole operation onshore can be a challenge in terms of costs and finding workers, it has obvious benefits, too, especially in terms of quality control, says Findlay. "Invariably, things go wrong, but because we're here, we can deal with the issues that come up immediately."
The Made in New Zealand ethos is also a source of inspiration for the label, and that's where the rest of us get to benefit.
Zambesi decided to celebrate its home-grown aesthetic for this year's winter collection and the result was a tribute to a range of local motifs and fabrications. They put it on the catwalk at New Zealand Fashion Week last September, with "Home-made Since 1979" as the banner-cum-slogan.
Models walked out in greenstone-shaded suiting, and trousers and dresses made of butter-soft deerskin from the South Island.
The wool came from Corriedales, the pin-up sheep of this country's agriculture. There was a fern print that came from a piece of vintage jacquard that Findlay found in her archives.
The soundtrack came from Shona Laing, knee-deep in Soviet Snow, and glad not to be a Kennedy, as artistic director (and daughter) Marissa Findlay broke the fourth wall by pulling back the screens on the catwalk to show her mother and Johnston dressing the models, while some of the best creatives in the country put the finishing touches to their hair and makeup.
As a spectacle it was unforgettable; upbeat, assured and gorgeous. Infusing everything was a spirit of ease and confidence. Here was one of the most established labels in the country, saying, "This is who we are, and where we came from."
That's how you make New Zealand-made a cause for celebration. That's how Zambesi nailed it.
Behind the scenes at Zambesi: