The world's best-value public airport lounges have been revealed, based on the number of amenities they offer for the price - and an Auckland lounge is near the top of the list.
The Al Ghazal Lounge in Abu Dhabi International's Terminal 2 has been revealed as the top place to check into before a flight, with $41.20 (£21.45) bagging customers free drinks, food, Wi-Fi and newspapers to peruse, MailOnline Travel reports.
Coming in second place is the slick Strata Lounge in Auckland Airport, which comes with an open bar, buffet and children's play area all for $49, when booked online, or $55, when purchased at the door.
Lounge @ B in Terminal 3 at Dubai International Airport has been rated as the third best-value spot.
For $55.44 (£28.86) guests can help themselves to complimentary wines, beers and spirits and there are electrical charging stations dotted around the place.
In fourth place is the 1903 Lounge in Manchester Airport's Terminal 3.
The chic area, which costs $76.84 (£40) to access, features fresh-cooked food, premium alcoholic drinks and sweeping views of the runway.
The ranking has been produced by travel company Netflights.com, which analysed data from 149 airport lounges around the world.
Researchers said the Al Ghazal Lounge in Abu Dhabi was deemed the winner because of its 'low-cost, exuberant interior and efficient amenities'.
In the UK, the next best-ranked lounge after Manchester is London Gatwick's Clubrooms, which is ranked ninth and costs $96 (£50), followed by London Heathrow's SkyTeam Lounge, which is placed 10th and costs $76.84 (£40).
In America, only one lounge made it into the top 20, the Club at LAS in Las Vegas' McCarran International Airport, which comes in at number 15.
The lounge, which is open daily from 5am to midnight, costs $55.44 (£28.86) to get into with free Wi-Fi and refreshments on offer.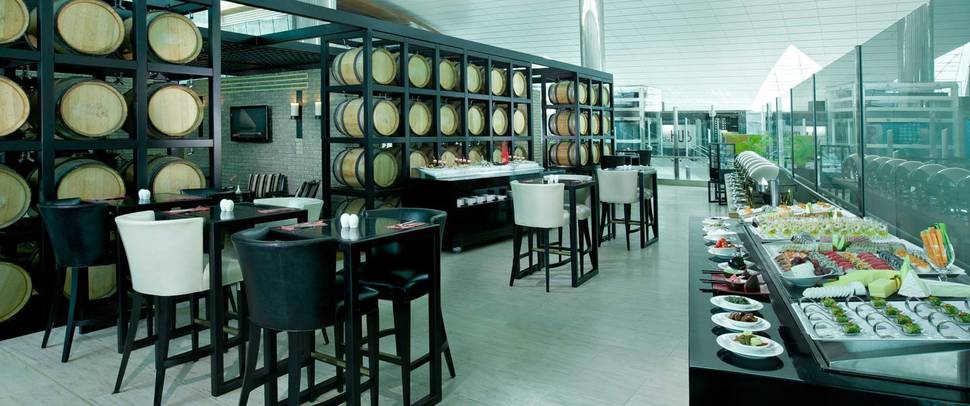 In an accompanying survey of 2000 travellers, 66 per cent of respondents said that they find airports stressful.
To ease the stress, it was found the average person will spend $112.89 (£58.77) in the run up to boarding their flight.
Most of this cash goes on food (53 per cent), hot drinks (44 per cent) and alcohol (28 per cent).
Almost half of respondents (46 per cent) also admitted to purchasing items they didn't even need as they aimlessly wandered around before jetting off.
Despite the low cost of lounge access, 87 per cent of travellers said they had never used the facilities on offer as they thought it was too expensive (40 per cent), only for members (23 per cent), or they just didn't know how to do so (20 per cent).
Revealed: The 20 best-value public airport lounges in the world
1. Al Ghazal Lounge by Plaza Premium Lounge Terminal 2, Abu Dhabi International Airport: $41.20 / £21.45
2. Strata Lounge International Terminal, Auckland Airport: $54.07 / £28.15
3. Lounge @ B Terminal 3, Dubai International Airport: $55.44 / £28.86
4. 1903 Lounge Terminal 3, Manchester Airport: $76.84 / £40.00
5. Plaza Premium Lounge (Arrivals) Terminal 2, Rio de Janeiro Galeao International Airport: $46.91/ £24.42
6. BGS Premier Lounge Terminal 2, Beijing Capital International Airport: $41.22 / £21.46
7. Loyalty Lounge Terminal 2, Chhatrapati Shivaji International Airport: $42.65 / £22.20
8. Plaza Premium Lounge (Lounge B) Terminal 3, Indira Gandhi International Airport:
$38.38 / £19.98
9. Clubrooms North Terminal, London Gatwick Airport: $96.05 / £50.00
10. SkyTeam Lounge Terminal 4, London Heathrow Airport: $76.84 / £40.00
11. Neptuno Lounge (AENA VIP Lounge) Terminal 4, Madrid Barajas Airport: $50.71 / £26.40
12. Pacific Club Terminal 3, Ninoy Aquino International Airport: $35.54 / £18.50
13. SkyTeam Lounge Terminal 1 (International), Sydney Airport: $75.34 / £39.22
14. Bidvest Premier Lounge International Terminal A, Tambo International Airport: $47.56 / £24.76
15. The Club at LAS, Terminal 3, McCarran International Airport: $55.44 / £28.86
16. Marhaba Lounge Terminal 2, Melbourne Airport: $68.87 / £35.85
17. Premier Lounge International Terminal, Ngurah Rai International Airport: $34.12 / £17.76
18. Star Alliance Business Class Lounge Terminal 1, Paris Charles de Gaulle Airport: $58.28 / £30.34
19. dnata Lounge Terminal 3, Singapore Changi Airport: $54.02 / £28.12
20. Plaza Premium Lounge Terminal 1, Toronto Pearson International Airport: $49.75 / £25.90