On Wednesday afternoon a fire took hold in a five-star luxury hotel in the London borough of Knightsbridge.
About 120 firefighters were called to the Mandarin Orient hotel at 66 Knightsbridge, at 4pm local time.
No one was reported hurt in the blaze and as the smoke clears the damage is yet to be assessed.
However, the 115-year-old Knightsbridge pile had just finished the "most extensive renovation programme" in its history.
Taking 18 months and at an estimated cost of £185m ($350m) the total overhaul by renowned London designer Joyce Wang included the public areas, dining spaces and 181 guest suites.
The Mandarin hotel chain said the restoration was "designed to confirm this historic hotel's position as one of the best in the world".
"It had been a dream of mine to work on a building of significant heritage in a city I hold very dear," said Wang.
Her studio had looked to neighbouring Hyde Park for inspiration. She wanted the open space to be part of the design, so that when "viewed from a distance from the park, nature seemingly spills brightly into the rooms".
But these statements, issued at the beginning of the month, were shortlived. Just a week later, the first guests were evacuated onto the park to observe the black plumes of smoke billowing from the property.

Here are pictures from that lost restoration that guests are now unlikely to see:
The largest suite, the 397sq m, three-bedroom Mandarin Oriental Penthouse was set to take its first booking next month.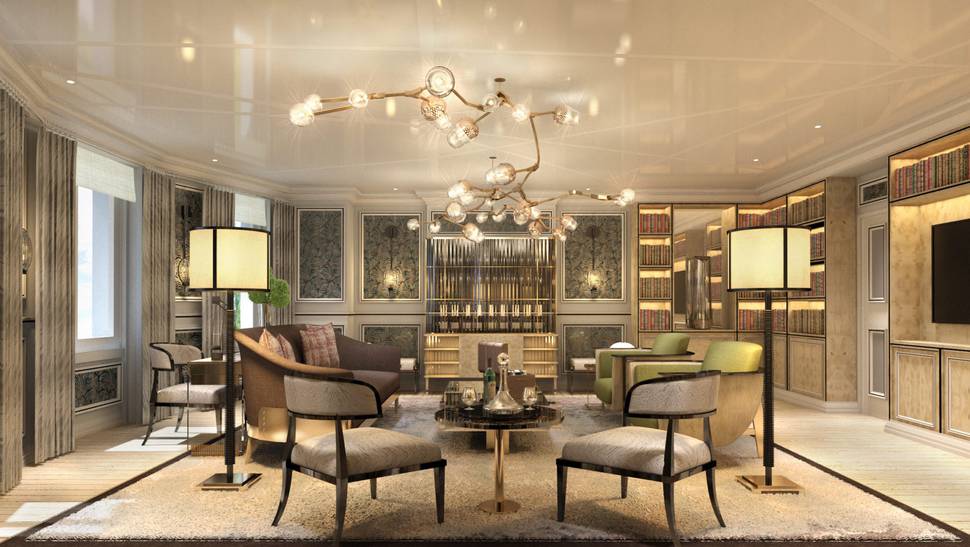 Each suite had also been stocked with a private library curated by London bookseller Heywood Hill. Other quirky additions include vinyl record collections and yoga mats.
The hotel's spa and subterranean pool were also recently refurbished.