From Caribbean islands to little-known ancient realms, these destinations offer much, writes Annabel Fenwick
It's every traveller's dream — a corner of the planet still unburdened by tourists.
And apparently, such places do exist. According to the United Nations World Tourism Organisation's 2017 report, only 1000 people ventured to the South Pacific paradise of Tuvalu last year, making it the least-visited country in the world.
Here, MailOnline presents the rest of the 15 nations that account for the lowest annual tourist numbers, with wanderlust-worthy destinations in Europe, Africa, Asia and beyond.
Tuvalu (1000 visitors in 2016)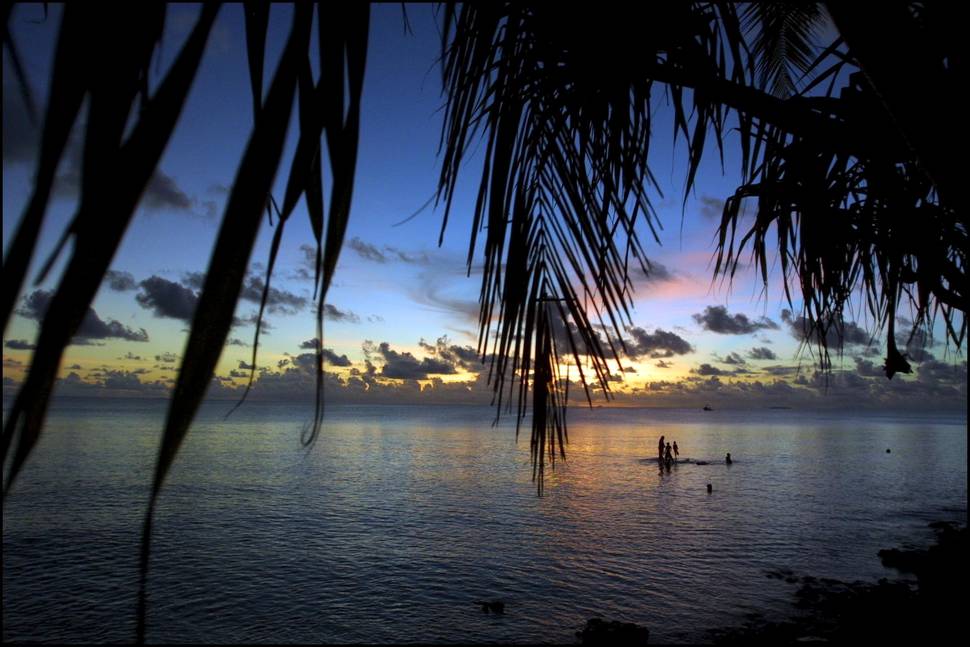 With its picture-perfect beaches and turquoise waters, it's surprising that the South Pacific paradise of Tuvalu is not popular with the masses.
The island enjoys little crime and a low terror threat and doesn't have armed forces. All political decisions are based on family and island loyalty as opposed to political parties.
The Duke and Duchess of Cambridge visited in 2015 as Queen Elizabeth II is Head of State, but only 1000 people touched down here in 2016.
Kiribati (4000)
Kiribati is the very definition of a place in the middle of nowhere, with the nearest civilisation five hours north in Hawaii.
Straddling the equator in the Pacific Ocean, it was known as the Gilbert Islands while under British rule. However, Western influence is minimal on the islands outside the main one, Tarawa.
For centuries, locals have lived on coconuts, bread, fruit and fish. Its 33 coral atolls, with their majestic turquoise lagoons, cover a massive 2 million sq km of the Pacific.
Once there, visitors can explore the islands on bike, boat or foot, and fish or dive in the area. It's paradise now — but there were some terrible battles here during World War II.
Sao Tome & Principe (8000)
If you crave peace and a quiet, a trip to Africa's second-smallest country, Sao Tome & Principe, may just do the trick.
These two volcanic regions offer much in the way of humpback whale and dolphin-spotting opportunities, along with incredible diving spots.
The laid-back island also boasts emerald rainforests, architecture from the Portuguese colonial era and there's not a tacky beachside resort in sight.
Montserrat (9000)
Once a popular holiday spot, this Lesser Antilles island has never quite recovered from a series of horrific natural disasters. Hurricane Hugo in 1989 hit 90 per cent of the island's structures and in 1995 it was battered when the previously dormant Soufriere Hills volcano erupted.
These days, its volcano is now actually one of Montserrat's main attractions, along with its remarkable beaches.
Visitors can also take advantage of good snorkelling and diving in its azure waters.
Comoros (24,000)
This collection of islands in the Indian Ocean near Madagascar serves as the perfect antidote to everyday city life.
The enchanting Comoros offers stunning volcanic scenery, forests teeming with lemurs and fruit bats, and remote sleepy towns.
There are even some of the best undiscovered reefs just waiting to be explored by divers.
Djibouti (51,000)
Djibouti, on the horn of Africa, consists largely of dry shrublands that cover 14,000 sq km.
Interestingly, its women outnumber men significantly — with the fourth-highest ratio of females-to-males in the world.
You can visit, but the The Foreign and Commonwealth Office (FCO) advises against all travel to the border with Eritrea, and notes that Djibouti currently remains one of the main routes for those fleeing conflict in Yemen.
San Marino (60,000)
The second least-visited country in Europe, San Marino remains a fairly hidden secret.
The mountainous microstate, surrounded by northern Italy, offers several peaks from which to admire the pretty country from great heights.
History buffs will lap up its scenic city centre, which dates back to the 13th century and has a wealth of fortification towers, walls, gates and bastions.
Timor-Leste (66,000)
For those seeking adventures devoid of large organised groups, Asia's Timor-Leste most certainly delivers.
There are mountains to climb, jungle caves to enter and colourful misty mountain village markets with treasures to acquire at this hidden gem.
Head to the eastern half of the island to dive and snorkel in the surrounding coral reefs, but be on your guard as the FCO says that crime "continues to be an issue".
Liechtenstein (69,000)
The sixth smallest country in the world is also one of the most undiscovered — the second least visited in Europe — though it's hard to see why given its quaint appeal.
Nestled between Austria and Switzerland, Liechtenstein has much to recommend it, not least the 12th century fortress which acts as the official residence of the country's prince.
An outdoor enthusiast's playground, it's the only country in the world to be totally in the Alps. A summer haven for hiking and cycling and snow-covered skiing perfection in winter, for those who can afford it.
Sierra Leone (74,400)
The 2014 Ebola epidemic is largely to blame for Sierra Leone's subsequent drop in tourism.
As of March 2016, however, the World Health Organisation declared it Ebola-free.
And there is plenty to lure tourists back with, among them national parks, mangrove swamps, sandy beaches and the Loma Mountains in the north.
Anguilla (79,000)
While it's postcard-perfect, the British overseas territory of Anguilla, to the east of Puerto Rico, is not the cheapest destination.
Lesser visited than celebrity hotspot St Bart's, the island is seeing an increasing number of glamorous new holiday homes pop up, so its popularity — and prices — are bound to grow.
The country boasts a down-to-earth charm for the rich subset who crave an off-the-radar break.
Moldova (121,000)
Moldova became independent from the Soviet Union in the early 1990s.
And, located between Romania and Ukraine, part of its charm is that it hasn't yet been over-developed.
The destination offers unspoiled landscapes, a unique history, impressive monasteries and a thriving wine industry.
Bangladesh (125,000)
Bangladesh is a rural wonderland which is heavily populated and bursting with waterways to explore.
The country is often besieged by floods and suffers from extreme poverty, but there is plenty to see, including the Ahsan Monzil in Dhaka, otherwise known as the Pink Palace.
Visitors are warned to avoid Chittagong Hill Tracts on the borders with Burma and India, however, and terrorist activity has increased here since 2015.
Bhutan (155,000)
There is clearly something in the water in the Himalayan kingdom of Bhutan, as more than 90 per cent of its population say they are content, according to the Gross National Happiness Index.
Perhaps this has something to do with its gloriously scenic patchwork fields, traditional Buddhist culture and unspoilt hills.
Incredibly, fewer than 10 pilots are reportedly registered to land at its airport, which along with strict restrictions on tourism and a less-than-simple visa process, accounts for the low visitor numbers.
French Guiana (199,000)
The untamed French Guiana is the least visited country in South America, despite boasting some of the world's most diverse plant and animal life.
While there is much to attract tourists to the area, not least its miles of pristine jungle, the infrastructure is in need of some attention.
Pregnant women should heed FCO advice on the dangers posed by the Zika virus.