With the help of Booking.com, we've curated a selection of Hollywood hot spots that will transport you to the colourful world of La La Land
The award-winning musicalLa La Land hit New Zealand cinemas last month, showcasing powerhouse performances from Ryan Gosling and Emma Stone.
Last week the movie broke records at the Golden Globes by winning all seven of the categories it was nominated in. This triumph, along with eight Critic's Choice Awards, has rumours flying about Oscar glory — so why not take yourself into the heart of the film itself with a trip to its namesake, Los Angeles?
With the help of Booking.com, we've curated a selection of Hollywood hot spots that will transport you to the colourful world of La La Land: Stroll down Sunset Boulevard, hike to the Hollywood sign, stand with the stars and sample the joy of jazz music — truly immerse yourself in all things Los Angeles.
The Redbury @ Hollywood and Vine, Hollywood Walk of Fame
Designed with Hollywood decadence in mind, channel your inner movie star with a stay at The Redbury @ Hollywood and Vine — think boutique suites, cocktails and good music.
You'll feel a million dollars in your luxury room complete with balcony, flat-screen TV and breakfast-in-bed service. Just a short stroll away is the Hollywood Walk of Fame where you can grace the same streets as your favourite celebrities.
Hotel Amarano Burbank, Warner Bros Studios
Warner Bros Studios is one of the most famous studios in Los Angeles. To feel like a true movie star, select the deluxe tour option and see what it takes to make a film come to life. You'll be walking in the footsteps of Ryan Gosling and Emma Stone themselves as scenes from La La Land were filmed in the studios.
Only a fifteen-minute walk away is the Hotel Amarano Burbank. Sample a variety of cocktails or take a dip in the hot tub before relaxing in your luxurious bedroom after a day touring the studios.
Hollywood Sky Loft, Catalina Bar & Grill
Ryan Gosling plays La La Land's Sebastian, a struggling jazz musician. To experience Los Angeles at its best, make sure you take a trip to one of its many incredible jazz bars. The Catalina Bar & Grill is an intimate venue that draws jazz lovers from near and far.
After letting the music go to your head, stroll back to the Hollywood Sky Loft and relax in your private loft. This has all the comforts of home, plus a few extras like a hot tub, outdoor pool, fitness centre and balcony.
Mama Shelter, Griffith Park
From Mama Shelter, it's just a short cruise down Sunset Boulevard to Griffith Park, one of the country's largest urban parks. La La Land's main characters, Sebastian and Mia, perform what has been described as "their pivotal dance number" here, so if you're a fan of the film this is the place to go.
Mama Shelter offers quirky yet cosy accommodation in the heart of Hollywood and features a rooftop terrace with breath-taking views of the Hollywood Hills.
LEVEL Furnished Living Suites, Grand Central Market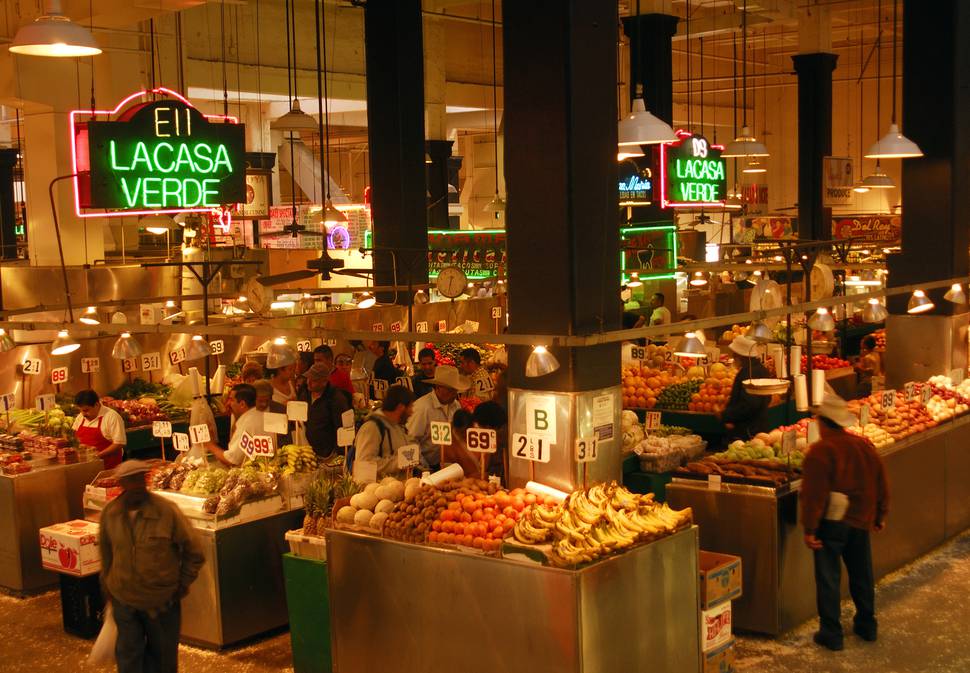 The popularity of street food and market stalls has taken the USA by storm and it is no different in Los Angeles. Grand Central Market has been around for nearly 100 years and continues to serve the very best street food you can find in LA Even fictional characters have taken their turn here with Mia and Sebastian enjoying a street-side nibble in the movie.
A short walk away are the LEVEL Furnished Living Suites, offering self-catered accommodation with access to a fitness suite, basketball court and swimming pool so you can stay as fit as the stars themselves.