Tristram Clayton checks into the Splore music festival near Auckland in a six-berth RV he found using Mighway - a peer-to-peer motorhome-sharing company.
Location:
The stunning Tapapakanga Park, an hour southeast of Auckland. We managed to score a park right next to the glamping zone (a kind of mini refugee camp where festival-goers pay around $400 a night to stay in luxury teepees). Our park was in one of the closest "camping" areas to the festival's stages - a big advantage when you turn in for the night after a big day of sun, sand, drink and dance.
Check-in experience: We hit the queue about 2km from the main gate. But with room for the kids to play hide and seek in the RV and enough space at the side of the road for them to kick a ball around, the hour-long wait passed quickly enough.
Room: Our six-berth Mercedes motorhome turned out to be the pinnacle of motorised accommodation. The fully equipped kitchen with fridge and stovetop meant we could keep milk and drinks fresh, whip up some decent coffee and eggs in the morning, and even prepare a modest lunch. We didn't use the TV or microwave but the cleverly hidden cupboards and drawers meant we could keep some order despite having three kids and two adults on board.
What's in the neighbourhood? The stages, beach, bars and food stalls were a 10-minute walk away down a winding, bush-covered path or along the main access road through fields. There was also a series of stunning art installations, a parkour park, chill-out areas and swimmable lagoon, all just a short walk from our RV.
Exercise: This is a music festival with world-class music playing 16 hours a day - if you don't get your fill of exercise through dancing, then swimming and just walking between stages and your campsite will definitely keep you fit. Or you can combine your exercises - there's nothing quite like dancing to Leftfield while wading through the fabulously-warm waters of the Firth of Thames.
The bed: There were three double beds on board, which were easy to set up and super comfortable. Pillows and linen were provided. Compared with sleeping on slowly deflating, blow-up mattresses, this was heaven. It was also great to be able to sleep in in the mornings and not wake up in a canvas-covered furnace.
Bathroom: The on-board toilet and shower meant we had the luxury of avoiding the "well-used" festival facilities. After long days of swimming in the sea and dancing under the sun, having your own toilet and shower was appreciated by everyone.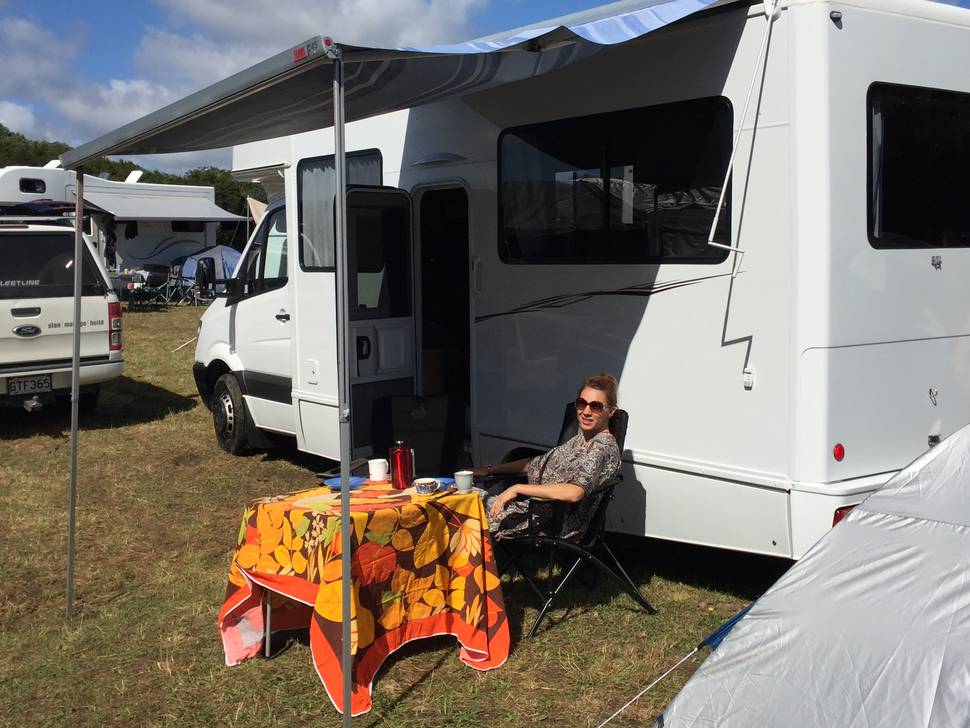 Toiletries:
No toiletries but our motorhome certainly had everything else. From pots and pans, to cups and plates, to an outside camp-table and awning, this was basically a well-appointed Kiwi bach on wheels.
Noise: Although we were closest to the stages, there were no problems with noise. (Although staying up until the bands finish for the night is always a good way to ensure a good night's sleep).
Price: The motorhome cost around $250 per night - not bad when you consider it slept five comfortably and it was our transport as well. The beauty of Mighway (a kind of Bookabach for motorhomes, mighway.com) is you can hire a vehicle for a much shorter duration than traditional rental companies - a good option when you want to take a short break where accommodation is limited!
Food and drink: From Hungarian puff bread, to Spanish paella, to Fatima's kebabs -- there's no shortage of yummy food to keep you fuelled. Queues at most times of the day were manageable.
What's so good about this place? Possibly the best thing about arriving at a festival in a motorhome is that there's simply nothing to do. You arrive. You park. You get into the festival. No need for hours of setting up tents and beds. Of course leaving is just as easy. Sleeping in a proper bed and having your own toilet and shower also transformed the festival experience.
Would I return? Absolutely. My cliched view of motorhomes has been completely turned on its head. How do you get the most out of a music festival? Hire a motorhome.